Ever since we have been singing a double Happy Birthday during our 20 second hand-washing rituals at every available washbasin, Le Corbusier has been on my mind. I had previously thought he must have had some rather paranoiac tendencies born of a childhood discomfiture that made him feel it necessary to have sinks throughout his house and insist on intimate ablutions in the bedroom. This may be the case, but now I see things in a rather different light. His approach might have been extreme, but he was very much part of the trend that saw hygiene and plumbing become intrinsic to modernist architecture in the 1920s and 30s. Bathrooms were still relatively novel, and an exciting opportunity for Art Deco extravagance. Curiously, though, throughout my art and design history education this was never related to the Spanish flu pandemic. In fact the only mention I ever heard of the latter, bizarrely, now that we have seen just how impactful such an event is, was in relation to the death of Egon Schiele.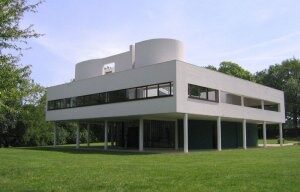 Le Corbusier: Villa Savoye (1928)
Le Corbusier's Villa Savoye (1928) has always been, for me, lustworthy, but in the covid era, the weirdness of having a hand basin in the entrance hall has only added to its desirability. We do not know if Le Corbusier designed with concerns about hygiene due to the pandemic. He had already been constructing visually economic concrete buildings offering the clean lines that heralded his signature style. But having lived through the devastation of the Spanish flu which was significant in France where he was living in 1918 it cannot have left him untouched. It's interesting that he turned to painting during this time. Emerging from the global trauma, designing houses that preserved the purity of the private space from the dangerous scary infectious outside world, (even to the point of floating above the ground) and allowing the occupants to be bathed in sunshine, makes perfect sense. It has been well documented that modernist architecture consciously followed the design of hospitals and sanatoria (Overy, 2008 and Colomina, 2019). Until antibiotics were available, sunlight and fresh air offered the only tenuous defence against TB and influenza. Pure white walls not only reflected more of that life-restoring sunshine, but also gleamingly advertised their sterility.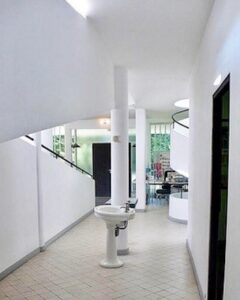 Bathrooms evolved in the wake of those killer diseases, increasing in number, moving their location, and transforming the choices of material and decoration. The Spanish flu led to the addition of small half-bathrooms ('powder rooms') near the entrance of homes and communal apartment blocks. The benefits can now clearly be appreciated, but by installing his handbasin actually in the hallway, Le Corbusier forced us to confront the unspoken boundary between the public and the private. Although handwashing clearly isn't an act necessitating privacy, it provokes a double take. Most of us like to think of our homes as fairly pure; a sanctuary where we can impose our own standards and expectations of our guests. Mrs Hinch has made a cupboard full of cleaning products a badge of honour for university freshers. But covid-19 has forced us to rethink our boundaries. We have had to confront feelings of discomfort at anyone entering our space, even close members of our families outside our bubbles, let alone the supermarket delivery driver. Our groceries might as well be contaminated with novichok. We can't be coy about not trusting anyone else's levels of 'purity'. We want to 'see' cleanliness. Public ablutions are positively embraced. As stand-alone sinks are popping up in shopping malls, train stations and parks, any qualms around public ablutions are dissolving away. I wish they had been there when my children were small. I only ever saw them at petting farms!
So are our houses now fit for purpose? Do we need a rethink for the post-covid home? We have developed workarounds, but for many of us, in our now multi-functional spaces, constantly occupied by multiple users, machine-like efficiency isn't perhaps the first description we would use. Whilst we once aspired to open plan living, now that the home has become a workplace, school, gym, a food storage unit, a prison even; a place where we can't get away from family or work, it leaves us a lot to think about. As our sanctuaries, our homes should support our physical and mental well-being; offering a refuge where we can boost our immune systems with areas for retreat. A bidet in the bedroom? Hell no, Le Corbusier! We need more privacy than ever.
As for hygiene, we might do well to expand on the Japanese tradition of genkan. A combination of a porch and doormat, the genkan is where people remove their shoes before stepping up into the main dwelling to prevent any dirt from outside tracking into the house. This area also serves as an impersonal area to meet visitors such as delivery drivers, without actually inviting them into the house: an immaculately arranged space, not a free-for-all dumping ground, cluttered with trainers, hockey sticks, and school bags.
An example of a Japanese genkan. Image: Wikimedia Commons
As we have become aware of the active life of the virus, some people have naturally created transition or decontamination zones to leave bags, shoes, clothes or anything that's come into the house from outside. The ritual of wiping down shopping and home deliveries has created domestic cleaning stations. Newspapers and dry goods are laid out in conservatories to zap with UV. Gloves and wipes are positioned at the ready and new areas for storage are allocated away from the kitchen until goods are considered safe to handle and to accommodate those precious copious supplies of toilet paper and bags of flour. Home hygiene has become virus warfare. Will we include decontamination chambers in new build domestic entryways, constructed using antibacterial materials, UV light sources, a sink, and storage for hand sanitiser and wipes, places to hang our contaminated coats and outdoor anti-covid-kits, and bins for masks and gloves?
Just as early bathrooms moved from wood to enamel, shiny porcelain and chrome, we are already seeing changes in materials to those with natural antibacterial qualities at home and increasingly in the workplace: cork, copper, silver, as well as surfaces that are easy to blitz. In Melbourne, for example, SPEE3D, a 3D printing company has installed copper doorplates and doorknobs at a number of universities and government buildings. A study published originally in March in the New England Journal of Medicine showed how Covid-19 destabilized on copper. SPEE3D commissioned their own research which showed viral levels were reduced by 96% within two hours, a massive difference to the 72 hours + the virus takes to degrade on stainless steel. SPEE3D can use its printers to coat existing items such as door furniture in a millimetre-thick layer in just five minutes. Translating this quick and very cost-effective process to other products and scenarios such as shopping trolleys, gym equipment, hand rails and bed rails, etc., seems a no brainer.
Image source: www.Copper.org
Going further, we will need more hands-free technology. Google's radar based Project Soli has been developing a means of reading tiny human gestures that could make the use of public devices such as ATMs or vending machines totally contactless. For companies developing the use of 'Just Walk Out' technology, the cashierless, cardless shopping experience used by Amazon Go, the virus will have provided an unexpected boost.
The Chinese word for crisis, as so many self-help books like to trot out, is formed with the characters for danger and opportunity. Crises lead to change; sometimes for the better or sometimes for the worse. When we choose to look, there have been so many positive developments arising out of this situation on a local and global scale, both human and environmental. International competitions are being run to capture the wealth of creativity the crisis has generated, such as Archisearch's Pandemic Architecture International Ideas competition: 'What can architecture do for our health?' Pre-existing ideas such as the 20-minute city are also being more rigorously investigated to help promote safer, community friendly and more environmentally supportive lifestyles so important in lockdown situations.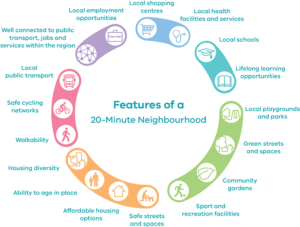 The 20 Minute City: An environment where everyone can 'live local', accessing everything their daily needs within a 20-minute walk from home.
Medical issues aside, the pandemic has revealed issues that design thinking is well placed to address. Design innovation has been occurring at a phenomenal speed with companies transforming their products to support the new normal, or changing their product entirely, solely to fight the virus. We have also seen individuals and schools putting their 3D printers to good use to supply PPE and armchair inventors creating impressive life saving devices.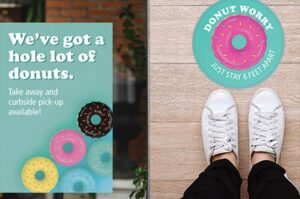 Image: Dawn Foods
On an everyday level we have seen the success of simple design concepts such as the appearance of stickers on the floor to help us keep our distance, and even bizarre but creative wearable devices appearing on our social media feeds have powered many novel ideas for wearable tech to alert us to when we get too close to each other. Students on Module U101 can now easily understand the importance of those wacky off the wall ideas to real innovation.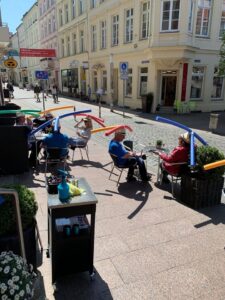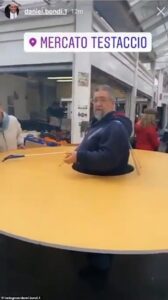 Pool noodle hats to maintain social distancing in Germany. Photo: Jaqueline Rothe, Café and Konditorie Rothe, Schwerin, and a visitor to Testaccio Market in Italy. Photo: Instagram: daniel.bondi.1                                    
We have also seen, unfortunately, the problems that result from poor communication and a lack of clarity; the 'Stay Alert' campaign being about as misjudged as the 'Keep Calm and Carry On' war time poster campaign that saw most of the 2,500 000 copies pulped after it was considered patronising and divisive. But through seeing the failures, it has also been clear how key it is to accurately frame a problem to fully address and engage the user and their core values. Design thinking has never been more important to our everyday survival and has never been more visible.
References:
Colomina, B. (2019). X-Ray Architecture. Zurich: Lars Müller Publishers.
Overy, P. (2008). Light, Air and Openness. London: Thames and Hudson.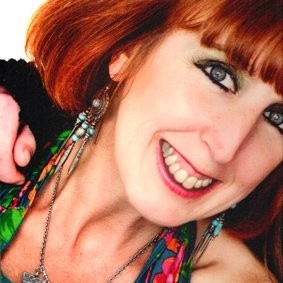 Theodora Philcox