Disruptive Innovation Festival: global and all online
*** Our very own Emma Dewberry live on the Disruptive Innovation Festival at 10:15 on 10/11/17 talking about Design for Longevity: Business as Unusual***
This year's Disruptive Innovation Festival, ask: What if we could redesign everything for the circular economy?
The festival has been an initiative created by THE ELLEN MACARTHUR FOUNDATION together with several partners and is in its second year now. A full 3-week programme of talks, discussions and a project asks participants to think differently and act on the challenges of reuse and repurposing for more sustainable innovation practices.
Last years festival has been summarised here and it exemplifies the value of listening to innovators and thinkers around the world form their home or office without the need to gather in one particular physical location. The programme is engaging and well-designed either to dip in and out or catch up with talks that have happened while you were elsewhere.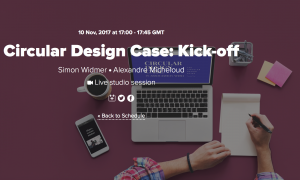 A further highlight is the circular design competition that is sponsored by IDEO, one of the partners of the festival. It kicks off November 10 at 5pm and runs for 2 weeks, with a £1000 award for the winner.