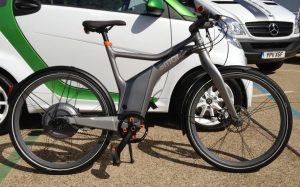 Has the time for e-bikes – electrically assisted cycles – arrived at last? E-bikes have been available for many years, and popular in China and parts of continental Europe, but only bought in small numbers in the UK. It's only now that proper design thinking, research and development has been applied to them. Evidence for this is clear from the many innovative designs on display at the Cycle Show held at the NEC Birmingham in September 2018. Some ten manufacturers, ranging from small British start-ups to major continental European companies, such as Bosch, had their e-bikes on show and available to try out on test tracks.
The two main design classes on show were conversion kits for conventional pedal cycles and custom designed e-bikes. Most of the conversion kits had hub motors built into a replacement front wheel, while the custom designs had front or rear hub motors or central motors that drive the cranks and pedals. The conversion kits had their batteries mounted on the down tube, rear rack or handlebars, while the custom designs often had batteries built into, or flush with, the frames.
Each of the these had configurations and advantages and drawbacks in terms of weight, range, handling and aesthetics. I tried out several different models on a test track. All gave surprisingly powerful assistance, almost always activated (as required by law), by pedalling. The differences were in the degree of control over the level of assistance, the handling and their visual elegance. Front drive could be less stable than rear drive when powering round bends. Central drive gave the most natural assistance as if your legs suddenly had become bionic. Some custom designs were very attractive in appearance.
The main barrier to the widespread adoption of e-bikes is their cost; from around £500 for a conversion kit to over £3500 for a central drive German or Swiss custom design. E-bikes are of course bulkier and heavier than conventional cycles, although if you have limited space there are compact folding e-bikes, including a Brompton e-bike and a conversion kit for the Moulton space frame bicycle. E-bikes are beginning to appear in significant numbers on British roads and are enabling more riders to manage off-road adventures with electrically assisted mountain bikes. Maybe the time for e-bikes has come at last.