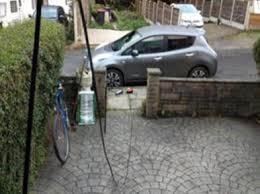 We are taking part in an 18-month Innovate UK research project exploring the design of, and user interactions with, on-street wireless charging for electric vehicles (EVs). This £3m project, entitled "On-Street Residential Induction Charging", or OSRIC for short, is about using induction charging plates in roadside parking bays that draw power from lampposts and are available to EVs through an app. As EVs become more widespread there is a danger of pavements being crisscrossed by charging cables, which could become downright problematic. Wireless charging would prevent that problem.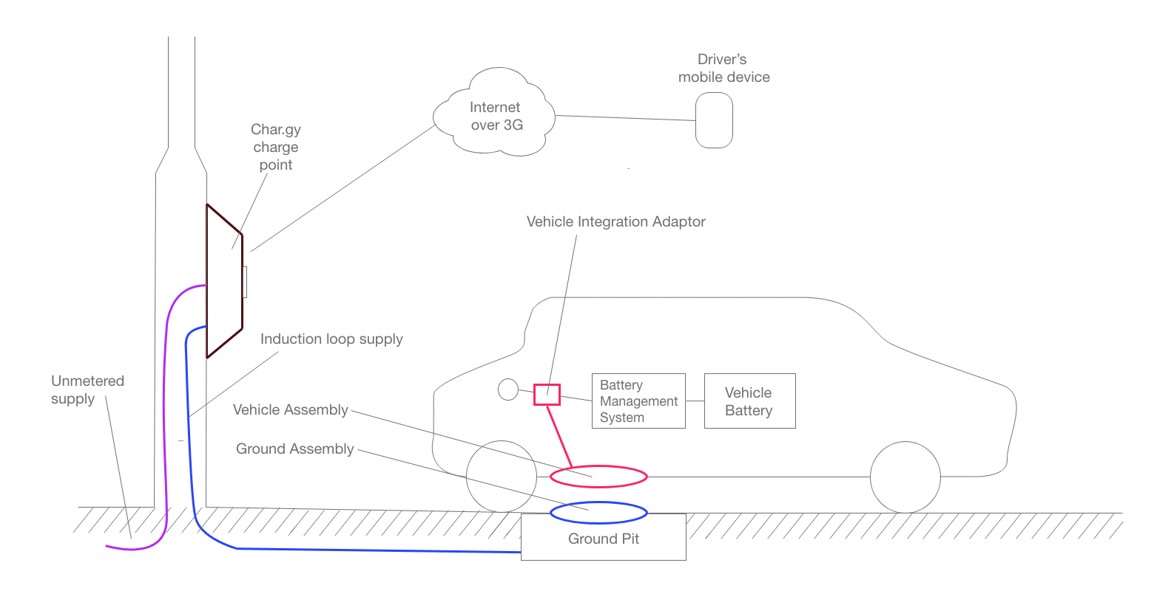 The leading industrial partner in OSRIC is Char.gy , a company specialized in using existing infrastructure to provide EV charging solutions. Other partners include the University of Warwick, Milton Keynes Council, the London borough of Redbridge, Buckinghamshire County Council​, and ourselves at the Open University. Our role is to provide a socio-technical understanding of the wireless charging infrastructure in to help understand users and other actors involved in their introduction and operations. ​
The trial OSRIC wireless chargers will be installed in three locations:
The London Borough of Redbridge
Milton Keynes, and
In several towns across Buckinghamshire
At the moment we are only three months into this project so our work has been, ahead of the trials taking place, to identify the network of actors involved in each of these locations, to discuss with them their interest in wireless EV charging and to identify situations for the trial installations themselves. There are multifaceted linkages through which the electrification of transport becomes enmeshed with other dimensions of the social and the urban. Our initial observations suggest that the same experiment will lead to significantly different meanings, knowledges and impacts when deployed in different locations. It will be a while before the inductive charging plates are installed on the streets but already our initial interviews have revealed that they mean something different to each of the local authorities in the consortium. This is explored in the following sections.
Redbridge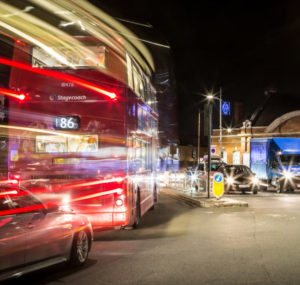 The London Borough of Redbridge in north-east of London has a population of nearly 300,000. Ilford is just 16 minutes from the City by rail but its transport patterns are those of a typical outer London Borough with high car ownership, high car dependency and low levels of cycle use. A big issue for the Borough is improving air quality and it has had an Air Quality Management Area since 2003. Despite this Redbridge still fails to meet air quality targets in areas with heavy traffic. The expansion of the London Ultra-Low Emission Zone (ULEZ) will affect parts of Redbridge from October 2021 and the motorist charges may motivate residents of the borough to shift to more sustainable mobility behaviours, including EV use.
Given the concerns about air quality and the expansion of the Ultra-Low Emission Zone, the OSRIC wireless charger trial could be timely. However, a major focus is reducing resident's car dependency, so the favoured approach for the trial is to work with a local electric car club, with the expectation that users will find wireless charging more convenient than wired. The eCar club would potentially reduce the resident's car dependency and at the same time support the adoption of emission-free vehicles.
Buckinghamshire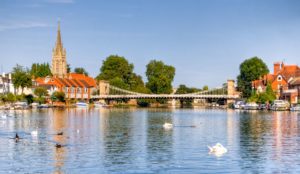 The context of Buckinghamshire contrasts strongly to that of Redbridge. This is a county of small and medium-sized towns stretching some 40 miles away from the western edge of London. Buckinghamshire is popular with commuters and has a dynamic economy on account of its proximity to London. The South of Buckinghamshire is designated as an Area of Outstanding Natural Beauty and the county as a whole is famous for its history and heritage and particularly for its historical market towns such as Buckingham, Aylesbury and Marlow. A recent survey ranked Buckinghamshire as the second most filmed county in England, with a total of 367 films and TV shows made in the county. In consequence, a major selling point for the wireless charging points is that they would not spoil the picture-perfect streets of its market towns. The county has a long tradition of environmental awareness on account of its natural beauty and there are several government initiatives related to low-carbon transport (such as the Transport Living Lab in Aylesbury) and community organisations (such as the Buckinghamshire EV club) but provision of charging infrastructure has proved difficult.
Milton Keynes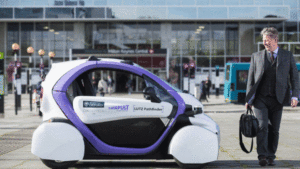 Milton Keynes (MK) has been a fast-growing modern city since its birth 50 years ago and is committed to further sustainable growth as expressed in its vision for 2050. Good connectivity is key to the city's ambitions for growth,. While the provision of transport and the transition to a low-carbon economy are important to Milton Keynes, cultivating the city's reputation for innovation is also a priority. Milton Keynes Council, working with a range of collaborators, has developed a portfolio of innovative transport projects of national and international significance that have attracted substantial inward investment. In addition to OSRIC, other innovative transport projects in MK include:
UK Autodrive. A £19m million project involving a consortium of partners from the auto industry, academia, business and government to pilot autonomous mobility.
MK:Smart. A £16 million smart city project that includes big data and other technology solutions to address transport and other infrastructure challenges. The main partners are MK Council, BT and the Open University.
Go Ultra Low, the EV Experience Centre, the Plugged in Places programme, the electrification of bus route #7 and several other electric mobility initiatives. The city currently has one of the highest concentrations of charging infrastructure in the UK and its current programme has targeted an uplift of sales of ULEVs to 20% of all sales by 2021, compared with a national target of around 5%.
In consequence, the wireless infrastructure deployed by OSRIC would become an experimental complement within an existing EV charging ecosystem. The charging points will most likely be deployed in locations that can support other transport experiments such as the Go Ultra Low transport hubs.
Reflections to date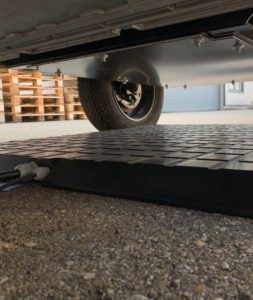 OSRIC is still around 6 months off the wireless chargers being installed but already we are becoming aware that these three trial areas are not just contrasting in terms of their physical layout (London Borough, Home Counties and economically vibrant New Town), but also in terms of the design narrative into which the trial will fit. The OSRIC project  needs to be more than the technical development of a specific technology – a charging point that will use induction to charge an EV parked in a residential street. We have observed that the specific technology lands in very different contexts and therefore becomes very different things. Although all of the selected locations are in the South East of England, the OSRIC project in Redbridge is largely about air quality, Buckinghamshire prioritises the historic character of its streets and in Milton Keynes OSRIC becomes the continuation of an existing trajectory of transport innovation. As the project is in its earliest stages, future blog posts will report on how the various expectations associated with each place nudged the experiment in different directions. It is quite likely that the charging points will be installed in different kinds of streets and will be used by different kinds of drivers in each location, providing ample opportunities to further explore how infrastructure experiments and places engage in mutually constitutive relations.
OSRIC is funded by 

InnovateUK and the Office for Low Emission Vehicles

. The OU research team is led by Professor 

Matthew Cook

; the Co-Investigator 

is

 Prof 

Stephen Potter

 and the Research Associate 

is

 Dr 

Alan-

Miguel Valdez

.