Reviving Department Stores as Destination Spaces
The London Architecture Festival comes to an end this Wednesday after a month of diverse and fascinating events. With many being hosted online this year, this has afforded the opportunity to attend far more than would normally be possible. Elouise Huxor and I have been exploring some of the discussions around learning spaces, and in my case, specifically, the repurposing of department stores.
It's been clear for a long time that whilst department stores have the largest physical presence on our high streets and within our malls, they have been steadily losing their appeal; the pandemic has only hastened this process. From their beginnings in the early 19thC they were valued for their ordered range of goods but it was Harry Selfridge who revolutionised them in the early 20thC, turning shopping into an experience. Women were just beginning to enjoy greater liberty, and department stores offered a safe oasis to spend leisure time, have personal interactions with shop assistants, and opportunities to meet and lunch with friends. For me as a child, there was still a grandeur about them with their smartly dressed assistants, including those who would usher us into the huge (scary!) lifts to take our seats along the walls, and others who oversaw the immense 'powder rooms' with comfortable chairs for ladies to rest their legs from the tiring business of browsing. Fitting rooms really were fitting rooms, and in the rather formal waitress-service restaurants, elegant young women would walk around the tables, modelling the latest fashions. That now seems like another world.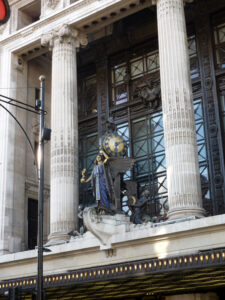 Selfridges, London: Photo: Theodora Philcox
Although the elite giants such as Harrods and Fortnum's will no doubt continue to float above the struggles of their poorer relations, as the doors close on huge chains such as Debenhams, and on some branches of House of Fraser and John Lewis, planners are keen to maintain life in the buildings (and thus the town centres), and to pay the landlords rent. Most of the stores' locations were deliberately chosen for their centrality and accessibility, and this gives them terrific potential as social hubs. The stores have been failing because they are not addressing a wide enough demographic, both in products and price. Shopping has become less dominated by women, but young men are unlikely to be lured into Mike Ashley's sportified House of Fraser to buy their trainers, and yet the mass presence of sportswear has turned away some of its traditional, and now older, customers who are bemused at finding lycra on every floor.
The recession of the 70s began the slow descent. Biba was the proverbial candle that burned brightest just before it goes out. At is apogee it provided a window on what a department store could be; 'the most beautiful store in the world', and yet it heralded their decline. It was their swansong. At its height, a million customers a week came through their doors. Biba offered a seriously cool experience of hanging out with friends; trying on clothes and makeup just for fun; rooftop drinks and entertainment among the resident flamingos whilst casually rubbing shoulders with celebrities, and listening to cutting edge bands in the Rainbow Room. People still treasure the memories – and their purchases. It appealed to both genders and transcended the traditional notion of retail. It had got things right for its time – too right, as ultimately people went there to look and enjoy rather than to buy.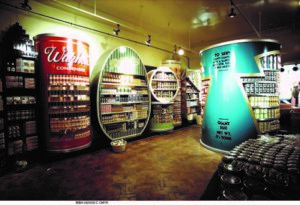 Biba's Food Hall. Photo: Welcome to Big Biba: Inside the Most Beautiful Store in the World by Steven Thomas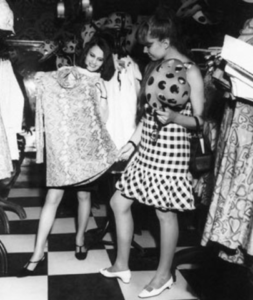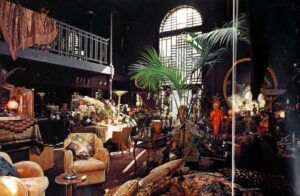 Inside Biba. Photos: Kasia Charko's Biba archive blog 
So is there anything we could learn from Biba's approach to rejunvenate the vast spaces? I was interested to see a talk exploring ideas around repurposing these vacant buildings. The architectural practice, Jestico + Whiles were discussing the possibility of replacing the growing number of empty 'Palaces of Consumption' with palaces for learning. They have been involved in design for education for twenty years, working with the changing trends in learning theory, particularly noting how people learn best when working collaboratively. Earlier this year the practice submitted a proposal to Property Week who had set eight leading architectural practices the challenge of developing a concept to repurpose a three-floor empty department store; The Department Store Reborn. Some exciting concepts emerged from this exercise. Jestico + Whiles' plan was to create an 'inclusive learning store', where learning assistants would replace shop assistants, advising on approaches to learning. Keeping with the retail theme, learning would "be curated, with 'seasons' that anticipate the coming 'fashions' in learning." Curriculum subjects would sit together in the same way that product types are ordered and displayed in stores, and instead of a food court, there would be related educational facilities; a bread school, and classes in cookery and nutrition. Sounding very entrepreneurial, and even slightly Bauhausian, they proposed three floors accommodating the seamless zones of 'think, make and sell'. On the roof, there would be a hydroponic city garden to share knowledge of farming and horticulture.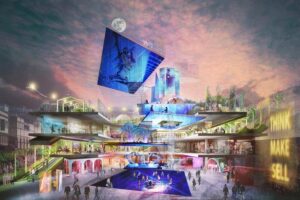 Jestico + Whiles' concept for a Palace for Learning. Photo: Property Week
Making such a proposal profitable would be the biggest challenge, but the possibilities are bubbling in our changing zeitgeist. A few decades ago, bustling adult education centres were situated in prime locations and their patrons were heartbroken when these gradually closed down. Less leisure time and forced higher prices decimated enrolments. Although some classes are still offered at Further Education colleges, these tend to be on the periphery of towns and are still steadily being cut back, despite the appetite for learning new skills and enjoying the social experience of being creative together having a renaissance. The popularity of programmes such as The Repair Shop, All the Glitters, The Great British Sewing Bee and the Great Pottery Throwdown makes this clear. If the spaces were used cleverly, multiple activities could sustain each other. It could be like a reversal of the old Burton's stores that always had a snooker hall on the first floor as an incentive, or reward, for getting men to shop. A central hub offering sports and well-being activities, a maker-space, and co-working facilities, especially if combined with child-care services, would create renewed footfall to symbiotically support integral retail and food and beverage spaces. Curating the services to the local community would help ensure their success.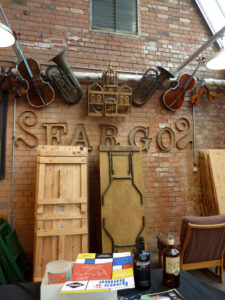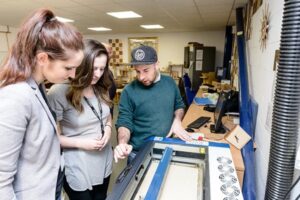 Left: Fargo Village, Coventry which hosts an Eco Furniture Factory makerspace. Photo: Theodora Philcox
Above: Participants learning within a makerspace
Photo: thersa.org
Usefully the government responded to the high street property crisis in September 2020 by changing the regulations on repurposing buildings. Retail units no longer need to go through the planning application process and can be much more flexible, such as being able to have a number of uses taking place concurrently, or having different uses at different times of the day. With changing use, a new demographic could be attracted to the town centre with the potential to enliven it well into the evening when it might otherwise have been dead.
Another architectural practice contributing to 'The Department Store Reborn' challenge was TP Bennett. They have also seen the empty units as an opportunity to capitalise on how the pandemic has refocused our appreciation on the importance of community bonds. They propose that we will 'disassociate our need for togetherness from mindless consumption,' with their concept being based on the agora, or gathering space, incorporating a mix of uses including art exhibitions, repair and repurpose workshops, relaxation, meditation and prayer areas, and an urban farm to grow your own vegetables.
There are now so many models that combine retail and education on a smaller scale, that it is clear that they work and demand is high. The Botanical Boys for example, in London, taps into our increasing desire to 'connect with nature', and there are legion franchises for arts and crafts that just need space to offer their popular edutainment sessions, such as life drawing for women, Hens with Pens, as well as those delivering serious new skills that would welcome central makerspaces to share knowledge and equipment. Visionary architects are needed to reconfigure the awkwardly designed and usually dark caverns vacated by the departmental chains, to enable multiple symbiotic usage to breathe joy back into the high street from dawn to dusk. They can be transformed to become a 'destination' just as they used to be, and serve the same function, and more, of being the anchor space in a mall or on the high street to attract other retailers. Palaces for the people.
References:
London Festival of Architecture – Digital. [online] London Festival of Architecture. Available at: https://www.londonfestivalofarchitecture.org/ [Accessed 28 June 2021].
Property Week. 2021. The great design challenge: the department store reborn. [online] Available at: https://www.propertyweek.com/insight/the-great-design-challenge-the-department-store-reborn/5113332.article [Accessed 28 June 2021].