155 card-based design tools
In November 2017 I wrote a Design@Open blog on some preliminary findings of research that James Warren and I were doing on card decks as tools for designers and designing. Since then we have completed our work and published the results in Design Studies (Roy and Warren, 2019). This article is embargoed until late March 2020, so this blog offers a brief summary of some of the main results.
My previous blog noted that one of the earliest design card decks was the House of Cards created in 1952 by Charles and Ray Eames, with a number of decks to aid creativity and computer system design produced from the 1970's to 1990's, followed by an upsurge of card-based design tools created after 2000. By reviewing the literature and searching the internet we were surprised to discover 155 design tools produced as physical card decks. Ours is probably the most comprehensive inventory of such tools produced so far, although we keep finding more. The inventory is published as an appendix to the Design Studies article.
Of the 155 decks the highest proportion (25.8%) aimed to stimulate creative thinking and problem solving. The second highest proportion (25.2%) aimed to help designers in specific domains, such as designing computer games and for specialised topics such as designing for children. Next were card decks (23.9%) intended to aid human-centred design, including user experience (UX) and digital design for creating user-friendly, innovative and attractive websites, apps, interactive devices, etc. Other decks were developed to help designers follow a systematic design process (11.6%), as aids to collaborative team work (9%) and for futures thinking (4.5%).
The figures below show how many cards fell into each of our six main categories and examples of card decks whose primary function was in each of those categories. A number of these decks also had a secondary function in one or more other categories.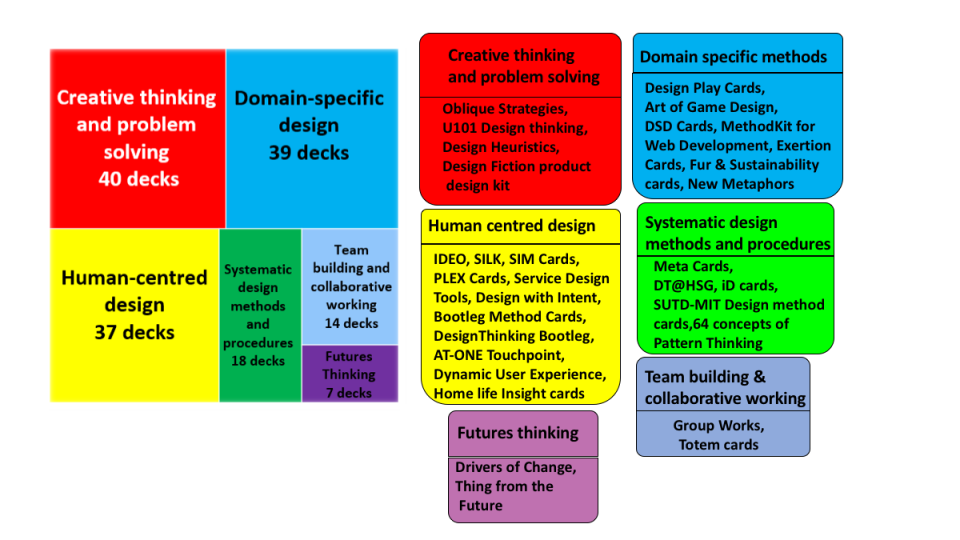 Card-based tools have advantages over other media for helping to design. The evidence and feedback from trials and applications of the tools indicate that their advantages stem from certain characteristics of cards. They are engaging objects which summarise information, methods, or good practice in a handy form that designers can absorb and act on; they can be shuffled and combined in multiple ways; serve as a common reference for teams of designers, users and others to facilitate discussions; can provide structure to a design process; and offer words and images to widen the search space and overcome design blocks. Thus, an important strength of cards is being a physical artefact that people can interact with.
What do users think of card-based design tools and do they help produce better or more innovative designs? User trials and feedback indicate that designers and others seem to like card-based tools and some of the decks have been sold or downloaded in large numbers. Negative feedback seems mainly concerned with difficulties in understanding how to use some decks and puzzlement or overload if individual cards contain too little or too much information.
The limited evidence from applications of card-based tools by practising designers and consultants is that decks most likely help to produce worthwhile design outcomes are those which stimulate creativity or facilitate user participation at the early stages of design, and those which summarise human-centred and domain-specific design methods, or good practice guidelines, which can be drawn upon through the design process.
However, almost all evidence on the value of these tools comes from the academics, designers or consultants who developed them. Hence more work needs to be done in evaluating these tools in independent, scientific trials, as well as to check the validity of the examples of products, services or systems said to be the result of using the tools. That is a task for further research.
Roy, R. and Warren, J. P. (2019) Card-based design tools: a review and analysis of 155 card decks for designers and designing, Design Studies, July, (63), pages 125-154
https://doi.org/10.1016/j.destud.2019.04.002    http://oro.open.ac.uk/61472/
If, like the Open University, your institution has a subscription to Design Studies you can download the full article at any time. Or you can pay to download it from Science Direct: https://www.sciencedirect.com/science/article/abs/pii/S0142694X19300171