The Bauhaus –one of the world's most influential art and design schools – was established by Walter Gropius in Weimar, Germany in 1919 and this year the centenary of its foundation is being celebrated in Germany and many other countries.
Beginning in Weimar, relocated to Dessau in 1925 and closed in Berlin under pressure from the Nazis in 1933, the school of design only existed for a total of fourteen years, but its pioneering educational, artistic and design ideas have had an impact lasting to the present day.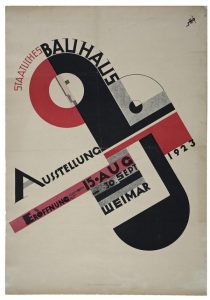 Poster for the 1923 Bauhaus Exhibition in Weimar. Author: Joost Schmidt.
Bauhaus Weimar lasted from 1919–1925. In his manifesto and programme for the school, Walter Gropius said that art should serve a social role and there should no division between the crafts-based disciplines. Instead of academic theory, the Bauhaus relied on creative methods and the individual development of the students' talents. Academic requirements for enrolment were dispensed with, so that young people could study at the Bauhaus Weimar irrespective of their educational background, gender or nationality. Its staff included international artists like Johannes Itten, Paul Klee, Wassily Kandinsky and László Moholy-Nagy and the school became an important meeting place for the European avant-garde.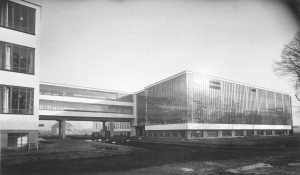 Bauhaus building Dessau from north-west, architecture: Walter Gropius. Photo: Lucia Moholy, 1926.
Following closure of Bauhaus Weimar, due to local political opposition, the school moved to Dessau in 1925 and so began its most influential period which lasted until 1931. During this time the modernist architecture and design for which the Bauhaus is recognised was developed. The work of its staff, such as Marcel Breuer, Wassily Kandinsky, Paul Klee and its students, uniting art and technology, led to the design of many new products intended for the general population. Starting with the Bauhaus Building – designed by the Walter Gropius in cooperation with the Bauhaus workshops and opened in 1926 – most of the buildings, furniture, lighting, textiles and interiors that still define the image of the Bauhaus today were created in Dessau.
The Triadic Ballet. Group photo of all figurines, artist: Oskar Schlemmer. Photo: Ernst Schneider, 1927
The rise of the National Socialists in Germany, who opposed everything the Bauhaus stood for, forced Bauhaus Dessau to close and the school to move to abandoned Berlin telephone factory in 1931. Due to repression by the Nazis and the drastic cutbacks in funding, only a limited amount of work was possible during the Bauhaus's last phase. Searches of the building and arrests of students finally led to the decision by its director, Ludwig Mies van der Rohe, to close the Bauhaus in 1933. Many those who taught and studied at the Bauhaus emigrated contributing greatly to the global dissemination of the Bauhaus's educational, architectural and design ideas. For example, Walter Gropius, Laszlo Moholy-Nagy and Marcel Breuer lived and worked in the modernist Isokon Building in North London in the mid-1930s and Mies van der Rohe emigrated to the USA in 1937.
There are many opportunities to join the celebrations of the Bauhaus centenary during 2019. For example, the Isokon Building in Chalk Farm, London now houses a permanent exhibition about the building and its residents. Elsewhere in London, Tate Britain and the William Morris Gallery will stage Bauhaus centenary events. In Germany a new museum will open at the Bauhaus' school building in Dessau in September 2019. There are also new museums due to open in Weimar in April 2019 and the existing Bauhaus archive in Berlin renovated and extended by 2022 to help create more space to present collections of Bauhaus work.
Full details of the global Bauhaus centenary programme may be found at: https://www.bauhaus100.com/programme/
As part of the celebrations Fiona McCarthy's biography of the Bauhaus founder, Walter Gropius, is BBC Radio 4's Book of the Week: https://www.bbc.co.uk/programmes/m0002z84