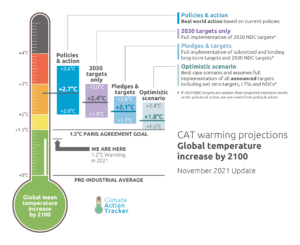 After unprecedented global news coverage, the United Nations COP26 conference ended on 13 November 2021 with the Glasgow Climate Pact agreed by the 196 countries present. The Pact was only achieved after a last-minute weakening of its wording on the use of coal from 'phase out' to 'phase down' after objections from India and China.
COP26 started with emotional, and often apocalyptic, opening ceremony speeches from Boris Johnson and other heads of state, as well as the great and the good, such as Prince Charles and Sir David Attenborough. Also contributing were representatives of small island states in danger of being inundated by sea level rise and of developing countries already suffering the effects of climate change. The leaders of China, Russia and Brazil were conspicuously absent, although they sent delegations. The speeches repeatedly stressed the obligation of the leaders of the world's nations to stop talking and start acting immediately before it's too late to head off catastrophic climate change. Several delegates claimed they were responding to the demands for action by young people around the world and the protesters and lobbyists in the Conference's green zone. These speeches were followed by a video message from the Queen who said, 'The time for words has now moved to the time for action' – arguably a polite version of Greta Thunberg's 'blah, blah, blah' jibe.
After two weeks of hard negotiations, COP26 ended with an agreement. The Glasgow Climate Pact was generally seen as a partial success. The conference's main aim of 'keeping 1.5 alive' (i.e., limiting global warming to 1.5 degrees C above pre-industrial levels) was viewed by some as having been achieved, but only just and only if further major improvements in national commitments and action are made in the next year or two. Chris Stark, head of the UK Committee on Climate Change said, 'A path to a 1.5°C future is now "hanging by a thread" but "is still there", which is amazing'. However, some climate activists and representatives of small island states did not share this view. For example, The COP26 Coalition, representing some of the world's biggest environmental and civil society groups, issued a damning statement. 'This agreement is an utter betrayal of the people. It is hollow words on the climate emergency from the richest countries, with an utter disregard of science and justice'.
The promises made in Glasgow which, if implemented, would reduce climate change impacts to some extent at least, include:
The Global Methane Pledge which commits over 100 countries to reducing their overall emissions by 30 per cent by 2030, compared with 2020 levels.
The commitment of countries representing 85 per cent of the world's forests to ending deforestation within nine years.
An agreement between USA and China to work together on climate change.
Increased climate finance from developed to developing countries to reach the goal of $100b per year. Developing countries have been promised that there will be increases to bring the finance for the next five years to $500bn with more to be spent on adaptation, rather than emissions cuts.
A coalition of 450 banks, pension funds, and insurance companies with assets of $130 trillion pledged to use their financial investments for a green transition.
India's commitment to be net zero by 2070 (not 2050) with 50 percent of energy from renewable sources by 2030.
Countries also reached agreement on technical rules on the Paris Agreement notably those governing a global carbon market to replace the UN Clean Development Mechanism.
Issues that were debated at COP26, but commitments left to future conferences include:
Payments from developed to developing countries whose people are suffering 'loss and damage' from floods, cyclones, etc. caused by climate change.
The relationship between biodiversity and climate change and the role that Nature-based solutions could play in both adaption and mitigation.
Despite the progress made at COP26, the commitments to 2030 if all implemented would still lead to a temperature rise of 2.4 degrees C and a rise of 1.8 degrees C if all the long-term net zero commitments were also acted upon. So, keeping '1.5 alive' depends on much more demanding pledges being presented by nations at COP27 in Egypt in 2022 and at COP28 in 2023, rather than in five years' time as previously agreed in Paris.
Probably the clearest way of understanding the task ahead is that to stay within the 1.5 degrees limit, global GHG emissions will have to fall by at least 45 per cent and preferably 50 per cent by 2030.
This is a very challenging target indeed given there are just nine years to reach it. For example, here in the UK it will require major changes in both technology and lifestyles. These changes include replacing most gas-fired power stations and old nuclear power stations with wind, solar and perhaps new nuclear energy; insulating millions of homes and replacing their gas boilers with low carbon heating systems; a major shift from petrol, diesel, and hybrid to pure electric cars; eating less meat and dairy; much less flying for leisure, business and freight; and less consumption of 'stuff'.
You could be forgiven for thinking this radical transformation may not be achieved in time. But given the implications of failing to make the necessary, but politically difficult, changes, it is necessary to remain positive.  Barack Obama said in his speech to the conference, the justified anger and frustration of young people about their future should be directed into constructive action to address the climate emergency. Obama was mainly talking about political action such as lobbying, voting and demonstrating, but didn't mention other important actions such as working on design, scientific and technological solutions and addressing Western consumerist lifestyles.
Reference
Climate Action Tracker (2021) Warming Projections Global Update, November, https://climateactiontracker.org/ Accessed 12 November 2021