During the last weeks of summer, hot on the athletic heels of the Commonwealth Games, Birmingham burst into flower with the arrival of a spectacular supergarden. PoliNations, a celebration of Birmingham's diverse population, wove an exploration of the city's cultural heritage with that of the plants that adorn and breath oxygen into its gardens, conceived around the fact that around 80% of the latter arrived here from overseas, through colonisation, migration, medical research and scientific endeavour. Taking nine of our iconic plants including the rose, daisy, pansy, tulip, amaranth and apple tree, PoliNations told their fascinating stories.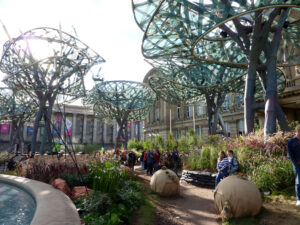 The project was set up by multi-disciplinary arts organisation Trigger, with creative director Angie Bual, as part of the government commissioned 'Unboxed: Creativity in the UK' festival. It was one of 10 cultural community projects spread across the United Kingdom. Originally, and rather unfortunately, it was known as the Festival of Brexit, purporting to celebrate what Britain could be in its glorious new isolation, but this proved so unpopular, designers threatened to pull out if the name wasn't changed!
Topically, PoliNations served to emphasise the importance of access to green spaces, and how we need to nurture the planet. After the 'greyness' of the pandemic, it offered an oasis of beauty and peace where people could come together again, and reflect on what's really important. Images on the news of nature reclaiming its territory whilst people stayed indoors made us so much more aware of what we have lost and could potentially lose forever.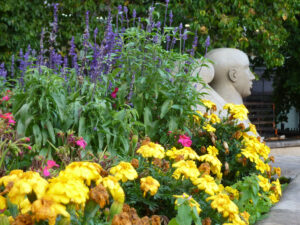 Victoria Square seemed to expand in proportions as spectacular 40 foot trees soared up from the concrete, using wind power to generate electricity, and collecting rainwater to irrigate the 6000-odd plants beautifully planned and placed beneath, together creating a forest garden in a thoroughfare of the city. Community lay at the heart of the project. In May, hundreds of children and adults from 60 diverse community groups across Birmingham began growing marigolds, a flower which itself has a fascinating history, ready to plant in the square in September. The opening 'Plant-up' event, saw these groups working alongside the horticultural experts to build the beds with the knowledge that once the festival was over, the plants would be distributed back out into Birmingham for community groups to re-green the city. On the final day there were queues for the great Plant Giveaway, as visitors happily adopted a plant to take home.
The planners' intention that there would be something for everyone was certainly borne out. When the gates opened and children rushed in to roll on the luxurious grasses, and people immersed themselves in the banks of flowers or got themselves comfortable on the cushioned benches, some of the designers were emotional. Over the two and a half weeks it was open, visitors were able to join creative workshops for all age groups in the Buckminster Fuller-style Wondersphere or enjoy a daily programme of music and talks on decolonisation, well-being, sustainability, protest and freedom of expression as well as more physical activities such as yoga, tai-chi and dance. Birmingham's diversity was enmeshed in these events, including Birmingham's emerging drag culture promoted by Yshee Black who MC'd and performed at the lunch time talks.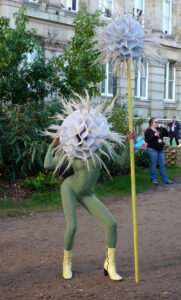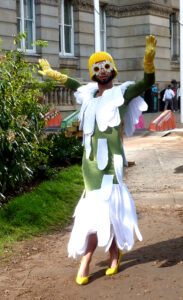 Accessibility was also central to the design concept. Braille signage and 3D maps, along with touch tours of the garden enabled those with visual impairment to fully enjoy the experience.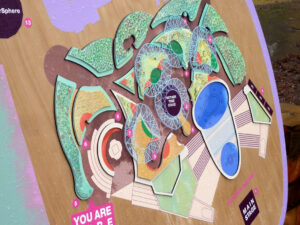 Performances were also created to offer a sensory experience for the neurodiverse, and the area was made accessible for wheelchairs. For those who couldn't attend, there was, and still is, a virtual supergarden, where you have the opportunity of creating your own plant, based on your thoughts and feelings, and then you can place it anywhere in the world. I created mine in memory of my brother, once an avid participant in Mardi Gras, and planted it on his street in Melbourne,  PoliNations – Create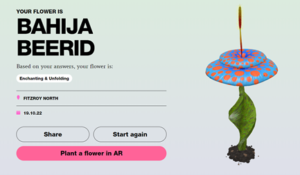 In exploring the stories of the iconic plants, visitors were able to more fully understand the enormous impact plants have had on our culture, such as how ferns had fuelled Birmingham's industrial revolution; how our tea got here from China; how tulips caused the first asset bubble; and even how flowers have been appropriated in the quest for sexual equality but also how their names were used as slurs. You can read more about their fascinating backgrounds here: PoliNations – Iconic Plants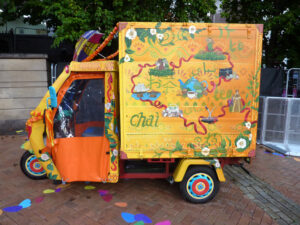 I wasn't able to be there early enough to catch the 'Awakening' soundscape each morning at 8 but I was lucky enough to experience the 'Sunset Shift'; a nightly light and sound show. I saw it twice; first after a tumultuous thunderstorm that temporarily shut the gardens, but which turned out to be a zen like experience with rich scents released by the rain, and then later, on the closing weekend, where live music blended with the electronic soundscape, and performers dressed as iconic plants gyrated around the Mother Tree. It was magical. If you stood near the trees, the dramatic rhythmic sounds booming up through their trunks similarly reverberated through your body.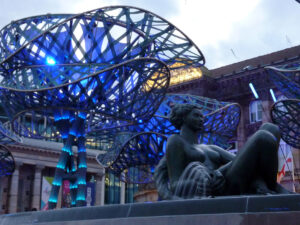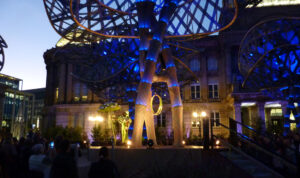 What couldn't have been predicted, apart from the British weather which somewhat let us all down after the long hot summer, were the train strikes, and most sadly, the death of our Queen. As a result, the ballistic seed parties and grand finale, where the trees would have exploded out a cloud of confetti and colour, cross-pollinating Indian Holi, Caribbean Carnival and Pride, never took place and the final days were more reflective and very much toned down.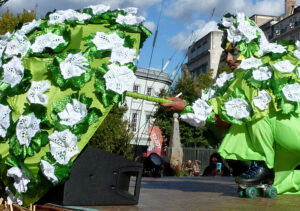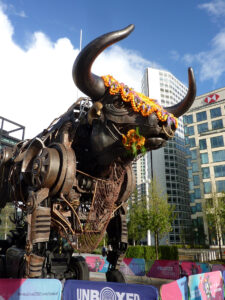 Perhaps not appreciated by its critics, Unboxed has offered opportunities and a mentorship scheme for hundreds of trainee creatives allowing them to gain experience in the industry and build confidence in their skills.
It's sad that the garden wasn't able to remain. Every city centre needs a supergarden!
(All photos: Theodora Philcox)