High pro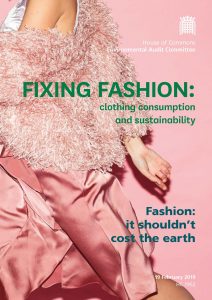 file leaders from the Fashion Industry meet with politicians and academics in Westminster on 20 November 2019 to discuss sustainability and ethics in fashion.
This conference follows a report from the House of Commons  Environmental Audit Committee  in February 2019.
Design is central to meeting industry sustainability goals. It is tremendous that these issues are at the forefront of the sustainability debate in the UK and wider. The Westminster Business Forum policy conference is a big step towards changing the way that the Fashion Industry works for designers, consumers and citizens. Keep an eye on developments.