A small group of houses always intrigued me as I hiked past them with my children on the way to birthday parties on the north side of Leamington Spa. Set back from the road, and almost hidden by numerous trees, they still managed to stand out; an experiment from another era. I was thus rather dismayed to recently discover they were being 'redeveloped'. Digging a little deeper, I discovered they had had their three minutes of fame on British Pathe news. They were, it said, 'the shape of tomorrow's brave new world of aesthetic economics'; an 'answer to the [then current] housing problem'. Taking their inspiration from bees, not only did they save on materials, but could also be erected in a matter of hours. These little houses were smaller prototypes than the proposed structures, and were described as steel tree-like structures, rather like an umbrella.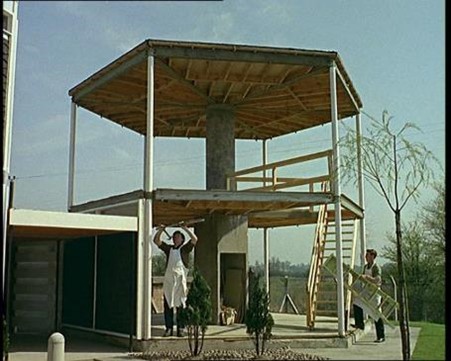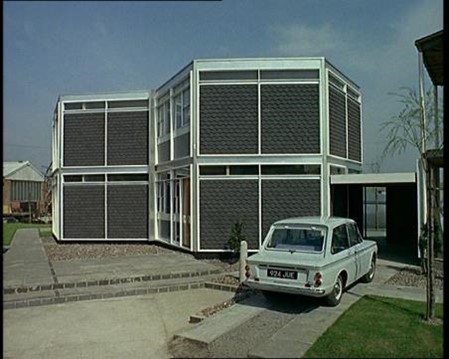 It's interesting to see the styling of this film. The Hillman Imp on the drive reflects the economies within the architecture; the popular little car being a response to the 1956 Suez Oil crisis. I remember my uncle getting a shiny new white one; his pride and joy. He would constantly watch over it out of the window, ready with a cloth at the mere hint of dirt. (I also remember our childish glee (and my mother's) when we persuaded him to take us to Woburn Safari Park, and drove through the baboon enclosure…. It wasn't pretty!)
The publicity imagery is stereotypical for the 1960s: the husband sitting reading the newspaper and checking the barometer, whilst the wife makes the tea, does the washing up and makes the beds! It shows, though, the functionality of this compact space.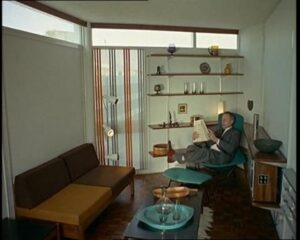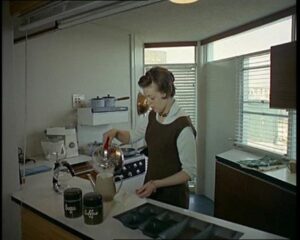 Over the years the exterior has stayed the same, but residents have styled their units as fashions changed, to suit their domestic lives or to demonstrate their designer aesthetics.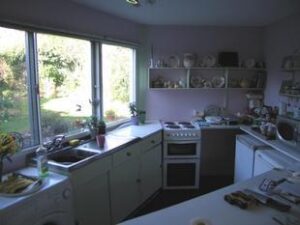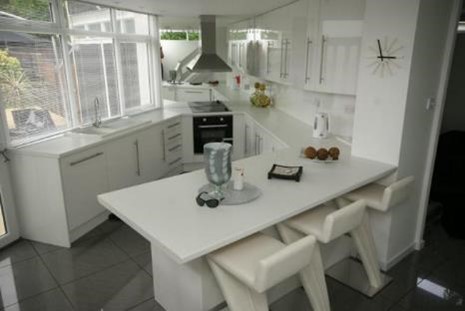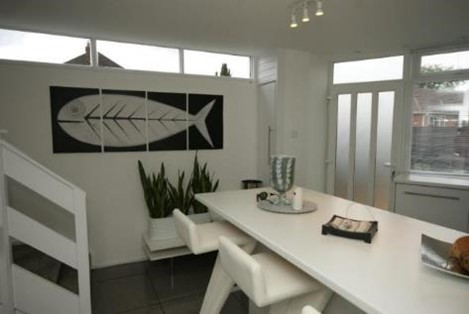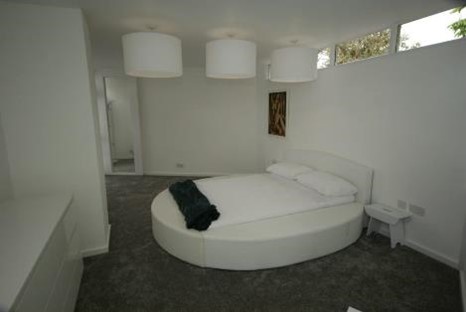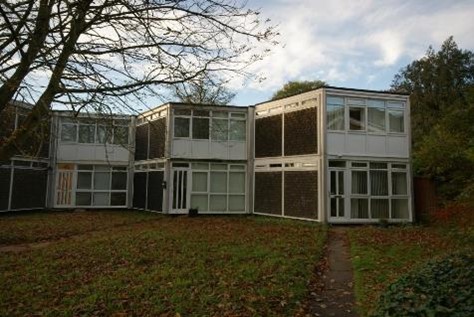 The 1960s Leamington pre-fabricated houses are unique in the UK, although there is a hexagon-based flat complex in Teddington (Sunnyside Road, 1971); sixteen one-bedroom flats built for 'aged persons' built of traditional brick.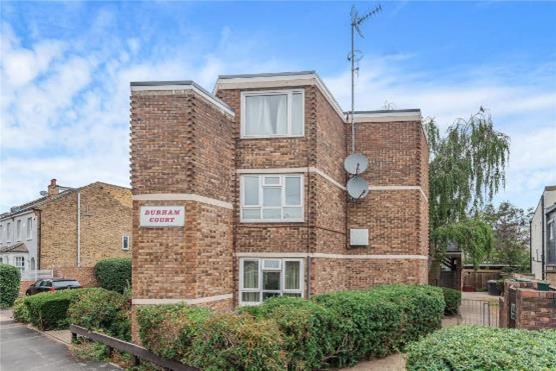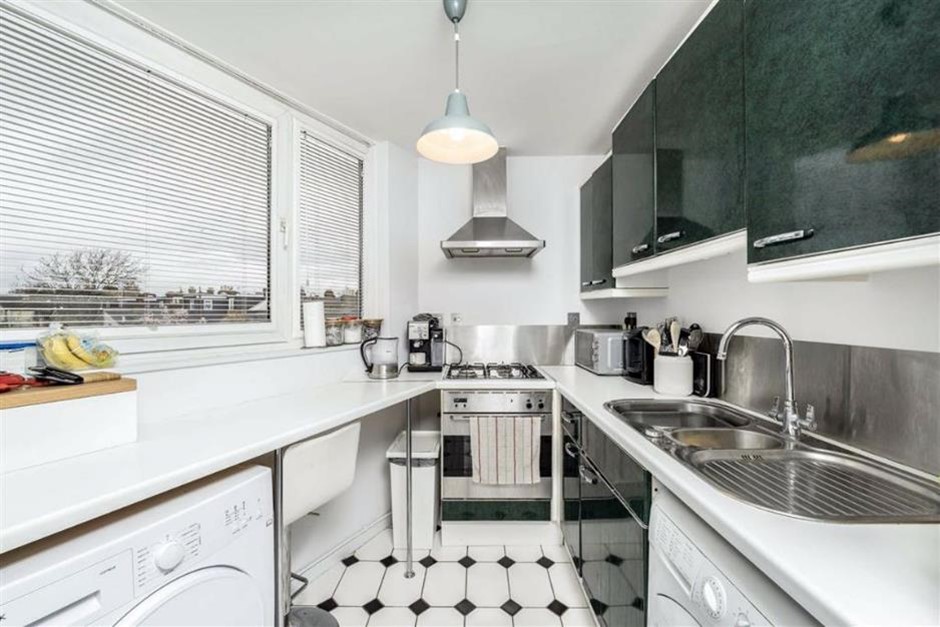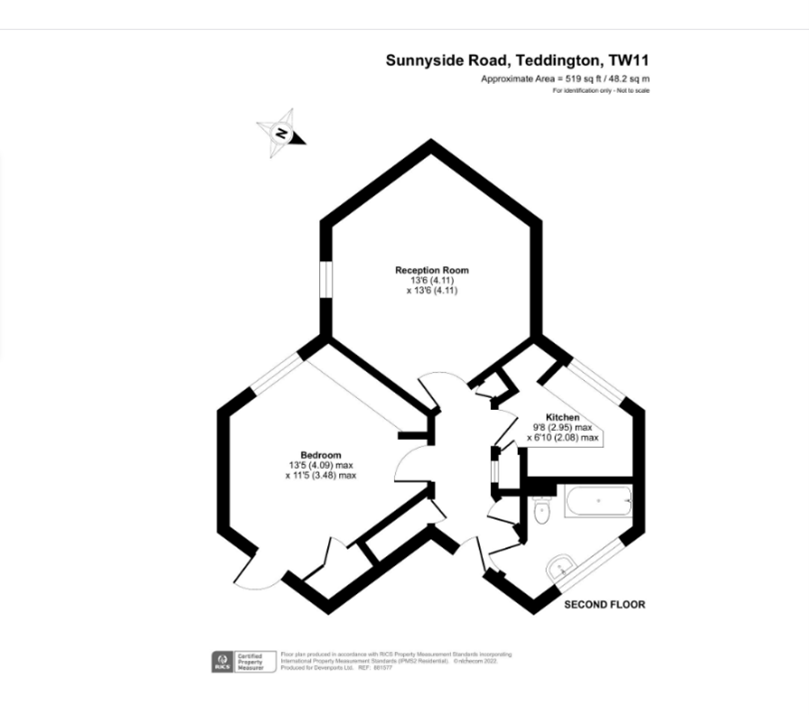 Despite their optimistic origins, the cost effective Leamington prototypes were never further developed. It's only in more recent years that the idea of honeycomb style houses has been revived, both in response to the challenge of getting on the property ladder and more urgently to provide shelter for those affected by natural or man-made disasters.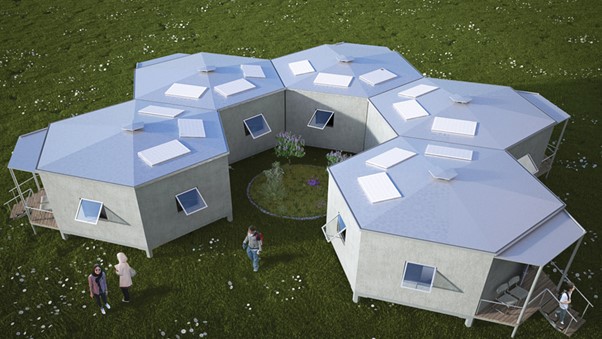 The Hex House, above, designed by the American humanitarian design practice, 'Architects for Society', is supplied flat-packed. It can be deployed quickly and erected by the people who will live in them, without the need for specialist tools;  most of the components snap together. They are constructed using a steel frame, including a central support, with Structural Insulated Panels (SIPs) for walls, not dissimilar to the design of the Leamington Hexagon Houses.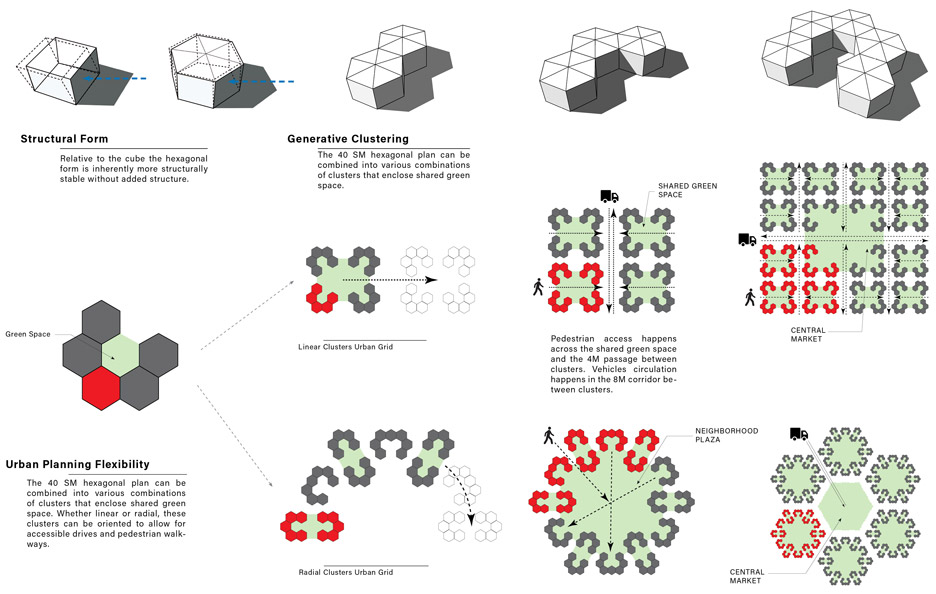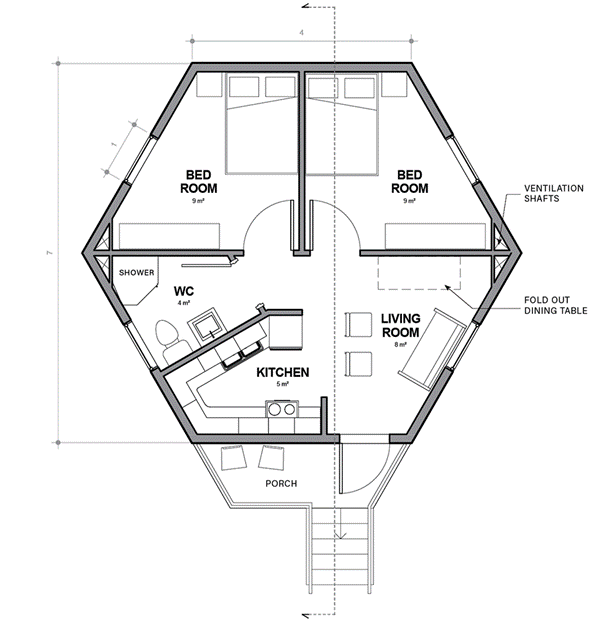 Those living in the Hex Houses can customise the layout to suit their needs, since the interior walls are not connected to the ceiling, but each unit contains two bedrooms, a kitchen, a bathroom, a living room and a small porch. Units can be combined to create larger homes to accommodate families or added to over time as a family grows with little disruption. The units can be configured in different ways depending on the social and environmental needs and when placed together they benefit from maintaining heat from the shared walls. The level of insulation in the panels can be customised to suit the location, whether this be extreme cold or heat.  To maximise their sustainability, the roofs have solar panels and are pitched to collect rainwater.
The cost for each property is under £15,000 and it was proposed that people could live in them for 15 to 20 years. The uses for this kind of structure are many. To see one such building being constructed go to https://youtu.be/9815H4x53LA
A similar prefabricated house had been designed a few years earlier by Barry Jackson. His Hivehaus has large floor to ceiling windows giving it a stylish contemporary feel, a look enhanced by the circular skylight. It has clever features including allowing rainwater to drain down the scaffolding tubes that create the structural frame. Like the Hex House it arrives flat-packed and  can be built very quickly, by a handful of people. It can also be expanded by adding more units, which connect with sliding doors to save space. However unlike the Hex House, each unit, or pod, is designed for a specific use; a lounge, kitchen, bathroom or bedroom, each 100 square feet. Like the Leamington Hexagon Houses, these attractive buildings offer an affordable means of getting on the housing ladder and have the advantage of being able to grow with their residents' circumstances.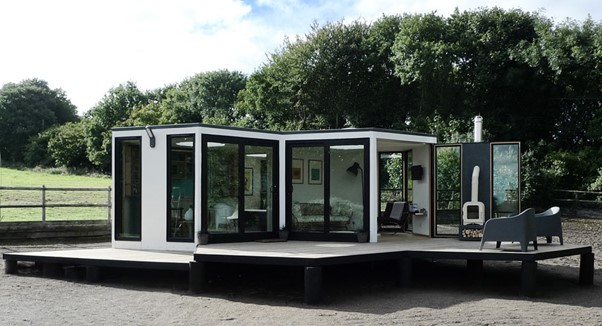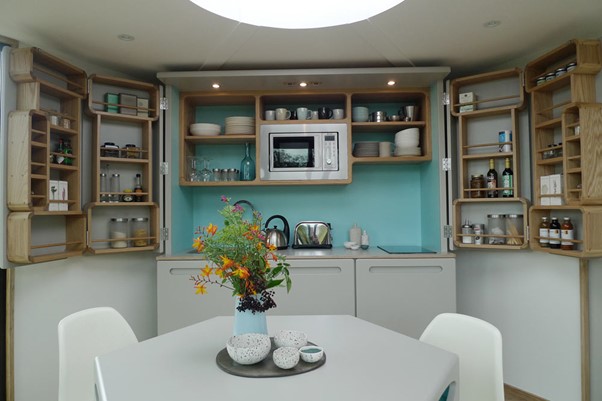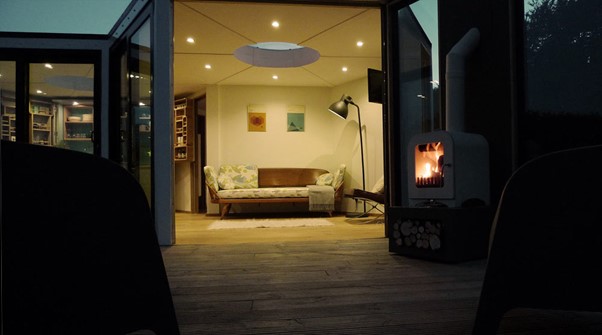 But to return to those houses in Leamington Spa, what has been their fate? They weren't listed and as a result were sadly demolished during lockdown, but there was enough love for them to at least maintain their footprint and to match their hexagonal frontage. They have now been updated to support the needs of modern sustainable living. The honeycomb patterned panels have gone, and instead there is a lot of glass.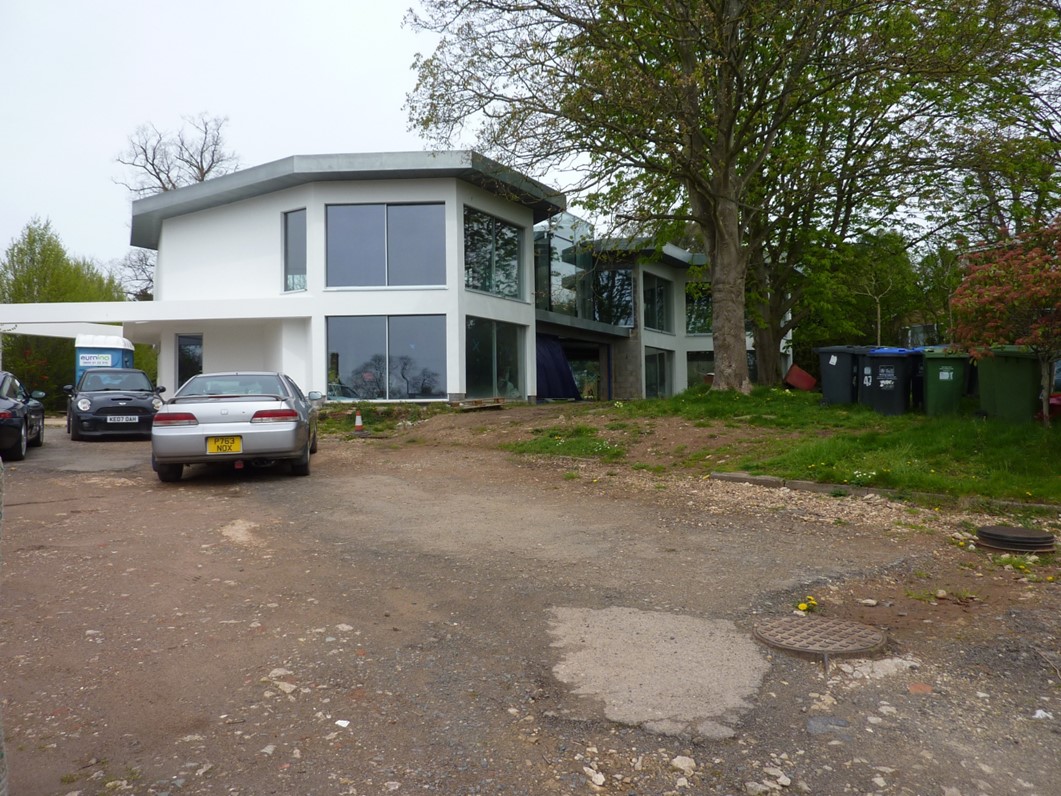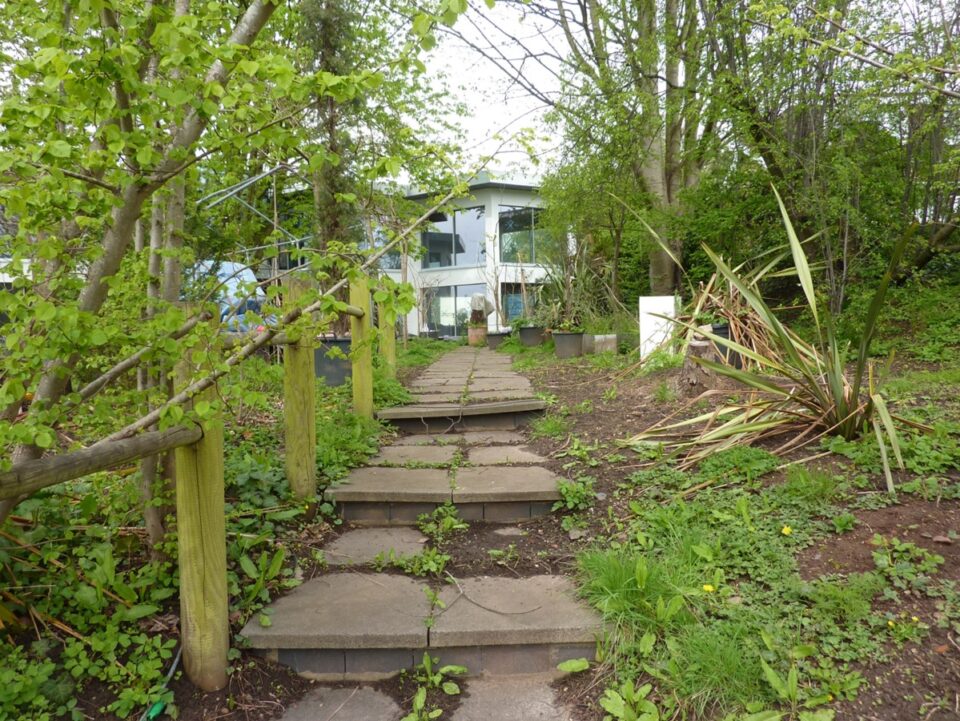 They're not quite finished yet,  but so far, they are looking good, although if I was walking past them for the first time now, I'm not sure I would give them a second glance.
References
Architects for Society Architects for Society
Shane Hickey, 2015, The Innovators: Hexagonal homes could give first-time buyers a hive of their own (online), The Guardian, Available at The innovators: hexagonal homes could give first-time buyers a hive of their own | Entrepreneurs | The Guardian  (Accessed 28 April 2023)
Jenna McKnight, 2016, Architects for Society designs low-cost hexagonal shelters for refugees (online), Dezeen, Available at Architects for Society creates low-cost hexagon refugee houses (dezeen.com) (Accessed 26 April 2023)
Caroline Williamson, 2013, HiveHaus: A Modular Hexagonal Home by Barry Jackson (online), Design Milk, Available at HIVEHAUS® – A Modular Hexagonal Home By Barry Jackson (design-milk.com)  (Accessed 28 April 2023)