Patterns of invention, design and innovation – the case of vacuum cleaners
Today almost all households in industrialised countries have at least one vacuum cleaner. But after World War Two the adoption of vacuum cleaners was surprisingly slow, and it was not until 1955 that half of British ones owned one. The main reason was that a vacuum cleaner, even if bought on hire purchase, was beyond the means of ordinary people, given that in 1960 they cost £175 to £950 in today's money. Then, as more women started working outside the home and prices fell sales gradually increased until by the early 1970s almost every household owned one.
The first portable, electrically powered vacuum cleaner was invented in America by James Spangler and patented in 1908. A producer of horse leathers, William Hoover, who was looking to diversify his business given the advent of the automobile, was so impressed by his wife's new Spangler cleaner that he took over Spangler's patents and business and started making the 'Model 0', the world's first commercially successful portable electric vacuum cleaner. The Model 0 of 1908 cost $60 (about $1700 today) and so it, and early vacuum cleaners made by Hoover and other firms, were luxury products aimed at affluent households with an electricity supply who previously had servants. Manufacturers promoted their products not just as labour-saving devices, but ones which would make the home cleaner and more hygienic. So, although these appliances helped many upper and middle-class women to replace their live-in servants with home helps, the amount of housework required often increased as expectations of cleanliness rose (Ryan, 2006).

Hoover (Electric Suction Sweeper Company) Model 0, 1908 (Dadarot, Wikimedia Commons)
Dyson DC01 Dual Cyclone bagless upright cleaner, 1993 (Courtesy of Dyson Ltd.)
By the 1920s two dominant designs of a vacuum cleaner – upright and tank or cylinder forms – had been established. These designs were facilitated by the development of small, high-speed electric motors and standardisation of the US domestic electricity supply at 120 volts AC at 60 hertz. These dominant designs were not seriously challenged in their core technology and typical configuration until the introduction in Britain of James Dyson's first cyclonic vacuum cleaner, the DC01, in 1993.
Manufacturers nevertheless tried to distinguish their products from the fierce competition through incremental improvements in performance and features, such as a headlamp, retractable electric cords and high-efficiency filters. In order to further differentiate their products, European manufacturers started involving architects and industrial designers in product design, which therefore looked modern and sleek compared to most American products designed by engineers. Gantz (2012, p.107) writes,
For these early industrial designers, getting into the business was like shooting sitting ducks. Every product…was ugly, ungainly and obsolete in style having been designed by engineers who were totally focused on functional performance, but oblivious to the new modern design trends and unaware of the public desire for more attractive appearance.
One design classic was the 1937 Electrolux Model XXX cylinder cleaner, which remained in production until 1954. When demand for their appliances declined during the Depression, American manufacturers also started to employ industrial designers to boost sales and reduce manufacturing costs. Hoover, for example, retained Henry Dreyfuss, to modernise its products.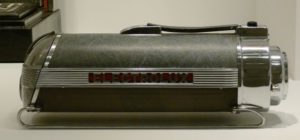 Electrolux Model XXX cylinder cleaner, 1937, styled by American industrial designer Lurelle Guild (Dallas Museum of Art, photo FA2010, public domain)
An innovative concept created by Henry Dreyfuss, based on one of the dominant forms, was the Hoover Constellation, which had a spherical tank and floated like a hovercraft on a cushion of its exhaust air. The first models launched in 1954 did not float but had an extra-long hose that swivelled at the top of the tank to allow the user to vacuum the room around the cleaner. The floating model came in 1956, developed and patented by Hoover engineers using Dreyfuss's design. It remained in production with a series of updates until 1975. In 2006 Hoover relaunched the Constellation in the USA, branded in the UK as the Maytag Satellite, which was in production until 2009.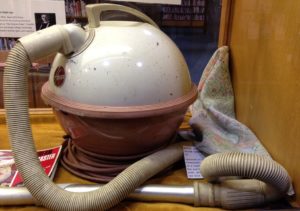 Hoover Constellation vacuum cleaner 1958, which floated on a cushion of its own exhaust air. The spherical casing was design-patented by Henry Dreyfuss (Robin Roy)
The origins of the Constellation's 'space age' design is uncertain, but the mid-1950s context was the developing space race between the USA and Russia and while British inventor, Christopher Cockerell, was developing the hovercraft. Dreyfuss may have been influenced by space technology, while Hoover's engineers presumably applied the technical principles of air cushion vehicles, known since the early 20th Century, to a vacuum cleaner.
The history of vacuum cleaners is thus a story of invention, early experimentation and then consolidation on two dominant designs which, apart from a few innovations like the Constellation, survived basically unchanged in core technology and configuration until challenged by Dyson's disruptive technology of the bagless cyclonic cleaner. This in turn led to further innovations in design and technology, including a variety of cyclonic designs followed by cordless and robotic cleaners as batteries and motors improved and intelligent machines evolved. This pattern of innovation was not just a matter of technical and design development, but was strongly influenced by the social, economic and cultural context.
References
Gantz, C. (2012) The vacuum cleaner. A history, McFarland & Co Inc., Jefferson N Carolina and London.
Ryan, D.S. (2006) 'The vacuum cleaner under the stairs: women, modernity and domestic technology in Britain between the wars', Design and Evolution: The Proceedings of the Design History Society annual conference, Delft, Netherlands, Design History Society and Technical University, Delft.
This blog is based on a longer case study being written for the new OU TB801 Managing Technology and Innovation module and a chapter of the author's book Consumer Product Innovation and Sustainable Design, Routledge 2016.