Mark Williams ~ Senior Learning Designer
 Natasha Huckle and Mark Williams were excited to host the Learning Design Cross Institutional Network this year at the Open University campus in Milton Keynes. With support from Jim Harris (University of Northampton) and Simon Walker (UCL) they identified themes for exploration and called out for learning designers across the network to present keynotes and workshops. This is what happened!
Hosting the LD CIN
It was the turn of the OU to host the Learning Design Cross Institutional Network on 27th July. And it was great to bring a range of institutions onto our campus as well as welcoming our online attendees. The aim of the network is to create a less formal occasion, a gathering rather than a conference, as a way of sharing practice and resources. It seems incredibly relevant to have such a space to communicate, because our work is never carried out in isolation. As learning designers, we are constantly researching ideas and theories whilst working within our own teams to implement them most successfully.
Some themes seem particularly relevant just now.
We develop working practice collaboratively, with colleagues across our institutions as well as external experts that can help us shape our own strategies. We are also collaborating more and more with learners to bring in the voices of those experiencing the courses we help to create. It's through this dialogue that we help to develop our roles and expertise.
Building on from the good work of Northampton University who hosted so brilliantly last year, we identified themes that seem to be incredibly important just now. Jim Harris and Simon Walker joined us in some great opening conversations where we discussed how learning outcomes, assessment, disruptive technologies, and the role of the learning designer were currently key topics. Certainly, in developing assessment literacy, active engagement and learners as partners, these elements are crucial.
Should we be rethinking learning outcomes?
It is only when we make our criteria transparent as well as both understandable and relatable to students that they are able to make considered use of it. Having clear learning outcomes that are measurable; removing abstract terms such as 'understand', can help learners negotiate through them. John Brindle, from Edge Hill University, questioned the traditional structure of learning outcomes and instead emphasised the importance of converting these into understandable actions and performance-related objectives in his afternoon workshop.
Paul Astles, from the Open University Learning Design team, explored a more relatable use of language to remove terms such as comprehension, understanding, application, analysis, syntheses, and evaluation from learning outcomes. For example, instead of using 'knowledge' as a term, he suggests specific language such as order, outline, present and describe to make demonstrations of knowledge more achievable.
 Developing assessment journeys
Advice and guidance around developing assessment is now becoming key to the leaning design role. Mark Williams, from the Open University, outlined the work being carried out by the learning design team to develop assessment strategies early in the production process. This has involved joining up conversations around the OU, including weightings and thresholds, workload and framework models and inclusive assessment prompts. The team have developed interactive whiteboard templates to facilitate important conversations in these areas as well as their own research into authentic assessment, dialogic feedback, student choice and the importance of formative assessment.
How can we frame conversations around AI?
Candace Nolan Grant and Mark Childs, from Durham University, presented their framework to fostering open and informed discussions about AI and its implications for assessment. Their steps to a discursive process start with what to prohibit and invigilate before moving to what can be allowed in the design process. This requires a grasp of what generative AI can do. The next step is to encourage its use and to discuss this with equity and privacy in mind. Discussions around the evolvement in AI technology are also important and encourage students to think about its use in the future. This leads into suggestions of rethinking learning, including assessment, and relates to rethinking learning outcomes themselves rather than just tweaking assessment to suit technologies. For Durham University, this change in learning outcomes would then reflect new norms.
Making AI part of practice
Artificial Intelligence and ChatGPT were also part of afternoon workshop discussions, with Eleanor Moore and Katia Shulga from the OU LD team leading face to face and online conversations.  They outlined the journey within the OU LD team, beginning with team members upskilling through internal and external webinars and discussions. Creating a group to lead on focussed conversations was their next step in considering how to work with AI and give advice and guidance when structuring course content. This new group have created resources around the use of ChatGPT and generative AI, providing ideas to help students use it to create useful study aids, revision activities, quizzes and study planners. Accompanying conversations revealed that ethical frameworks need to help learners understand bias within AI language.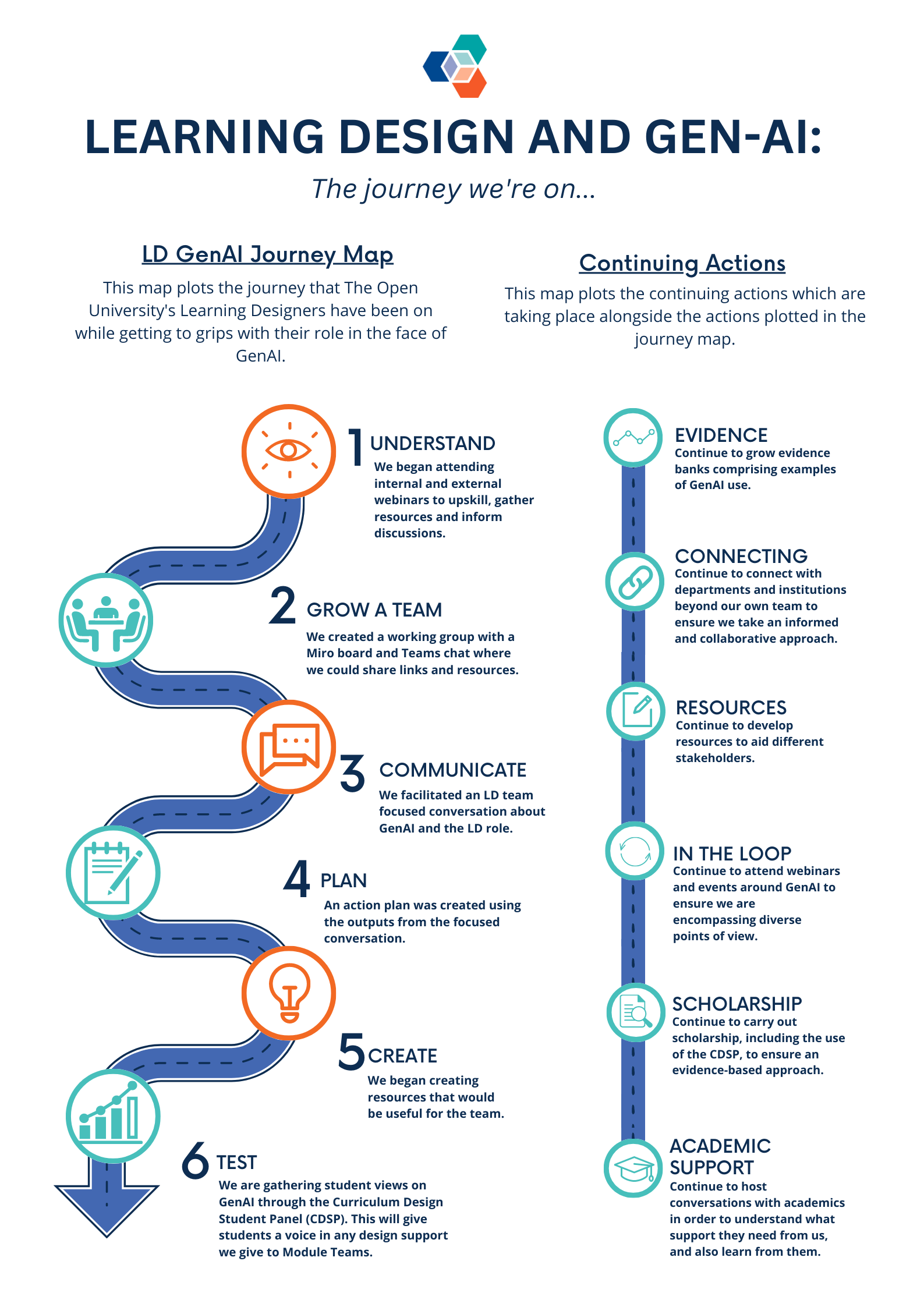 But who are we as learning designers?
Jim Harris, from University of Northampton, focussed on the role of the learning designer titling his presentation 'Hello, my name is… I'm a Learning Designer, which means…'. Through his interactive workshop, Jim asked the learning design community to explore their own identity. Reflecting on their role and what it entails, the group came up with answers such as 'helping academics teach', 'championing student experience', co-designing student learning journeys' and 'enhancing the student experience'.  Jim then asked the group to create a learning design profile by scoring characteristics such as being empathetic, influential, adaptive, and self-reflective. His own experience of working to develop learning journeys also revealed how the learning design role is to explore active learning and active engagement more thoroughly.
How do we make an impact?
Discussing who we are as learning designers and what that means proved to be a meaningful exercise. And these are questions we must ask ourselves to check on where we are making impact. We also need to be able to identify the types of conversations we should be having to influence decision making. Michael Kay and France Barth, from Kings College, London, discussed training as an important part of learning designers' work, and how this has impact on the future working practices of academics. The methods we employ to facilitate communication will also have an impact on teaching practices. For both, the importance of how learning designers communicate their impact is incredibly important for them to gain advocacy.
Spaces of learning have now changed
JISC were invited to the LD CIN as a guest speaker. Helen Beetham accepted the invitation to talk about some lessons learned form the Phase 2 of JISC's review of learning and curriculum design in UK HE. In her presentation, Helen gave some insightful points around the big post-pandemic questions of space and time in higher education learning. Describing how spaces of learning shifted after the pandemic and became less collated and synchronous, she described how the curriculum design process had to incorporate different modes of study (onsite, online and hybrid). To address this, a move toward space design and platform integration became part of pedagogic language including aspects such as ubiquitous recording (where every space could be recorded). Thinking differently about study time has also become incredibly important, with learners having flexible starting points, studying when they choose and using technologies such as interactive virtual whiteboards that stretch the time of learning: using these in structured lessons and as personal reflection at a later point.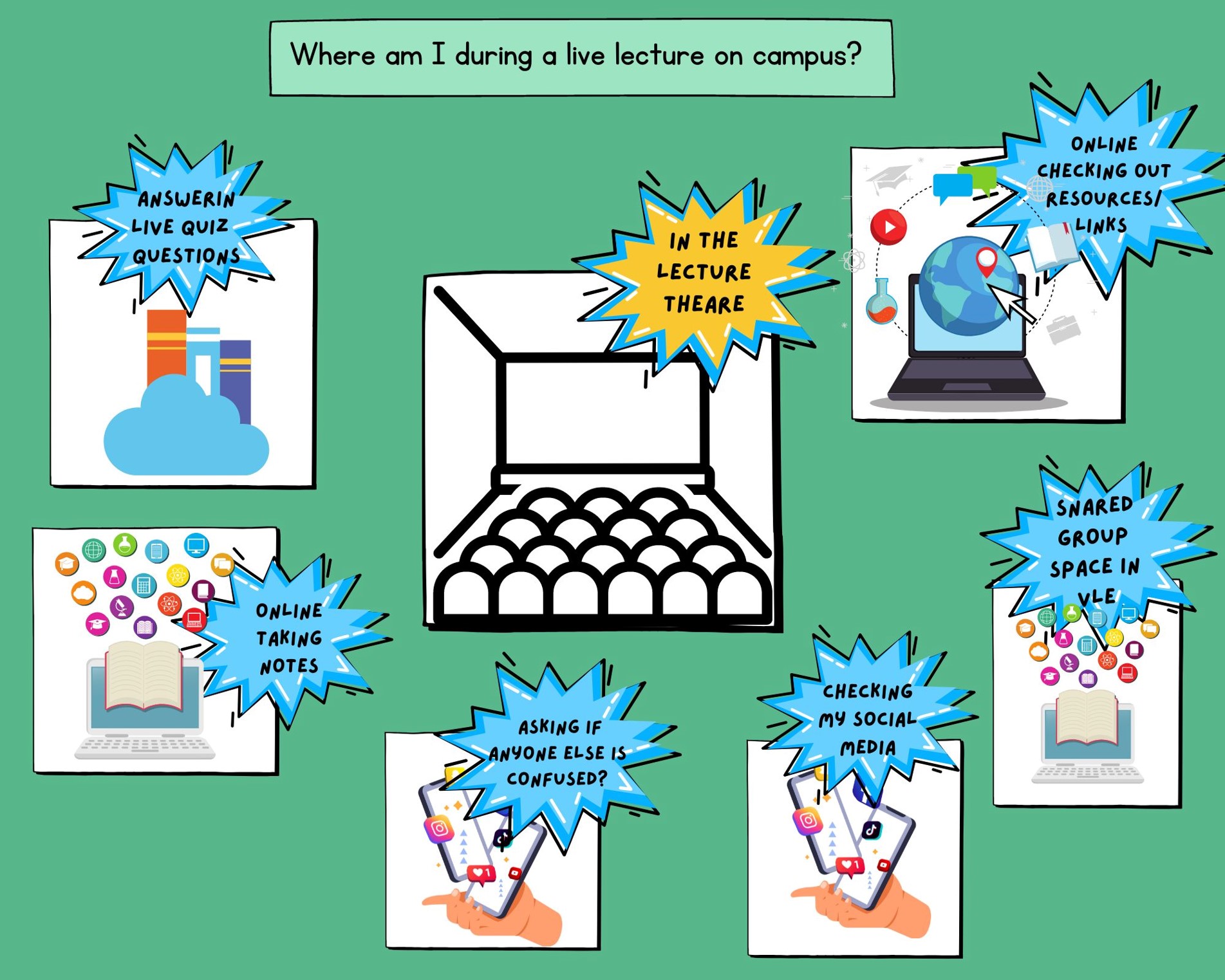 Connecting dialogues and resources
Focussing on space and time as dialogue and engagement for learning has been incredibly important in the field of learning design. Helen Beetham gave an example of how a learner in a live lecture on campus could also be online checking out resources and links, in a shared group space on the VLE, checking social media, online taking notes, or answering live quiz questions. Connecting dialogue through time and space was our way of thinking about the LD CIN moving forward. As our last workshop of the day, we developed group outcomes around sharing resources and methods of working. What became clear was the importance of supporting each other to develop practical toolkits around accessibility, inclusivity, and assessment and to consider more frequent hybrid meetings on a topic or as a drop-in chat. Having a social and authentic space to tap into more regularly was also identified. These are now being considered and developed.
---
To find out more about the Learning Design Cross Institutional Network go to:  International Learning Design Cross-Institutional Network (LD-CIN) (google.com).
If you are interested in joining the network, go to the group homepage at www.jiscmail.ac.uk/learningdesign and choose the 'subscribe' link from the page. Then respond to the confirmation email.
---
Banner image: Mark Williams and Shawndra Hayes-Budgen, via Canva