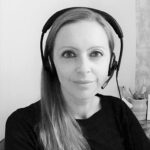 Helen Cooke is a Senior Manager in the Access, Open and Cross-curricular Innovation team in PVC Students and responsible for the day-to-day running of the Open Programme. She is a Senior Fellow of AdvanceHE, based on her work supporting multidisciplinary students in an online environment.
Way back at the end of March (remember those pre-lockdown days…?), our eminent Director of the Open Programme, Professor Martin Weller, sensibly suggested that we should run a weekly drop-in session for students in response to the disruption caused by COVID-19. Less sensible, we thought, was his suggestion that the focus of the conversation could be on toilet roll hoarding and stockpiling pasta…
So instead, we took on the challenge of coming up with a series of sessions that would focus on non-pandemic related activities that everyone could engage with, in a safe and friendly space, and that would spark discussion and positivity for everyone involved. In total, we have run 13 sessions over the last 4 months, starting with 'Soundtrack to your studies' on Tuesday 24 March and have covered topics including our favourite films, TV, creative lockdown initiatives, travel destinations and blog writing. We have even created a dedicated playlist on Spotify and YouTube and an Open Programme cookery book!
Our final session of the series before taking a break over the summer was titled 'What's next?', where Helen Cooke and Rehana Awan provided a recap of all of the sessions we have run over the last four months, and participants discussed their plans for the summer and their future study plans. Popular drop-ins included the Pods, Blogs and Vlogs session with Open degree graduate Finlay Games and the Four Famous Artworks session with Jay Rixon and Professor John Butcher.
[Don't forget: although our sessions weren't recorded, you can read all about each one in our series of blog posts if you missed any of them!]
As many of the session attendees were already thinking ahead to the start of their next module in October, we then discussed a range of options for students to prepare for their studies including:
accessing preparatory or taster materials on OpenLearn [*shameless plug alert*  including our own Badged Open Course (BOC) on Multidisciplinary study: the value and benefits]
taking other free, Open Educational Resources (OER) available from providers such as FutureLearn, EdX and Coursera (Class Central was suggested by Martin Weller as a useful directory for researching courses available)
getting ahead with the module reading list
sharing queries and exchanging ideas with students on various subject and qualification forums
However, we also emphasised the importance of taking a break from studies over the summer to spend time with friends and family (in line with the most up to date lockdown rules of course!) and two students even told us about their volunteering plans with the OU Students Association, where they are providing peer support to other students. You can find out more about peer support and other volunteering opportunities on the OU Students Association website.
Finally, we talked about possible topics for future sessions, as we hope to continue with these online sessions in some way during the 2020-21 academic year. We recognise that there is more work to do on promoting the sessions, particularly to Open Programme students studying across all four faculties, but some of the ideas suggested for future sessions included:
History and places of interest
Cities
Learning from COVID-19
Debates (eg. around key global challenges)
More cultural discussions around art, poems and, unsurprisingly…. food!
In the meantime, we will be presenting a session on key global challenges as part of the Student Hub Live Fresher's event in September (on Monday 21 September from 10-11am – save the date and check the SHL website for more details in due course!).
Finally, I would like to say a huge thank you to Jay (Rixon) and Gina (Sharp) for their commitment on behalf of all of the Open Programme team for running these sessions at a particularly difficult time – and, of course, to all of our students, guest presenters and academic colleagues for contributing to such an enjoyable and engaging range of topics.
Bye for now, and we look forward to seeing you again in the Autumn!