Fun, Big Books, inclusion and successful kindergartens
 Summary
This project is looking at developing inclusive teaching approaches and resources for Indonesian kindergartens.  Following discussions with teachers and teacher educators in 2019, an idea was developed to get inclusive resources into kindergartens before, or regardless of whether, they had any children with special educational needs applying to enroll.
Context
Our discussion with kindergarten teachers had suggested that they wanted something practical that would support everyday activities.  They also wanted reassurance that any new approach wouldn't hinder the development of children without special educational needs. And they wanted something that was fun.
The approach developed was Sign Supported Big Books.(SSBB)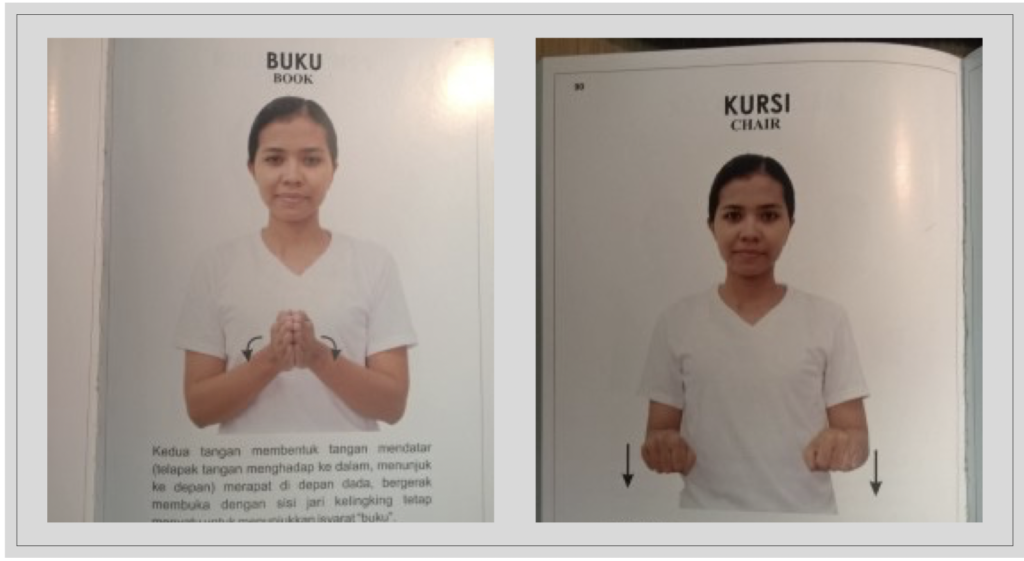 Signalong Indonesia signs
The approach has become widely adopted  (Budiyanto et al., 2019) and worked well in a variety of classrooms, and extra-curricular activities.
Research Questions
What are the pedagogical strategies that could enable positive social and educational outcomes for teachers to support all learners through Sign Supported Big Books?
Methodology
The team is currently using a large storybook accompanied by a keyword signing (KWS) approach, Signalong Indonesia (SI), to support this aim. This uses simple manual signs to highlight keywords in spoken Bahasa Indonesia (Indonesian Language).

Participants
More than 300 Kindergartens are currently using Signalong Indonesia. The project aims to reach a large number of kindergartens.

Areas where kindergartens are using the Big Books.
Each kindergarten received a big Book Bag contained three SSBBs and a training manual.
We have also run online training sessions for teachers, and have collected feedback from them on their experiences and how we might develop the approach to support them and their children.
One request was for an 'app', through which materials could be accessed quickly and easily.  The informed the development of the Signalong Indonesia Digital Read Aloud app. This contains a mix of digital books and videos.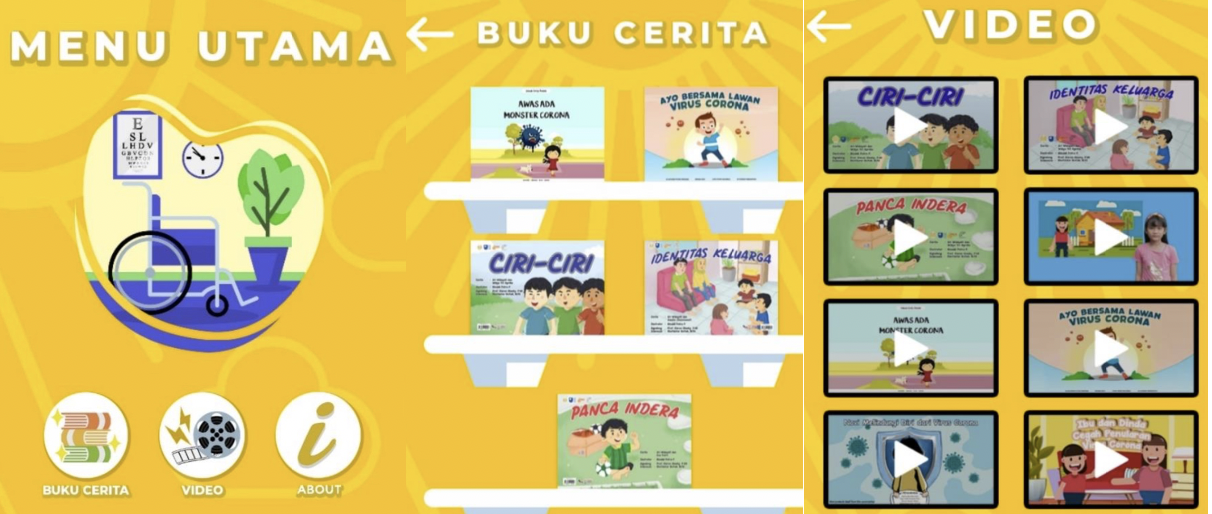 A positive feature of this app was that it allowed us to swiftly create and distribute accessible Coronavirus-related health information to children and their families.
We are now beginning to explore how this app is being used within kindergartens and primary schools. The SSBB approach was designed to be social, interactive, and fun. Fun is what drives its use and this seemed to be working well. Will this still be the case for the app? Will it support the social and educational benefits of SSBB-or will be used in a different way?  Will it still be fun?
More news on this in the coming year…
CONTACTS:
This project is coordinated by
Khofidotur Rofiah
(Pedagogical University of Krakow)
Sri Widayati and Prof Budiyanto
(UNESA- The State University of Surabaya)
Prof Dr Kieron Sheehy
(The Open University)
References:
Rofiah, K., Sheehy, K., Widayati, S., & Budiyanto. (2021). Fun and the benefits of Sign Supported Big Books in mainstream Indonesian kindergartens. International Journal of Early Years Education, 1-15.
Budiyanto, Sheehy, K., Kaye, H., & Rofiah, K. (2018). Developing Signalong Indonesia: issues of happiness and pedagogy, training and stigmatisation. International Journal of Inclusive Education, 22(5), 543-559.
Sheehy, K., & Budiyanto. (2014). Teachers' attitudes to signing for children with severe learning disabilities in Indonesia. International Journal of Inclusive Education, 18(11), 1143-1161.
Sheehy, K., Kaye, H., & Rofiaha, K. (2020). Indonesian educators' knowledge and beliefs about teaching children with autism. Athens Journal of Education, 7(1), 77-98.
Sheehy, K. (2019). Developing Signalong Indonesia: issues of politics, pedagogy and perceptions. In: Grove, Nicola and Launonen, Kaisa eds. Manual Sign Acquisition by Children with Developmental Disabilities. Nova Science.
Sheehy, K., Budiyanto, Kaye, H., & Rofiah, K. (2019). Indonesian teachers' epistemological beliefs and inclusive education. Journal of Intellectual Disabilities, 23(1), 39-56.
Sheehy, K., & Budiyanto. (2015). The pedagogic beliefs of Indonesian teachers in inclusive schools. International Journal of Disability, Development and Education, 62(5), 469-485.