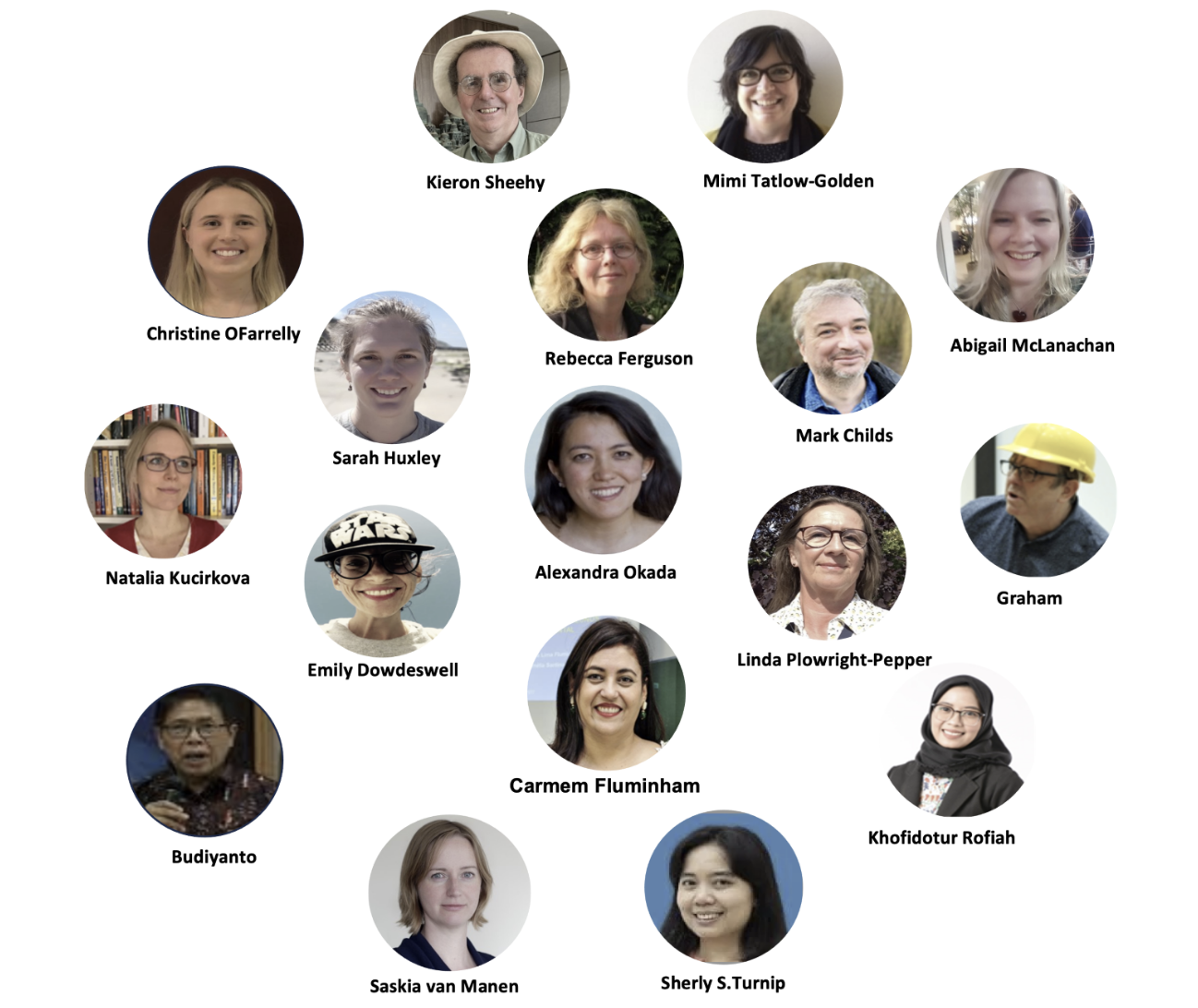 We are an interdisciplinary group, with expertise in childhood studies, psychology, educational futures, learning analytics, learning design, innovative pedagogies, international development, educational technologies,  STEM and Responsible Research and Innovation.
Professor Kieron Sheehy
is interested in the
relationship between learning and fun
, and how different conceptualisations of learning influence how fun is constructed and expressed. This is much more interesting than it sounds. He has worked previously with other members of RUMPUS in various ways, including developing innovative pedagogies with new technologies. He is interested in Skunkworks approaches to research development and this led to the RUMPUS, where he has acquired a new respect for Guinea Pigs.
Professor Dr Mimi Tatlow-Golden found a LOT of talk about fun in children's accounts of the activities and people (and pets) that were most meaningful to them when she was studying children's self-concept factors in Dublin. She is delighted to have colleagues at The Open University who are also interested in fun. In addition to RUMPUS, Mimi is a Director of the OU's Centre for Children and Young People's Wellbeing (Body Mind and Media) and she also studies aspects of children's lives such as food, digital media, school, and their rights. She consults for the World Health Organization and UNICEF and works with colleagues around the world. 
Professor Rebecca Ferguson
first met other members of the RUMPUS team while exploring educational futures in SecondLife. Working with teenagers to design an island, discover the local laws of physics, race boats, and uncover the history of the world proved to be enormous fun. We have retained that
sense of fun in all our collaborations
since then. Rebecca is still investigating educational futures, particularly in relation to learning at scale and learning analytics. She is an executive member of the Society for Learning Analytics Research, academic coordinator of the FutureLearn Academic Network (FLAN) and lead author on the annual Innovating Pedagogy reports series.
Dr Alexandra Okada
is a Senior Research Fellow at the OU, and Honorary Visiting Associate Professor at UFSC Brazil. She examines
"FUN" in the context of Responsible Research and Innovation
(RRI), Climate Change and Sustainability Education to help learners, educators, parents, technologists, researchers and policy makers foster scientific literacy through 'engaging' STEAM (science, technology, engineering, arts and math). Her work centers on building new frameworks, methods, and tools for learners to ENJOY the process of developing and extending their competences scientifically in context. Alexandra is a consultant member of the European Union, UNESCO, ASE-UK, and Brazil Government. 
Dr Linda Plowright-Pepper
originally trained as a physical educationalist, which she comprehends as a powerful and fun way of learning 'both through the body and in the body'. She believes embodied lived experiences of physical activity can be life enriching for children and adults alike. Later an OU MBA 'Creativity and Innovation' module re-energised Linda's interest in different ways of knowing. For a number of years, she used creative thinking techniques to motivate and support management teams to achieve organisational change and develop excellent service delivery. Latterly she has applied creativity and embodied learning to her doctoral studies. Using a new innovative agentic child-guided research approach, she worked with nine co-researchers, 7 to 11 years old, to explore their chosen physical activities. They identified a range of embodied, psychosocial and
creative sources of fun and enjoyment
motivating their activity choices. Most importantly she has never stopped playing, she sews bunting, turns cartwheels and refuses to 'grow up'.
 Emily Dowdeswell is a Post Graduate Research Student at the OU's WELS/CREET hub, working with Dr Mimi Tatlow-Golden, Prof. Kieron Sheehy and the RUMPUS research group as well as Dr Christine O'Farrelly from the PEDAL Institute at Cambridge University. After a first degree in social anthropology (BA Archaeology and Anthropology), Emily worked in the music industry and almost became a lawyer before returning to education to study a Masters in Arts, Creativity and Education. Her doctoral research will explore with children their perspectives of fun in the hope of understanding how we can better engage with fun for the purpose of learning. Perhaps she will discover how we can better engage with learning for the purpose of fun! 
Dr Sarah Huxley is a postdoctoral researcher at the University of Lincoln having completed her
PhD research at RUMPUS. She explored the
relationship between fun and learning in an online embodied ethnograph
y of
Coaches Across Continents.
She worked closely with Coaches Across Continents (CAC), whose aim is to facilitate learning (and personal and collective change) via 'fun' processes through non-competitive soccer-related games. This is an assumption embedded in a lot of learning-focused (non formal) development work, but has not been examined or explained. 
Sarah has 20 years experience as a social development specialist in International Development focused on children and youth. She is driven by creating and facilitating opportunities for young people to have a meaningful role in shaping their own futures. A particular interest, is learning processes and behaviour change in non-formal settings and spaces. Her work in development has always encountered narratives and explorations of tools relating to 'creativity', 'empowerment' and 'participation'.
Dr. Mark Childs
entered Higher Education 20 years ago as an administrator before making up the numbers on a research team, then was passed off as a researcher when a nearby VLE project needed one at short notice. He has been researching and teaching about educational technology ever since; and has not yet been found out. Mark's PhD was on learning in Second Life, the highlights of which were meeting his now wife in an underwater cave shared with a giant octopus and playing the devil in a medieval mystery play. Mark has been part of the Playful Learning special interest group and conference since the start, where this year he attempted his own approach at pirate stand-up.
Carmem Fluminham (B.A. Portuguese/English and Pedagogy,  Masters in Education) is a PhD student at UNESP São Paulo and with RUMPUS at The Open University under the supervision of Dr. Okada. Her research focuses on
teachers' education and fun supported by lesson study
. At the OU, she is a collaborator on the international project Europe-Brazil CONNECT – inclusive open schooling with engaging and future oriented science.
Previously, she was an English Teacher at the São Paulo State Technological College (FATEC) and a Pedagogical Coordinator at Inter Languages Center in Brazil.  
Abigail did her first degree in Ancient History at the usual time and then, after teaching in Hong Kong and Japan, a previously undiscovered yearning for psychology sent her back into education in the UK. As a 'returner to education' Abi found her natural home in The Open University where the staff, students, and ethos of the OU inspired her – and still do.  Once started in psychology, Abi decided not to stop.  First a degree in psychology from the OU, and then a Masters in Cognitive Neuroscience from Sussex University, which nurtured an interest in cognition and emotion. Abi was asked to stay on at Sussex as an associate of the school to consolidate and extend her Masters research – and this now forms the foundation of a training protocol to treat anxiety with autistic adults.  While gaining experience as a researcher, Abi discovered biscuits and Kieron (not necessarily in that order) and thought it would be great to work with Kieron further if the opportunity ever presented itself – and it did.  First as a research assistant and now as a PhD student in RUMPUS, that Abi feels is her natural habitat.  Abi's project takes forward her interests in applied psychology, cognition, and emotion by investigating how we can assess the impact of school-led learning outside of the school, focusing particularly on children with SEND.  This includes
Serious Fun. Creating an engaging assessment tool for authentic educational activities
, focused particularly on children with special educational needs (SEN).
Dr. Christine OFarrelly
is a Senior Research Associate and UKRI Future Leaders Fellow at the Centre for Research in Play, Education, Development and Learning (PEDAL) at the Faculty of Education, University of Cambridge. Christine is passionate about working directly with children to better understand what matters to them for their wellbeing so that children's own priorities can be reflected in programme design. She uses participatory design to develop and evaluate programmes that aim to support young children's wellbeing for good mental health, language development, and a positive start in school. She is excited about work underway at RUMPUS and PEDAL that will shine a light on
what fun and play mean to children themselves.
 Graham's early ambition was to be either a nuclear physicist or a Wimbledon champion, it came as something of a surprise when he discovered he was, in fact, a psychologist.  This surprise is perhaps due to Graham's career being what could best be described as 'eclectic' (and at worst 'meandering'); covering psychophysics, human factors, cognitive psychology, neuroscience and, most recently, education.  All of which is why Graham is delighted, following a long association with the OU more broadly, to be linking up with such an interdisciplinary group as RUMPUS. Graham is hoping to see whether one of his current research interests (modelling and measuring situation awareness – knowing what is going on around you and what to do about it) can be applied as a method of assessment for
less-formal educational opportunities (such as farm visits).  He believes it will be fun
. 
Budiyanto is Indonesia's first Professor of inclusive education, and an advocate for disabled children and young people within the education system. He has developed and researched inclusive pedagogies, including Signalong Indonesia, and beliefs about happiness in inclusive classrooms.  He researches with international colleagues on projects that aim to have a positive and practical impact on the opportunities and experiences of disabled learners and their peers.   
 Khofidotur Rofiah is a lecturer in the Special Education Department, Universitas Negeri Surabaya, Indonesia, as well as a Signalong Indonesia trainer. Currently, she is a PhD candidate at Pedagogical University of Krakow, Poland. Rofiah is interested in researching fun in teaching and learning, developing a keyword sign system- Signalong Indonesia, and researching Big Books for storytelling in inclusive schools. She is excited about working in RUMPUS  and firmly believes that happiness and fun can support learning. 
Dr. Saskia van Manen has always been fascinated by the power of nature, and volcanoes in particular. However, as natural disasters only occur at the interface between nature and society, she has increasingly explored how design can affect human behaviour before, during and after emergencies. As part of ASSIK she uses human-centred and
evidence-based design to develop fun,
engaging and accessible interventions for disaster risk reduction, and combines this with research into their effectiveness. She holds a PhD in Volcanology, an MA in Product Design and Innovation and an M.Sci. in Geophysics.
Dr. Sherly Saragih Turnip, S.Psi., M.Phil., Ph.D. (Principal Researcher at Research Community Mental Health Initiative, Senior Lecturer at Faculty of Psychology Universitas Indonesia).
Sherly's ASSIK work develops her research 'Finding A Fun and Engaging Media to Deliver Disaster Preparedness Messages for Younger Children in Indonesia'
Natalia Kucirkova is Professor of Early Childhood Education and Development at the University of Stavanger, Norway and Professor of Reading and Children's Development at The Open University, UK. Natalia's work is concerned with social justice in children's literacy and use of technologies. Her research takes place collaboratively across academia, commercial and third sectors. Alongside these interests, she enjoys hiking and drinking tea.