The role of fun in embodied learning through cross-curricular dance/movement in the UK 
Summary
In this study, RUMPUS is partnering with Dance Educates to learn more about children's cross-curricular embodied learning in Years 3-6 in England. With multiple qualitative methods we are exploring experiences and views of children, teachers and dance educators.
Context
Fun and enjoyment are not very well understood where children's learning is concerned. Views on fun and learning appear to vary depending on the educator, context and topic of learning, as well as by culture. Few studies capture children's lived experience of their embodied learning across the curriculum through participatory research, and even less is known about fun and enjoyment and the impact of embodied approaches to learning across the curriculum. Overall, therefore, the multi-layered, dynamic and complex interrelationships of children's fun, enjoyment and learning are not well understood.
There is growing evidence from Embodied Cognition research that movement and learning are 'deeply interlinked' (Kosmas & Zaphiris, 2020) and that children's embodied experiences can amplify their cognitive gains for academic learning. Through sensorimotor experiences, it is thought that perception and working memory are amplified. Embodied theory proposes that when movement is aligned with learning content, mind and body including gestures are strongly connected (Agostinho et al. 2016). Embodied Learning works with the learner's body as a tool for knowledge construction (Kalantzis and Cope 2004).
Embodied fun and enjoyment in children's learning is seen in some studies of physical education (PE). PE including dance has been seen to benefit the whole person as an embodied being (Stolz, 2013) and is credited by some as supporting higher academic achievement across the curriculum (e.g., Telford et. al. 2012). For engagement in PE and sports class, children frequently identify 'fun' as a key motivator (e.g., Dismore & Bailey, 2011). Yet the importance of fun and enjoyment remains 'ill defined' (Francis and Kentel, 2008, p. 66) as something which 'manifests itself in different ways' (Walters et al,.2015) and is at the same time considered an 'obvious element' and an 'elusive concept' (Biddle, Nanette and Gorely, 2015, p.45-6).
Listening to children, Connolly (1995) suggested that adults engaged in teaching PE might reconsider and better understand what 'fun', 'good' and 'successful PE' experiences mean for children. This same approach can be applied more broadly to try to understand what makes learning fun, when applying an embodied/movement approach to teaching through movement and dance across the curriculum.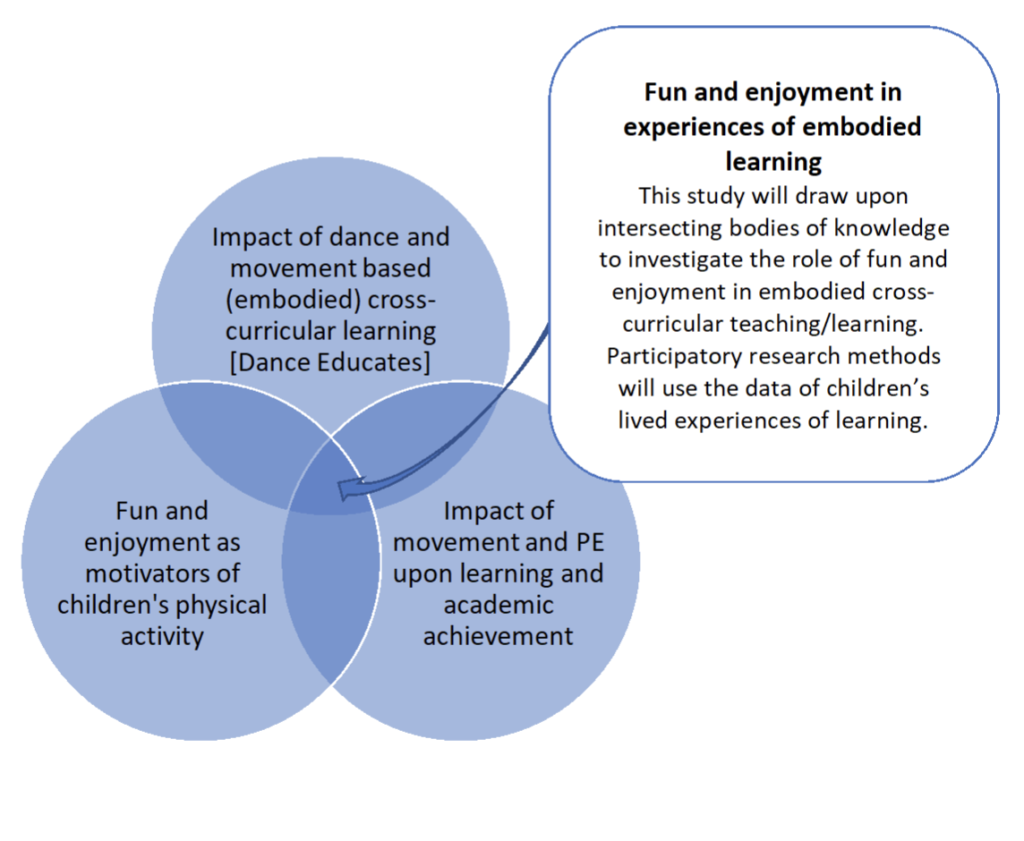 Research Questions
What are the experiences and views of children, teachers and dance educators about children's cross-curricular embodied learning?
What makes learning fun, when applying an embodied/movement approach to teaching through movement and dance across the curriculum?
Methodology and Methods
This multiple-methods qualitative study is underpinned by an interdisciplinary stance on childhood and youth that integrates insights from psychology and Childhood and Youth Studies (Tatlow-Golden and Montgomery, 2020). Taking a phenomenological and participatory approach to explore multiple actors' views and experiences we will apply thematic analyses to consider children's experiences and how dance educators and school personnel view the sessions and their potential impact on learning.
Participants
The project will engage with children undertaking Dance Educates sessions and their Dance Educates leaders, school teachers and management.
RUMPUS at The Open University is partnering with Dance Educates. Dance Educates take a multi-sensory approach to movement/ dance and learning across the curriculum, working with the premise that fun and movement assist concept learning and retention.
Working with Early Years to secondary school, they mobilise a social, creative learning environment for learning and rehearsing key concepts, from geometry to geography.
During the COVID-19 closure of schools Dance Educates produced multiple sessions online and made these freely available. These sessions were used successfully by parents and children in home-learning settings as well as by teachers in schools who were supporting the learning of key workers' children.
In the current and post-COVID-19 environment, as children return to school in challenging circumstances, it is possible that a focus upon fun and enjoyment as an intrinsic part of learning may reassure and support children. However, it is not known how children, teachers and schools are responding to this.
CONTACTS:
This project is coordinated by
Dr. Mimi Tatlow-Golden
Dr. Linda Plowright-Pepper
References:
Agostinho, S., P. Ginns, S. Tindall-Ford, M. F. Mavilidi, and F. Paas. 2016. "'Touch the Screen': Linking Touch-Based Educational Technology with Learning – A Synthesis of Current Research." In Educational Technologies: Challenges, Applications and Learning Outcomes, edited by L. Lin, and R. Atkinson, 33–57. New York: Nova Science Publishers.
Biddle, S. J. H., Nanette, M. and Gorely, T. (2015) Psychology of Physical Activity. Determinants, Well-Being and Interventions. 3rd edn. Routledge, Oxon.
Connolly, M. (1995) 'Phenomenology, physical education, and special populations', Human Studies. doi: 10.1007/BF01322838.
Dismore, H. and Bailey, R. (2011) 'Fun and enjoyment in physical education: Young people's attitudes', Research Papers in Education. doi: 10.1080/02671522.2010.484866.
Francis, N. and Kentel, J. A. (2008) 'The fun factor: Adolescents' self‐regulated leisure activity and the implications for practitioners and researchers', Leisure/Loisir, 32(1), pp. 65–90. doi: 10.1080/14927713.2008.9651400.
Kalantzis, M., and B. Cope. 2004. "Designs for Learning." E-Learning and Digital Media 1 (1): 38–93
Kosmas, P. & Zaphiris, P. (2020) Words in action: investigating students' language acquisition and emotional performance through embodied learning, Innovation in Language Learning and Teaching, 14:4, 317-332, DOI: 10.1080/17501229.2019.1607355
Stolz, S. A. (2013) 'Phenomenology and Physical Education', Educational Philosophy and Theory, 45(9), pp. 949–962. doi: 10.1080/00131857.2013.785355.
Tatlow-Golden, M. & Montgomery, H. (2020). Childhood Studies and Child Psychology: Disciplines in dialogue? Children & Society http://dx.doi.org/10.1111/chso.12384
Telford, R. D. et al. (2012) 'Physical education, obesity, and academic achievement: A 2-year longitudinal investigation of Australian elementary school children', American Journal of Public Health. doi: 10.2105/AJPH.2011.30022
Walters, S. R. et al. (2015) '"It just makes you feel invincible": a Foucauldian analysis of children's experiences of organised team sports', Sport, Education and Society. Taylor & Francis, 20(2), pp. 241–257. doi: 10.1080/13573322.2012.745844