We all watched children's television growing up, and many of us still do (for 'research' purposes!). Some of us watched children's science and technology programmes, and can attribute particular shows or presenters as the reason for why we pursued a science (or STEM: science, technology, engineering and mathematics) career.
But these days, how effective is children's science television? Back in the early '80s, children would come home from school, put down their lunchbox and sit in front of the television to watch one of four channels (BBC1, BBC2, ITV or Channel 4) as part of children's tea time programming. Now, audiences are much more fragmented – there are hundreds of television channels, everyone's viewing via different devices and 'on demand' services. So, is television still the best method to get science to young audiences?
Last year, as part of the Economic and Social Research Council's 2014 Festival of Social Science, supported by Let Toys Be Toys and the Children's Media Foundation, a panel event called 'Children's Science Television: Then And Now' took place at the V&A Museum of Childhood in London.
The event allowed people interested in children's science television, informal science education and science communication to come together in a rare opportunity to talk about programming outside of the production office. Questions posed included: Has science programming changed over the years, if so what's better, what's worse, are we missing something that we had in the past and what can we look forward to in the future?
The session began with moderator, Gareth Jones (Gareth Jones On Speed), children's factual TV presenter best known for How 2, telling the audience that it's very difficult to communicate scientific principles in an easy way. He started off by asking what is good and bad about trying to share scientific ideas with a younger audience.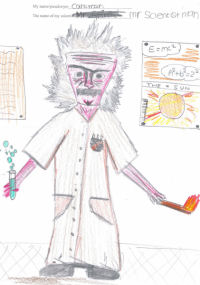 Next up was Professor Richard Holliman from The Open University (OU). Richard discussed two studies: ASPIRES, which he was reporting on for colleagues at King's College London, and In(Visible) Witnesses, which he worked on with colleagues at the OU.
The two projects complement one another, as the latter looks at imagining what a scientist is like, and the former asks if you could see yourself as a scientist. Both studies ran for five years, with ASPIRES now in its second phase running for another five years, having already surveyed and interviewed thousands of children and their parents.
Richard was followed by a formidable double act: Violet Berlin (WhizzBang TV ), presenter on Bad Influence and The Big Bang and Fran Scott (Great Scott!) and presenter on Absolute Genius with Dick and Dom. Together, they took the audience on a whirlwind time travel tour through children's science television from 1990-2014.
Feelings of collective nostalgia were tangible as we watched a clip from Bad Influence, demonstrating the first 64-bit games console!
Back in the day Bad Influence was the most watched children's programme on television, airing at 17.00 on Thursday evening (five million viewers) – at a time where the whole family could be watching it (there wasn't the 'second-screening', multi-platform, multi-channel scenario we have today), which links back to ASPIRES' notion of 'science capital'.
If the family were viewing together, surely there were more discussions about the programme's content, and children's ideas about science and technology could be nurtured, with these subjects and careers in these areas being seen as positive?
With this in mind, Fran recalled what made her get into children's science television. She had watched a science programme presented by two females, who were unfortunately just there to look good. She felt that they had no passion for the subject at all. This is another reason why the presenter-gender issue isn't as crucial as we might imagine for those who are interested in science – children of either gender, who inherently like science already, will absorb it from anyone passionate about science. And are likely to be frustrated by those talking about science, who are not.
The final speaker was Jonathan Sanderson, currently working at (Think Physics at Northumbria University, but previously a producer on How 2 and The Big Bang for Children's ITV.
Jonathan discussed the issues around children's science television, arguing that one of the reasons we don't explore whether the TV we watched as a child was any good, or have quality discussions about what worked and what didn't, is because we loved it and in some way such discussions would devalue our own childhood.
TV programmes back then were a kind of social currency. It was the connection we had with other people we encountered, but it's not the same anymore.
Ofcom's 2014 Children and Parents: Media Use And Attitudes Report states that 70 per cent of kids have access to a tablet and 30 per cent have their own tablet. Tablet use has doubled in the last year but children still just spend more time watching TV than they do accessing the Internet.
However, this is changing, and very soon children will be spending more of their screen time with the Internet than with broadcast. Jonathan then asked the audience: we all agree that we want to put ideas in front of children, and of these ideas science and technology should be there. But does television need to do this, and should we leave the responsibility of promoting science careers and attainable science role models, to broadcasters?
The event finished with a Question and Answer session with the panel responding to the audience's questions. Overall, the event provided a really useful insight into some of the challenges of producing television that connects children and young people with the sciences. This contrasted with perspectives from researchers exploring how these representations come to influence how viewers perceive the sciences and how this, in turn, might influence their decision making in later life.
---
This post is an edited version of a longer report, produced for the Economic and Social Research Council's 2014 Festival of Social Science. To read the longer version, select:
Children's Science Television: Then And Now.