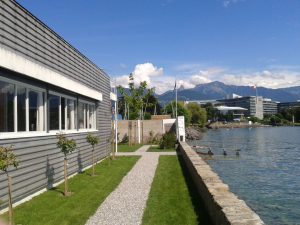 Visited a couple of Swiss buildings recently which motivated some thoughts on minimal Design.  Corbusier designed a lovely lakeside 'Petite Maison' for his parents near Vevey, Switzerland. It was built in 1923, to minimal principles (although its appearance is complexified by later cladding).  The architectural composition is linear along the lake shore with views to the lake  and mountains from most rooms. Simple garden spaces (with trees now much reduced) border the lake with vineyards behind and a living roof. Corbusier wrote a book, illustrated with photographs and graphics in 1954, Une Petite Maison, which in still in print and describes the villa with great affection.
Just along the lake there is another design tour de force from 1964 by Max Bill who was one of the architects for the Swiss national exhibition in Lausanne, complete with its monorail. Max Bills' designs, minus exhibits and monorail, now form the Theatre Vidy.
Max Bill, inspired by Le Corbusier, studied at the Bauhaus in the 1920's. He was instrumental in developing the design school at Ulm in the 1950's  intellectually, creatively, and physically as its architect. In this Bauhaus centenary year, Ulm and Max Bill represent strong links to the present, with the multidisciplinary and minimal nature of his work inspiring designers such as Dieter Rams and onwards to Jonathan Ives.