Co-designing a Makerspace with the La Campagna-Altamira Community in Mexico
I am just back from Monterrey in the north of Mexico, and can't wait to share what I have done there. I worked on co-creating a Makerspace with La Campana-Altamira, an impoverished and marginalised community in the otherwise comparably wealthy city of Monterrey.
Since the former Mexican president Calderon declared the Drug War, this low-income community (like many others) became a victim of terrible open Cartel conflicts and violence. The many community members who were not involved went into hiding in fear. The community members were isolated. With the peak of violence in 2012, a new policy of de-escalation of open Cartel and Government conflict led to a calming of the situation, and slowly community members dared to openly engage again.
As a sign of change and as part of the Mural City/Colosal project, PPG COMEX and Colectivo Tomate recently co-created with 300 volunteers and 1500 inhabitants the "Bird of Dreams" mural in the community. Do you see the bird?

Bird of Dreams in La Campana-Altamira (Photo: Business Wire)
The project I am involved in was born in 2018 – in the British Council Mexico funded and TEC de Monterrey organised a workshop on STEM education in marginalised communities. I have reported on this workshop a year ago here. The Principal Investigator Prof Juan Manuel Fernández-Cárdenas invited me to deliver a keynote and part of the workshop using design thinking with marginalised communities. One team in the workshop developed the idea to install a FABLAB in the La Campana-Altamira community to empower its members through making (prototype below – the blue bucket symbolises a bell – la Campana). An idea was born and is now turned into reality!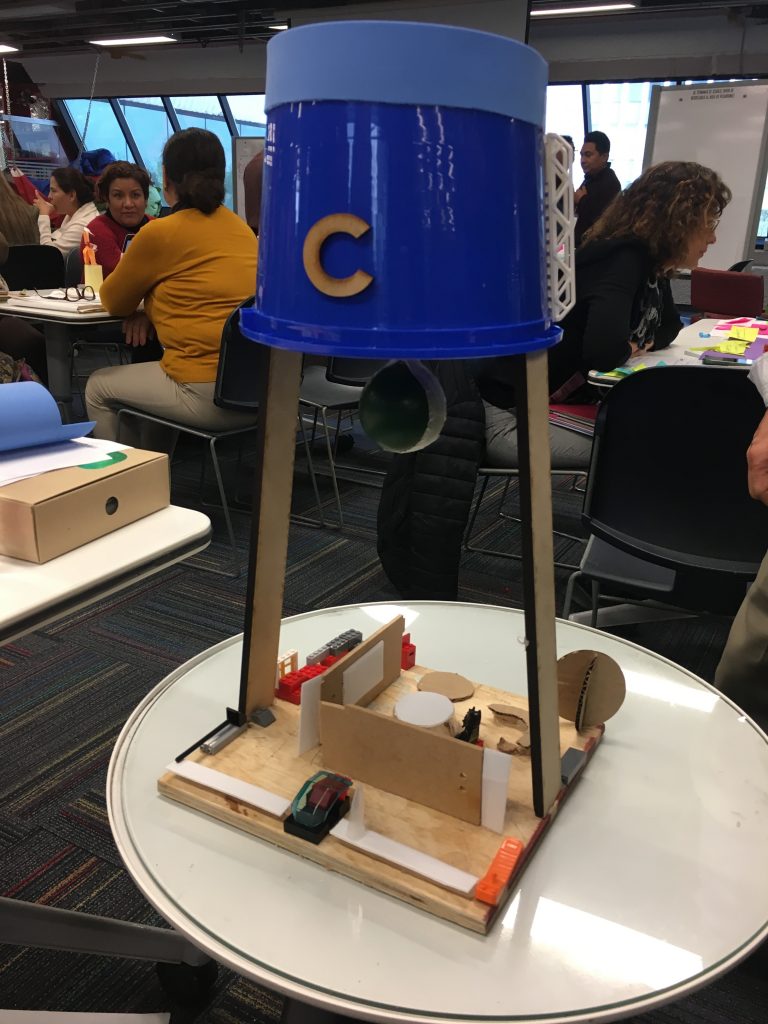 La Campana-Altamira prototype for a FABLAB
Following up on this idea, Prof Juan Manuel Fernández-Cárdenas received funding to co-create and install the La Campana-Altamira FABLAB at the beginning of 2019. An interdisciplinary team comprising TEC academics, Juan Manuel Fernández-Cárdenas and Cristina Reynaga-Peña from Education as well as Azael Capetillo and Alejandra Díaz de León (who also runs Fablat Kids) from the TEC Innovaction Gym, Academics from the UK Briony Thomas (Design), Nicole Lotz (Design) and Simon Hayhoe (Education) as well as the not-for-profit foundation InSitu is working together with CBTis 99 high school and the La Campana-Altamira community to deliver on this dream.
We have already been through 2 weeks of co-creating with the Community, TEC students and staff. The Makerspace will be opened this Friday, 1st of February at CBTis 99, a high school in the heart of the community. It will be open to the entire community.
I can see absolutely excited participants who truly wish to remodel and re-make their community through the co-production of personal and public designs and the sharing of their learning.
Since the opening of the Lab, we had 3 successful workshops in collaboration with FABLat kids and we are growing in numbers with each one.
Find us at: