Design dreams of the material world – but is it sympathetic?
Have a listen to BBC Radio 4's two-part series, The Sympathy of Things in which the architectural collective  'Assemble' – winners of the Turner Prize – explore the designed and manufactured world, arguing that just as mass production has disrupted and changed our relationship to the material world, so digital technologies will also disrupt these relationships in new ways.
The BBC state "The series is an argument for observing our material world better and for understanding the way we make objects, and objects, in turn, make us."
The programme is strongly influenced by the work of the 19thcentury Art Critic John Ruskin and his work on aesthetics, which established the central importance of sympathy between creator and audience. In design this is extended to the role of aesthetics and quality in developing sympathy between designer and user. This is the subject of a book by Lars Spuybroek "The Sympathy of Things" who argues that "If there is one thing we can learn from John Ruskin, it is that each age must find its own way to beauty". Aesthetics are no less applicable to the digital era than the past.
The programme tours the design history of making and lightly addresses the Arts and Crafts movement, the design philosophy underpinning mass production, and contemporary digital pioneers. Many interesting issues are raised including:
Are things designed in sympathy (or out of sympathy) with people, context and materials ? How does design make you feel?
How do we read reality in complex manufactured things?
What is the relationship between craft and manufacturing processes? Could manufacturing processes learn more from craft processes about sympathetic design? What is the relationship between crafts, costs and accessibility?
What is the relationship between political thinking and design? Can design reflect political thinking (or is it just wallpaper?)  Could making things be sinful?
This is illustrated in Episode 1 by case study examples from an Armitage Shanks toilet, the standard Argos toaster and Ikea furniture, while Episode 2 will focus more on digital things.
BBC state "You'll hear from the professor and best selling author Richard Sennett, Marcus Engman, head of Design at IKEA, and a host of other people actively engage in thinking about and actually making the stuff that we live with everyday."
This helps us think about "understanding how things are made plays in how we understand our place in the world, and our relationships to each other."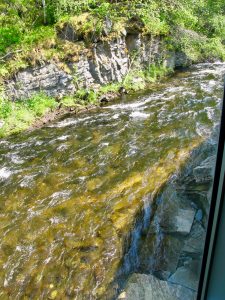 Photos show the importance of aesthetics and sympathy with the natural environment in the design of public conveniences at Skjervsfossen, Norway