Lola herself has been in touch with the Design Group and asked that we spread the cheer of U101 at this time of year. She has donated a number of U101 Welcome packs to give away to at least 7 lucky recipients.
Just look at the creative goodness on offer, each object a portal to a different future: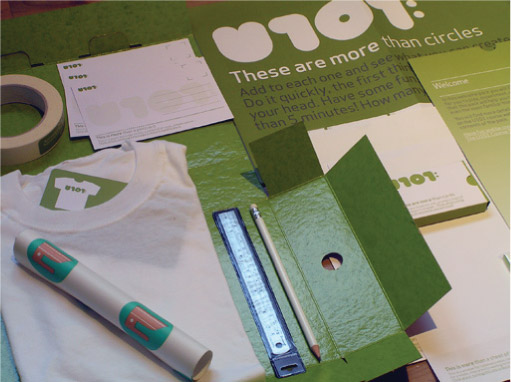 To win a U101 Welcome pack for you or a loved (/hated) one, just enter the fantastic annual U101 Welcome Pack Incredible Give Away Competition Event Thing by following the instructions below.
Remember to use the instructions that apply to you, based on whether you are a former U101 Student or not.
For students who have studied U101 (Lolarollers):
Imagine someone you think would benefit from some Design Thinking in their life (ideally this should be someone you know…).
Design a Welcome Pack Activity for this person using only the materials in the Welcome Pack (1).

Email your activity to us (details below) with an short introduction explaining why this person deserves some special attention from Lola.
If you are selected as one of the winners you will have to notify your nominated recipient and you should be prepared to assess and give feedback on your recipient's work. Somehow. Maybe.
For people who have not studied U101 (muggles):
In a sentence of less than 50 words, explain exactly how the U101 Welcome Pack will assist you in completely changing the world forever. You may include evidence or a picture of something.
Email your proposal to us (see To enter below) and feel free to Tweet or post your proposal.
If you are selected as one of the winners you will have to share what you do for one of the Welcome Pack activities with us (via this blog, on Twitter, Facebook, by Fax, etc.) but it will be entirely up to you how it's shared.
To enter :
Email your entry to derek.jones@open.ac.uk using the subject line U101 Welcome Pack Competition 2018
Winners will be notified by email sometime before the winter sets in properly (around mid January).
If you are the lucky winner of a pack you will have to provide a postal address for delivery of the Welcome Pack (to yourself or your nominated recipient).
Recipients have to be in the UK only.
Only one entry per person.
So get your thinking socks on and have a go at the U101 Welcome Pack Incredible Give Away Competition Event Thing.
(1) The contents of the U101 Welcome Pack are: Circles Poster; Masking tape; Ruler; Pencil; Paper; Sticky notes; Paper bag (envelope); Postcards (4); Creativity cards; T-Shirt; Transfer paper.