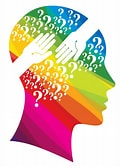 clipartmag.com
"OfS head Nicola Dandridge said more must be done to look after students.
This year's annual National Student Survey, run by the OfS, found only 42% felt enough was done to help them."
Student watchdog concerned about mental health help – BBC News 16/07/2021
As educators of distance design students, how do we know how to help students who are managing poor mental health during their studies? What support can be given to minimise the risk of seeing a student withdraw from their studies, possibly without a trace?
We are a team of 4 Design module teaching staff (1 Senior Lecturer and 3 Associate Lecturers) who, with the help of 7  design students and funding from eSTEeM, the Scholarship centre in STEM learning, have been considering how we can support a student whose mental health is impacting on their studies or whose studies are exasperating their mental ill health.
We realise it is important to identify ways that Design modules can be more inclusive and attainable for those who may struggle with poor mental health, be it permanently or temporary during their studies. Our aim is to improve our teaching practice and share our learning with colleagues.  The best people to help with this are our current students, both experienced and new, from the Design modules, U101, T217 and T317 so we recruited our 7 student volunteers to help.  They have been instrumental in helping this project move forward, so we would like to share our findings so far.
What do we know already?
Kate Lister, an Open University researcher, has identified several barriers and enablers to mental wellbeing in distance education. While some are environmental, for example physical distance can be an enabler, while isolation a barrier, others are skills or study related. A skill related barrier might be the fear of participating, and a skills-related enabler might be connecting to peers who might have similar experiences. A study-related barrier might have to do with the lack of flexibility in tuition support and an enabler could be the way feedback on a TMA is conveyed.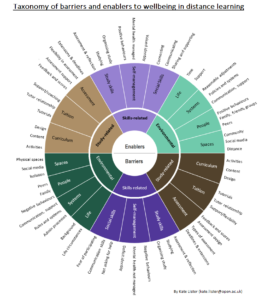 In the context of design study at a distance, we built on Lister's work so we could:
become aware of the personal circumstances, both the enablers and the barriers that might have an impact on a design student's study skills or management of their study time.
better understand how well or not so well students gain and apply relevant design skills from the module resources at each of the different study levels.
enquire about possible tools or strategies that students, with mental ill health, use to enable them to overcome possible barriers and be successful at completing the module.
give more value to the use of the student voice to inform both the future development of the Design Curriculum and the practice of design tutors.
How did we gain this understanding?
We took a phenomenological approach (the students' experience of study). To prepare our empirical research, we devised interview questions, and tested the in-the-moment experience sample technique amongst ourselves. We wanted to achieve as detailed a picture as possible. Once we had gained approval from the Ethics and Student Research committees, we were ready to train the team and recruit our volunteers.
To build up seven individual case studies over a period of 3 months, each student was interviewed twice, and was asked to respond to in-the-moment experience questions and to a set of design diary questions, at different times over a week.
The first interview set out to get to know the student, their background, and circumstances as well as small snippets about their study skills, how they maintain their wellbeing and what works well for them.
From there, we thought it was good to know more about the student's feelings, good or bad, and how they managed them if there was a need.  A series of instant text messages at different times during the day have proven to be a worthwhile way of gathering this data.
The finer detail about design study skills came from a diary of a series of responses to messages sent regularly for seven days whilst completing an assignment.
The data collection was concluded with a final in-depth interview that reflected on each student's study skills and strategies, the impact of their mental health on their study at different times throughout the module they studied, as well as the ways forward for completing their study pathway.
In between these stages, we reviewed and reflected together as interviewers. We also looked after each other's well-being and addressed and shared any concerns that may have arisen during the interviews and studies.
What have we learned so far?
Each student has a complex set of needs that is personal to them which can require more focused and specific support at times.
There are similarities in how individuals successfully achieve their study goals that can be shared with students, tutors, and student support services alike.
Design module specific support and reassurance can make a difference from the module tutor. Students do appreciate quick responses from tutors, without them it can exasperate their anxiety and be overwhelming at times.
It is very important that the tutors use careful and respectful language in their communication with students with mental ill health, as careless expressions in written language (often unintended) can be interpreted differently by student who suffers from mental wellbeing challenges.
Student support services are great for general study advice, but they seldom understand the requirements of design-study and hence cannot give tailored advice, such as managing a design project while battling with mental ill-health.
Learning advisors or mentors, provided by the University, are a big help with the support they provide throughout the study pathway.
Setting up an advocate with Student Services is an important thing to do for students with mental ill health.
Module materials would benefit from being more consistent in the use of Design specific terminology, especially when referred to in assignments.
While studying ahead is a generally successful coping strategy for students with fluctuating phases of mental well-being, design study often relies on timely peer feedback, for example on Open Design Studio. Students who study ahead my miss out on helpful peer feedback. Module materials could indicate units of study that can be achieved ahead of time, and other activities that should be done at the time suggested in the study calendar to make use of peer support for learning.
Students do have coping mechanisms for working with face to face and on-line tutorials or summer schools, but recordings of on-line tutorials are very valuable for the times when they are less likely to cope and choose not to attend because of their well-being.
Where next? – our steps forward
We have only made a start on the analysis of the wealth of the data that we have gathered. From our experiences as tutors, we realise there are lots of questions we would like answers for that we hope will come from the data so that we can inform our own practice and can then share this with our colleagues and the Design Disability Champions.
It will be important to share our findings with Design module tutors and module chairs to help inform the new BDes qualification and current qualifications or modules in Design.
We would like to arrange Design study workshops for students and tutors to share good practice and to help make further suggestions for improvements to resources and support.
We have been invited to share the outcomes with student support services and where possible share good practice with tutors and support services together.
We are looking forward to understanding more about the whole picture.
If you have any questions or suggestions about this eSTEeM Scholarship project, please do get in touch: muriel.sippel@open.ac.uk
With many thanks to everyone who contributed to this project.
Nicole, Muriel, Dawn, John and seven inspiring Design students.
eSTEeM