It is without doubt true that the coronavirus pandemic has disrupted our 'normal' way of life, our work and the way we communicate and socialise with others. Many people now increasingly face important economic, health and mental wellbeing challenges and some groups within our society are hit worse than others (e.g. women, and BAME groups). While responses from central, regional and local government have been mixed, and often appeared uncoordinated, individual people and community groups around the country managed to organise themselves to offer invaluable support to those in need: from providing help with shopping and cooking meals for older relatives and neighbours, to organising social support groups, food banks and educational support materials. The civil society responded with agility and solidarity (read also this World Economic Forum post about why civil society is essential to COVID recovery).
Seeing that much of this activity was organised and delivered via the use of digital media and technologies, websites, social media apps, videoconferencing and instant messaging platforms etc., we secured funding from the Open University's Citizenship and Governance Strategic Research Area to explore the kinds of digital platforms used by different actors (government, local authorities and community organisations) to support civic activity at different scales (national, local). Over the summer months, the project's researcher, Neil Pye  collected a large number of relevant links and resources to map the landscape and review key challenges and opportunities.
For example, one of the key digital platforms supporting local civic action was the Covid-19 Mutual Aid UK website (https://covidmutualaid.org/). It was set up by a group of volunteers and aimed to support local mutual aid groups by providing resources and helping them connect to other local groups, to individual volunteers and to those in need. In the summer, the platform listed over 4,000 groups nationally. Many temporary groups were set up using platforms such as Facebook and WhatsApp, as well as various other forms of social media including Twitter.
You can find 45 Mutual Aid groups within 3Km distance from our home in North London!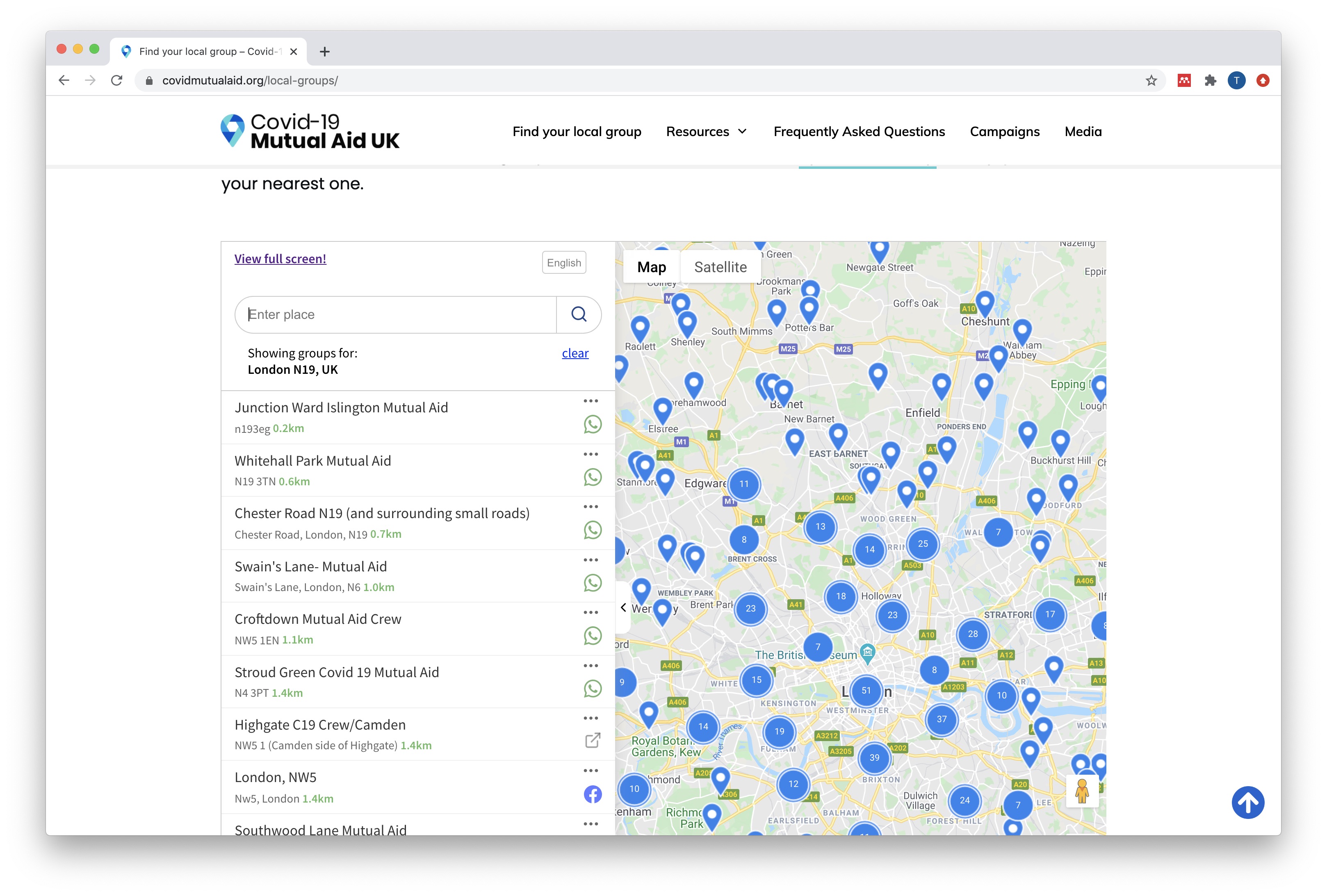 While civil society mobilised at an unprecedented scale during COVID, the knotty question is how can this activity be maintained and scaled up? The research so far has identified some key elements:
Building on local assets
Many mutual aid groups flourished in places were there were people with enough skills, resources (time gained through the furlough scheme in particular) and motivation to volunteer. Similarly, the existence of physical infrastructures such as churches, community centres, parks or gardens were important for supporting these groups to form and learn from one another, even with physical distancing measures in place.
But what happens when people return to work, or in places where there is little infrastructure or low level of trust for people to engage in civic action? How can their capabilities be unearthed and enhanced?
Enabling community-level leadership
Mutual aid groups were successful because they were agile and responsive, however the 'informality' and quick turnaround of people coming and going, can also be a challenge in terms of long-term sustainability and legacy. How can group level leadership be formed and supported? What governance structures can help sustain civic action?
Developing partnerships
While some groups developed beneficial relationships with local councils, many operated completely independently because of lack of trust, lack of interest or because the processes local councils adopted were too restrictive or bureaucratic. How can community organisations, local authorities and indeed other partners from the public or private sector work together effectively and transparently for everyone's benefit?
More details about the research are included in the project report to be published soon. We are further exploring some of these issues, through a collaborative project funded by UKRI's Higher Education Innovation Fund, focussed on Incubating Civic Leadership. The project is a collaboration across faculties at the Open University with two key external partners, Knowle West Media Centre in Bristol and our long-standing national partner The Glass-House Community Led Design.
I'll be sure to report back on the activities and results from this work. Do you have any interesting examples of civic leadership to share?
Blog by Katerina Alexiou and Theo Zamenopoulos
Sources
Helen Coffey, 'How to turn community kindness into community action once lockdown lifts' Independent, 16 May 2020, https://www.independent.co.uk/life-style/coronavirus-lockdown-volunteer-mutual-aid-how-to-help community-action-a9511536.html
Luca Tiratelli and Simon Kaye, 'Communities vs. Coronavirus: The Rise of Mutual Aid', New Local, 14 July 2020, p.15-16, http://www.nlgn.org.uk/public/2020/mutual-aid/;  http://www.nlgn.org.uk/public/wp-content/uploads/Communities-Vs-Corona-Virus-The-Rise-of-Mutual-Aid.pdf