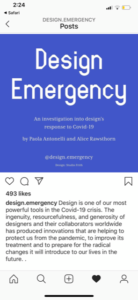 There are a few advantages that stem from the current pandemic. As well as momentary improvement in air quality and watching wildlife re-occupy some urban environments, conferences that previously we would have had to travel to, can now be joined on a mobile phone. This opens up many possibilities – conversations taking place across the globe become opportunities for learning.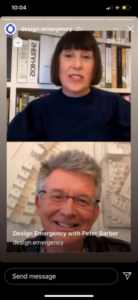 The Design Emergency conference was a treat (on IGTV Instagram). A particular highlight was Peter Barber's reflections on housing design in conversation with Alice Rawsthorn. Peter reminds us that what people enjoy about city life Rem Koolhaus' has referred to as a culture of congestion (Koolhaus 1977), where housing organised around a central space is infrastructure that constrains our mobility. With reference to several of Barber's schemes they discuss housing type and design for the human need for social interaction, proximity and mobility. At this moment in time, living through a socially-distanced pandemic, re-visiting housing designs that celebrate the life of the street seems important.
This sparked memories of designing social housing in Hackney, East London. It started an enthusiasm for public participation in housing design and the communities that inhabit them (Luck 2016), before knowing Henry Sanoff, his work (Sanoff 2000), or of the first Participatory Design Conference when pioneers, including Nigel Cross, comment on the scope of this field (Cross 1971, Cross 1971). How the field of participatory design has developed since is described in 'What makes participation in design participatory design' (Luck 2018).
Participatory Design has an ethos, with project specific situated methods and practices, which chime with much of the research within the Design Group: in Katerina Alexiou and Theo Zampanopolus' Empowering Design Practices projects with the charity Glasshouse, in Jan van Duppen's research on urban gardens and growing during lockdown and Nicole Lotz's research with Liz Saunders, as well as with Georgy Holden and Derek Jones' in international collaborations, organising design education workshops, and also in the participation of people with visual impairments in Lisa Bower's Happie audience for the future project. There's a progressive participatory design spirit that permeates each of these initiatives- before and during this pandemic.
References
Cross, N., Ed. (1971). Design Participation: proceedings of the Design Research Society's Conference. London, Academy Editions.
Cross, N. (1971). Here comes everyman. Design Participation. N. Cross. Manchester, Academy Editions: 11-14.
Koolhaus, R. (1977). "Life in the metropolis a culture of congestion." Architectural Design47(5).
Luck, R. (2016) "Design for urban living: How we live and how we might live."Open Learn.
Luck, R. (2018). "Participatory design in architectural practice: changing practices in future making in uncertain times." Design Studies58: 139-157.
Sanoff, H. (2000). Community participation methods in design and planning. New York, John Wiley & Sons Inc.