The Brilliant Club is an educational charity that works to widen access to higher education by placing postgraduate researchers in non-selective state schools to deliver university-style tutorials based on their research. Not only is this a great chance for researchers to develop their teaching skills and engage non-specialist audiences in their work, it's also a fantastic opportunity for pupils to carry out their own research and get a taste of what university learning is like.
The Brilliant Club works with higher education institutions around the country, and has a strong partnership with The Open University. Many Open University researchers work as Brilliant Club tutors and recently the partnership has extended to include an internship scheme, sponsored by Santander.
Here's more about the Santander internship scheme and how it can work for Open University postgraduate researchers.
From tutoring to interning
We first became involved with The Brilliant Club as PhD tutors, and, being passionate about the work that it does, we decided to undertake internships. Life as a PhD student can be a solitary experience and internships offered a valuable opportunity for us to experience working collaboratively in a professional context. As a small but rapidly-growing charity, The Brilliant Club is a fast-paced and exciting working environment that allowed us to experience a variety of roles. Here are some of the highlights of our internships.
Mairi Walker

I helped coordinate about 50 Brilliant Club placements in more than 20 schools across the Midlands, working with PhD tutors, teachers and university outreach staff to make sure the placements ran smoothly.
I also helped to organise and run university trips for the pupils, where they got the chance to see what student life is like and attend tutorials and study skills sessions. These trips are tough to run, but very rewarding. My role included leading study skills sessions for pupils and although I felt like a bit of an imposter at first, standing in front of full classes, I quickly gained confidence and loved having the chance to engage with pupils directly.
A highlight of my internship was designing a new maths course based on my research, to be delivered to Year 6 pupils by Brilliant Club tutors around the country. I chose to give the course a historical slant, showing pupils where some of the maths they learn at school comes from and why it was developed. The pupils follow the history of Pythagoras's Theorem from its origins in ancient Babylonian clay tablets through the work of Chinese and Greek geometers to its modern day formation, addressing the question "Who proved Pythagoras's Theorem?" In designing the course, I learnt a huge amount about structuring and pitching high-level material for non-specialist audiences.
Vincent Trott
My internship was very varied. I helped staff to co-ordinate placements, assess prospective tutors and run school trips, and I also worked on several personal projects. One project I particularly enjoyed was compiling teaching resources for schools and researchers, which involved choosing some of the best examples from the plethora of fascinating course handbooks that Brilliant Club tutors produce.
I chose handbooks from a range of disciplines, selecting ones that seemed particularly engaging, innovative and aesthetically pleasing. Given the general high quality of these booklets, and how many there are (The Brilliant Club has worked with around 300 tutors since 2011!), this was no mean feat. Seeing how other tutors designed their courses helped me hone my teaching skills and highlighted how PhD students and academics can condense and disseminate highly specialised research to non-academic audiences.
My internship happened to coincide with the Brilliant Club's inaugural conference in July 2014. I helped plan and organise the conference (invaluable experience for any aspiring academic), and also had the opportunity to chair a panel at the event. Attending the conference deepened my knowledge of the variety of excellent work happening in the field of Widening Participation. The ability to write concise web-based material for a mass audience is a valuable skill for anyone seeking to engage people with their research; after the conference, I was asked to write a summary for the Brilliant Club website, which was an invaluable experience.
Reflecting on our experience …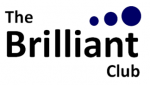 Having an internship with The Brilliant Club was by far the best choice we could have made during our time as PhD students. As well as developing professional skills, we've learned a lot about education and widening participation and gained the confidence to get involved in further teaching work and public engagement projects. We hope to stay involved with The Brilliant Club in the future!