Through my role in leading Denbigh Teaching School Alliance, I've been overseeing the school end of the Engaging Opportunities Project. Through the teaching school, we've tried to engage as many schools and students as possible from across Milton Keynes in activities working alongside Open University researchers.
We want to increase knowledge and understanding of a range of research, but also of the researcher's working experience. We want to create opportunities for young people to be inspired by research so that one day in the future, they may look back and think, "I took part in Activity X or Y with a real researcher and that made me want to…." In education, impact is often measured by results and short-term gains, but for us, the aim of this project is to plant seeds in young peoples' minds.
Denbigh School's role has been to support Open University researchers in pitching their research or developing activities in a way which will be accessible and stimulating to young people. Also, our responsibility has been to engage other schools across Milton Keynes in the project – to make them aware of what's on offer and to facilitate access to the activities.
Approach
Through our SUPI partnership, we developed a range of activities under the broad headings: Open Lectures, Open Dialogues, Open Inquiry, and Open Creativity. One of the key features of all the activities is that they enabled students of all abilities and secondary age groups to relate to research in meaningful ways. The variety of topics covered ensured that that they appealed to students with different interests.
Also, it was important that activities were easy to set up in all schools, requiring little staff time or disruption to the routines of the schools involved, otherwise that would be a barrier to engagement. Open Lectures (unsurprisingly) give young people the opportunity to listen to researchers explaining their research and how it is carried out, in a way that is pitched to gain the interest and yet challenge the understanding of secondary students.
Notable highlights over the first years of the project have included the Christmas Science Matters Lectures when students from across Milton Keynes and beyond attend four mini-lectures. Together, the lectures give a flavour of different types of research whilst also demonstrating how researchers at different stages of their career work. We also had the visit of Dr Stanley Love, a NASA Astronaut who spoke to students about his experience of being involved in space missions, and how they can be supported through 'analogue' missions on the Earth.
Open dialogues took place in the form of cafés in which researchers and students took part in debates linked to the social and ethical issues raised by research. F or example, a research café on 'Smart Drugs' provoked lively debate between students and helped them to see the 'real-life' issues that researchers need to confront and its potential impact upon social structures.
Other creative projects, such as film-making training for Year 12 students, led by BAFTA award winning staff at the OU improving students' practical skills and confidence.
Another project between OU staff and Year 9-10 students was to design wristbands to represent perceptions of school/university partnerships. The students were encouraged to shape this project, offering a creative opportunity to developing their skills in design. The opportunities to work in professional contexts to create various types of product have developed an enriching practical understanding of the work of the creative industries.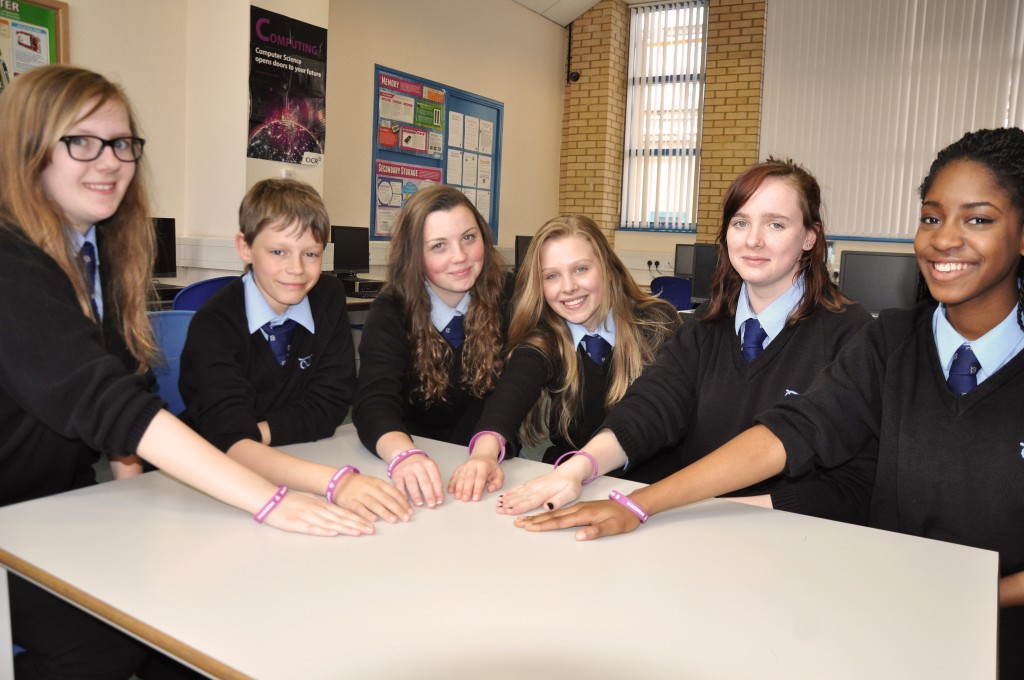 Extending the reach of the SUPI across Milton Keynes
Over time, we have sought to extend the connections between the OU and schools. We've tried to work with Open University researchers to consider how their research might be made accessible to the widest range of students. This has also been done by matching up researchers and specialist subject teachers so that projects can be designed to meet the needs of both.
As an example, researchers from MK:SMART have worked with Geography teachers to explore ways in which their database of information about Milton Keynes could enrich Geography lessons. At a local Geography Subject Leaders Network Meeting, teachers discussed Virtual Skiddaw and how teachers could use a "virtual field trip" in their classrooms.
More recently, we have started to explore how the SUPI could provide support for students studying for the Extended Project Qualification (EPQ). The need for such support was identified at a Head of Sixth Form meeting where members of the SUPI team invited teachers to explore their needs. This was followed up by a structured discussion around the requirements for the EPQ.
Subsequently, Open University researchers have visited several schools in Milton Keynes. Two of these schools have also visited the OU to make use of the library facilities and get hands-on training in information literacy skills at university level.
Lessons Learned
Feedback from the researchers and students shows that the SUPI partnership in Milton Keynes has been a rewarding one. From schools' perspectives, students have enjoyed and benefitted from engaging with and working alongside researchers, in particular in authentic working environments.
For example, in their evaluation feedback about the Christmas lectures:
"…this is so independent and so mature that it increases your confidence because you feel like you could do research."
Another student commented about their impression of a career in research:
"The journey might be a bit of a struggle, but when you get to what you want to find, you think even though that was quite hard, it was worth it."
Our biggest challenge has been to secure sustained levels of engagement with other local schools. To achieve this, the most significant factor is that the activity on offer should meet the needs of the school at a time that is convenient to them. This is not to underestimate the challenge of achieving this, merely to note that it is fundamentally important.
A good deal of persistence is required to gain the attention of the "driver" in the school who believes in the value of project and who has sufficient authority to push for activities to happen. Additionally, it has been important for the project leaders to quickly build rapport and confidence within schools to build upon the success of initial engagements. When a strong contact has been made, the links have developed well and schools have been involved in many projects. From there, you have the potential to develop the relationship with the aim of building a strategic and structured partnership over time.
---
Acknowledgements
This post discusses research and interventions developed through the Open University's RCUK-funded School-University Partnership Initiative, 'Engaging Opportunities', a partnership between the Open University and the Denbigh Teaching School Alliance.