Excellent blog from Koula Charitonos re Round Table Discussion: Technology-enabled language learning for refugees and migrants.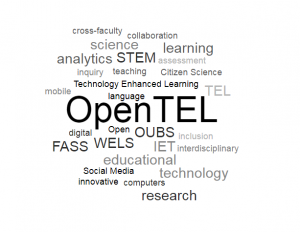 openTEL is pleased to announce the introduction of the Completed Projects Short Seminar Series. The Short Seminar Series gives IET Academics the opportunity to present their research projects to the openTEL community from across the university. The short seminar series will be running periodically throughout the year.
Our first Short Seminar Series kicks off on the 9th May 2018 from 10am till 12.30 in the Ambient Lab, Ground Floor, Jennie Lee Building.
Kicking off is;
Dr Rebecca Fergusson presenting Innovating Pedagogy
Dr Wayne Holmes presenting Data-Informed Learning Design for Future Schools
Dr Jude Fransmann presenting Evidence and the Politics' of Participation in Academic-INGO Research Partnerships for International Development
If you are interested in learning more about the above projects, key findings, the challenges involved, lessons learnt and the impact, you can reserve your seat using the doodle poll link below;
https://doodle.com/poll/r33vtfzqscbnv98n
We look forward to seeing you there!
 openTEL was pleased to host the 1st Artificial Intelligence in Education Interest Group meeting on the 17th April."openAIED" has been launched by Dr. Wayne Holmes and Dr. Duygu Bektik, from the Institute of Educational Technology, with an aim to bring together everyone interested in AI and Education from across The Open University. Over 22 people from various units, including STEM (KMi, C&C, E&I), WELS, LTI-Academic (IET), LTI (TEL) and SFT, participated to the 1st openAIED meeting to understand each other's research interest areas, looking at how we can move forward, and build a network where we can work collaboratively across the OU. Followed by Dr. Holmes' introduction to the vision of the group, AI at the OU and AIED in IET, participants discussed in what ways openAIED might contribute to the use of AI to support teaching and learning, students and ethical implications of AI at the OU, as well as what needs to be considered to enable openAIED to become the UK's leading centre of AI. The team aims to hold meetings at least once a month, including workshops, hackathons, debates, internal/external speakers.
For more information on future events, please contact openTEL@open.ac.uk.