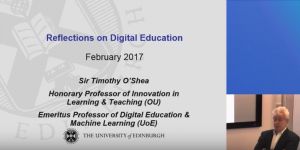 Following the success of previous Show and TEL events, the Steering Group of openTEL organised the fifth one.
The Show and TEL took place on 5th February 2018, Meeting Room 1, Ground Floor, Jennie Lee Building 14:00-16.30. Our keynote speaker was Sir Timothy O'Shea, who was the Vice-Chancellor and Principal of the University of Edinburgh (until February 2018) and is now Honorary Professor of Innovation in Learning and Teaching at The Open University, UK. Sir Shea's talk was about his "Reflections on Digital Education".
The recording of the event can be viewed here:
The full agenda of the event can be viewed: Show and TEL Agenda
Also, you can see the tweets of the day on @OpenTEL_OU and #showTEL18!