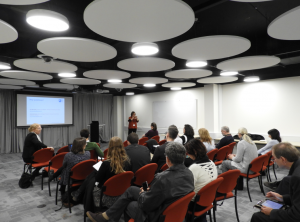 Following the success of previous Show and TEL events, the Steering Group of openTEL organised the fourth one.
The Show and TEL took place on 1st November 2017, Ambient Lab, Ground Floor, Jennie Lee Building 09.00-16.30.
The purpose of the event was to provide an opportunity for those interested in TEL research to network and exchange information.
The recording of the event can be viewed here:
The agenda of the day and abstracts of the given talks can be downloaded using the below links:
Show and TEL Agenda
Show and TEL Abstracts
Presentations of the day can be seen here.
Also, you can see the tweets of the day on @OpenTEL_OU and #showTEL17!