Our April student of the month is Jess Carr:
Hi all, I'm Jess Carr. I'm a second year PhD student, conducting inclusive research on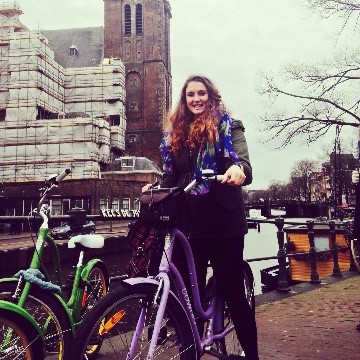 the capacity needs of adults with learning disabilities when engaging with citizen science. I'm doing this in collaboration with a self-advocacy group from the Oxfordshire based charity My Life My Choice. My journey to this point has been far from straight forward. My undergraduate degree was in drama, very fitting for the life experiences I had during my studies. Nevertheless, I graduated and like many graduates – went for the first job that came my way. This was by no means my passion but helped me pay off my debts. From here I moved on to work for Yellow Submarine, an Oxfordshire based learning disabilities charity which gave me some of the most important and valuable experiences to date. The work I was able to be involved with helped open my eyes to some of the inequalities of the world.
A colleague of my mum's, Professor Richard Holliman, tweeted about a PhD studentship at the Open University which sparked my interest. I saw an opportunity to address at least one inequality in the world, specifically in citizen science. I applied, believing I would never get it, yet three years later here I am.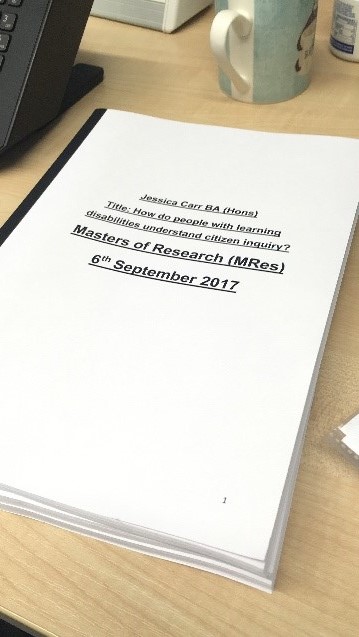 Being given the opportunity to do a PhD within OpenTEL has been invaluable. Being a part of this community has offered me the chance to widen my knowledge base and explore topics I never knew existed. From learning about the work, the Open University are doing with Artificial Intelligence, to the collaborations they have around the world helping education become accessible to all. In my Masters we were offered weekly meetings with Doug Clow, the person responsible with keeping us all in check. These were a space to not only learn, but to vent about our issues, to give and get feedback and to work collaboratively. For me, they helped give me the structure I needed coming from shift work to being entirely self-motivated. Whilst the PhD journey has been far from easy, the support of the OpenTEL community has made the challenges seem a little easier. Knowing there are a group of people around who will check in on you, even if it is just by the kettle, makes you feel supported.
The OpenTEL community has also offered me the opportunity to meet and learn from many different academics. The OpenTEL conference is always a chance to present to, listen to and learn from many different faculties and areas of research. They also frequently bring in academics and researchers from other universities and countries, offering PhD students (like myself) the chance to expand our network.
Being a part of OpenTEL also comes with perks of being a part of their PhD community. Whilst there may not be many of us there is always someone around to offer advice, or procrastinate with. OpenTEL also link with the Leverhulme PhD students weekly for meetings to discuss a range of topics. Whilst the PhD students from both cohorts have been linked socially for a while, it's interesting to learn more about their academic work. However, when doing a PhD the social side is what keeps you going. Having heard horror stories from other universities, I am aware of how lucky we are to be a part of the Open University and OpenTEL PhD community. A great example of this is how supportive the PhD and academic community were when I embarked on my epic 350 mile cycle through France and Belgium in 2018. This was in aid of Help for Heroes, and not only did many people donate, they gave me constant support through the wrist brakes and freak outs prior to the ride. They also left me lots of supportive messages during the ride to keep me going. The OpenTEL community were a large part of my success with the ride.
The PhD student life is not an easy one. It's full of peaks and troughs, and the troughs can be really tough. I'm lucky enough to be surrounded by a community of inspiring people who support me, and for that I am thankful to OpenTEL. I'm going to close with a quote that used to be up in Yellow Submarine, as I think it is not only great advice but a motivation I believe is shared by the OpenTEL community:
'Believe there is good in the world.
Be the good.'
Jess Carr
OpenTEL PhD Student
Linkedin
Twitter 
jess.carr@open.ac.uk