Our May student of the month is Stephen Foster:
Hello,
My name is Stephen Foster and I'm a second year PhD research student at The Open University. Unlike the vast majority of OU students, I'm a full time 'on campus' student. Whilst relative to the total number of OU students there are few of us which fit into this category, I suspect the OU has a more 'on campus' students than is generally realised. Most, if not all, of us are research students. Indeed, I suspect the OU conducts a lot more research than is generally realised. Do you remember the OU's Beagle project which flew a "lander" to Mars?
My own research is in the area of educational technology and I'm in receipt of a 1+3 OpenTEL studentship from the University's Institute of Educational Technology (IET) – I did a Master of Research in Educational Technology (MRes (ET)) then started a 3 year PhD programme. My MRes year equipped me with much of the knowledge of research methodology and methods which I required to plan and conduct my PhD research. That knowledge predominately came from two people, Martyn Hammersley and John T.E. Richardson. Both are very well known in their respective fields and it was a real pleasure to attend their classes and develop my research knowledge in company with fellow research students. That student company extended beyond the classroom, and discussions between students often occurred over coffee and cake, and sometimes lunch – as would be expected within a vibrant research community. Indeed, the research students within IET engage in regular face-to-face social activities, one of the benefits of working together on campus.
My PhD is researching the use students make of immediate formative feedback from an automated feedback tool called OpenEssayist. Developed jointly by The Open University and Oxford University, OpenEssayist presents textural and graphical feedback to a student on what they've written for an assignment. It doesn't suggest to a student what to write but is designed to help students to reflect on the content and structure of their work and encourage them to redraft it until they're confident it meets the assignment criteria.  A 'picture speaks a thousand words', so I've included several screen shots of some of the feedback available from OpenEssayist: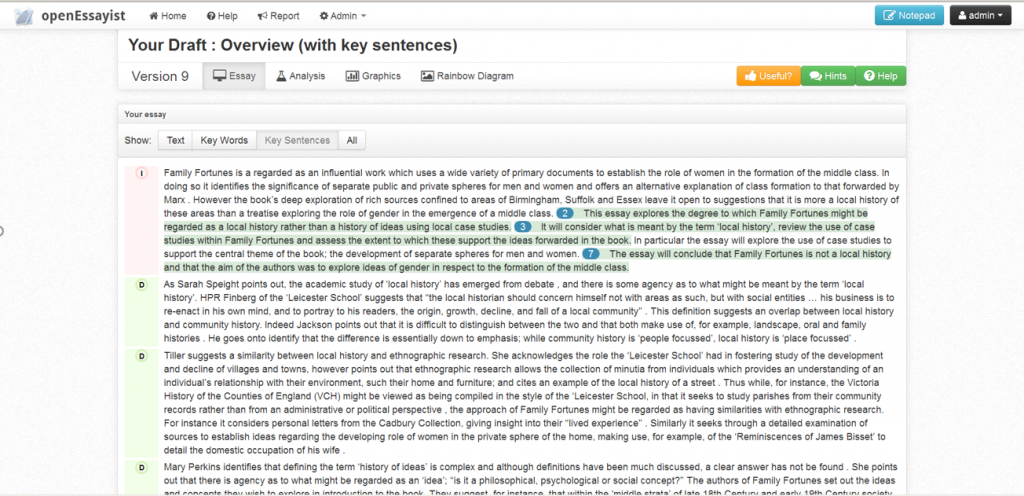 Picture 1: Key sentences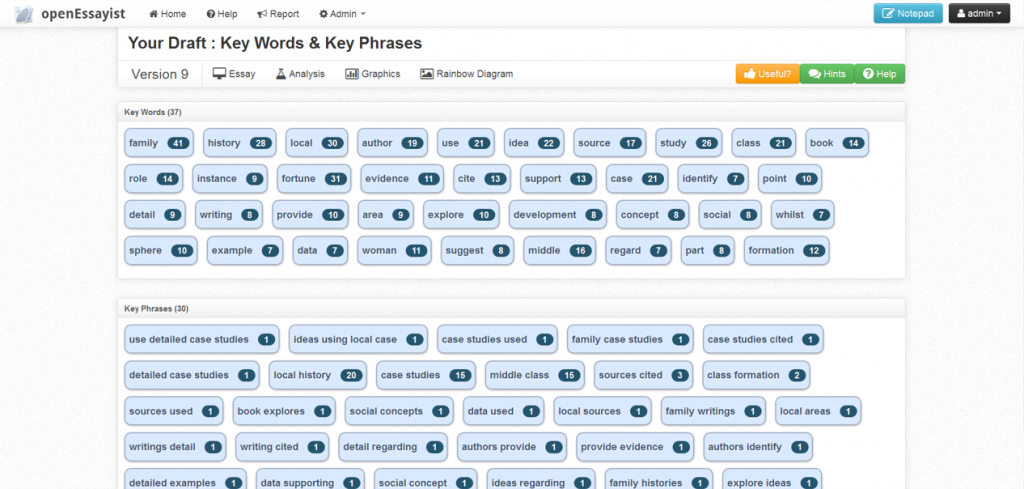 Picture 2: Key word and phrases
Pictures 1 and 2 show examples of OpenEssayist's 'Key sentence' and 'key words' feedback. They provide a student the opportunity to reflect on whether their assignment contains the key concepts and arguments which they intended and meets the requirements set in the assignment instructions.
One innovative element of OpenEssayist is the 'rainbow diagram':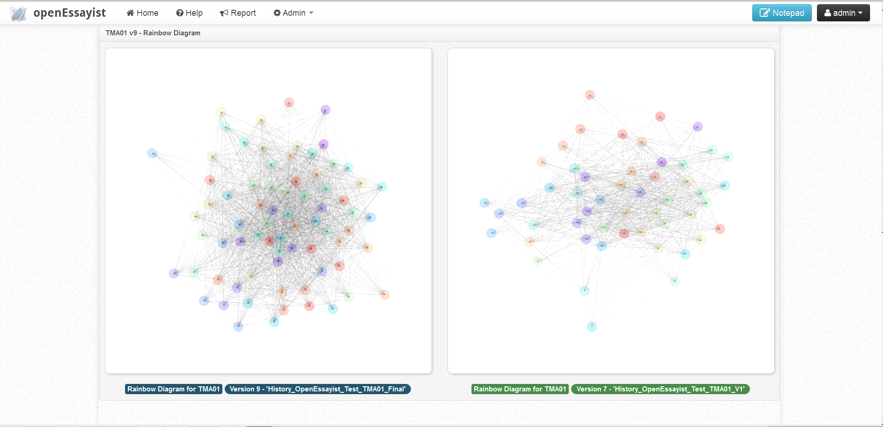 Picture 3:             Good assignment (nodes close)             Poorer assignment (nodes more spread)
The rainbow diagram provides a pictorial representation which shows how well the key concepts within an assignment are connected. Previous research has found a correlation between the closeness the nodes and assignment marks (the nodes represent sentences within the assignment). The closer the nodes are to each other the more likely to assignment is to be awarded a good mark. If you'd like to know more about the rainbow diagram, you can read about it via the following link: Whitelock (2018)
The opportunity to discuss research extends beyond the walls of the University. Recently I attended a 'writing camp' with fellow PhD students from IET. We spend 5 days accommodated in the Peak District. The aim of the camp was to spend time writing, which for many of us meant composing one or more chapters for our respective theses. Writing with fellow students provided a great boost to productivity and facilitated a good interchange of ideas. This was particularly useful for me as I gained insight into other data collection methods I might employ for my research.  There was also some 'down time' during the camp which facilitated the growth of 'esprit de corps' amongst the PhD cohort.  The 'quiz night' was won by an exceptional team named The Three Musketeers – though, of course, there were four of us.
Sharing ideas is very much a part of the PhD journey and The Open University provides many opportunities to share and discuss research with wide audiences.  I've spoken at several of the internal conferences which take place during the year, including the OpenTEL Conference and the WELS Research Day. Later this year I'm taking part in the CALRG Conference and the Post Graduate Student Research Poster Competition.
There are a large number of clubs and societies which campus based students can join. For example, the Tai Chi Club holds sessions on Monday and Wednesday lunchtimes, which provide a welcome break from the challenges of research.  The WELS Director of Studies has also arranged a series of 'stress reducing' lunchtime activities, such as walks around Caldecotte Lake (which is nearby the campus). Also, a couple of times a year IET PhD students arrange to have lunch at a local hostelry, always an enjoyable event.
Being a PhD student is challenging, but no more challenging than some other things in life. And like the other challenges in life, good company and good support can go a long way to 'smoothing the bumps on the road'.
Stephen Foster
OpenTEL, PhD Student
stephen.foster@open.ac.uk