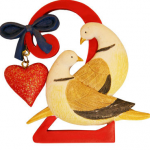 Day 2. Integrate your eAssessment.  The desirability of integrating your eAssessment is true at various levels. The sorts of things I'm thinking about include:
1. Don't just think about eAssessment as an add on. We talk about alignment of teaching and assessment – surely the best way to make that happen is to plan the two at the same time.
2. Integrate your eAssessment throughout your module. The way we do this in our Level 1 OU Science Modules (see screenshot from a module website below) blurs the distinction between teaching and assessment – read this bit of text, do this online activity, answer this question.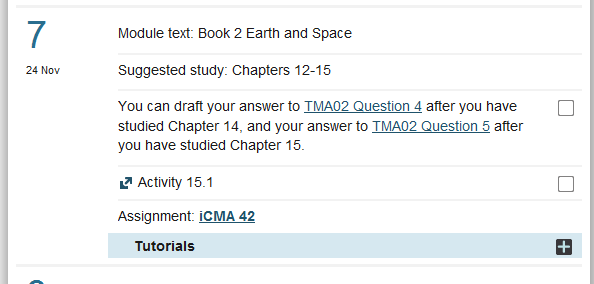 3. We can – and are beginning to – take this further. The hints in our iCMA questions frequently refer back to teaching text. As more and more of our materials are delivered online, we can link back to the teaching rather than just referring to it. So you might have an online activity, which links directly to eAssessment questions, and if a student needs help with the questions, then they are taken direct to another resource.
Other people are already using eAssessment that links to particular software packages, for example Grade Grinder is an internet-based assessment tool for users of the 'Language, Proof and Logic' courseware package for teaching logic.
4. And if we include tutors in the process 'eLearning should be a very rich and engaging experience which, at its best becomes an online dialog between the student, the tutor and other students on the course…in other words formative and even summative assessment in some cases should be integrated into the e-learning process.' That's a quote from a paper by Don Mackenzie at the CAA Conference (then at Loughborough) back in 2003. Sounds good to me!