David's research interests include reflections on our collective ethico-political response-ability for the harms of the capitalist state; the historical relationship between socialist ethics and penal abolitionism; liberative justice and anti-carceral responses to poverty, state-corporate violence and social harm.
Books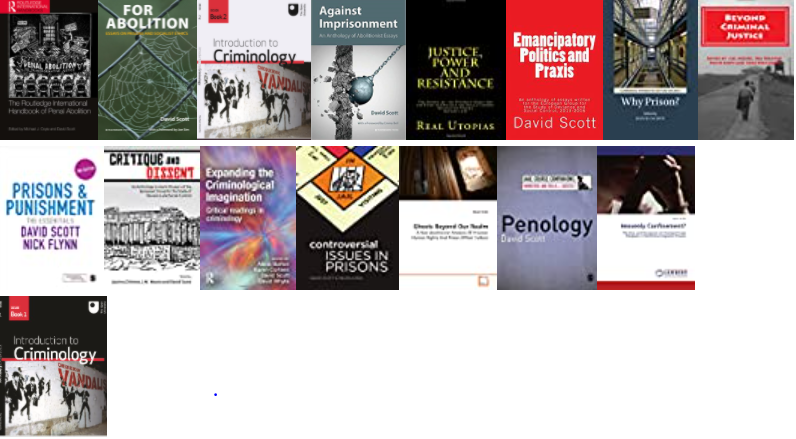 His books include Against Imprisonment (Waterside Press, 2018), Controversial Issues in Prisons (Open University Press, 2010) and Why Prison? (Cambridge University Press, 2013).  David is, with Michael Coyle, co-editor of the International Handbook of Penal Abolition (Routledge, 2021). His latest single authored book is For Abolition: Essays on Prisons and Socialist Ethics (published by Waterside Press in November 2020). 
David's most recent co-edited book, with Joe Sim, is entited Demystifing Power, Crime and Social Harm  (Palgrave, 2024) discussing the life and work of Steven Box.  He is editing two further books on the historical diversity of penal abolitionism for Bristol University Press. The first is entitled Abolitionist Voices and explores different abolitionist traditions. The second is entitled Envisioning Abolition (with Emma Bell) and is focused on socialist and anarchist visions of penal abolition, largely in the late Eighteenth and early Nineteenth Centuries.
David has also champoined the idea of liberative justice.  As part of this work he is currently undertaking historical zemiological and archival researh on popular resistance/liberation movements, state killings and social murder in east Lancashire in the 1820s.  His forcus is on the importance of bearing historical witness and the ethics of remembrance. 
A full list of his publcations can be found here: https://dscott.academia.edu/
Selection of single authored articles and chapters (2006-2024)
Scott, D. (2024) "Libertarian socialism and the struggle for liberative justice" in Scott, D. (ed) Abolitionist Voices Bristol: BUP
Scott, D. (2023) "An unchristian insitution: penal abolition and the prison chaplain" in Phillips, E. R (ed) Prison Chaplaincy and Catholic Socialist Thought- London: Routledge 
Scott, D, (2022) "Escaping the logic of crime" in Piche, J (editor and translator) Pain in Vain Toronto: Red Quill Books 
Scott, D. (2021) "Could penal abolitionism work?" in Sociology Review (September, 2021)
Scott, D. (2020) "Do prisons work?' in Sociology Review (September, 2020)
Scott, D. (2020) "Ordinary rebels, everyone: activist scholarhsip and the penal aboltionist as an insider-outsider" in Hart, E. (ed) (2020) Resisting the Punitive State London: Pluto
Scott, D. (2019) "Penal abolitionism as a philosophy of hope: an alternative futures for public engagement" in Henne, K. and Shah, R. (eds) (2019) ​The Routledge Handbook of Public Criminologies ​London: Routledge
Scott, D. (2018) "Saying NO to the mega prison" in Justice, Power and Resistance Volume 2, No. 1
Scott, D. (2018) "The ethics and poitics of criminological research" in Davis, P. and Francis, P. (eds) Doing Criminological Research London: Sage
Scott, D. (2017) "What is to be done? Thinking about abolitonist alternatives" in Prison Service Journal ​No 231, May 2017
Scott, D. (2016) "Hearing the voice of the estranged Other: abolitionist ethical hermeneutics" in Kriminolosches Journal (September 2016)
Scott, D. (2016) "Regarding rights for the Other: abolitionism and human rights from below" in Weber, L. (ed) The Routledge International Handbook of Criminology and Human Rights London: Routledge
Scott, D. (2015) "Walking among the graves of the living: reflections of an abolitionist on doing prison research" in Drake, D., Earle, R. and Sloan, J. (eds) Handbook of Prison Ethnography London: Palgrave
Scott, D. (2015) "Critical research values and the sociological imagination:lessons from researching prison officers" in Frauley, J. (ed) (2015) C. Wright Mills and the Criminological Imagination Aldershot: Ashgate
Scott, D. (2014) "Playing the get out of jail card for free: creating an abolitionist based consensus?" in Canning, V. (ed) (2014) Sites of Confinement London: EG Press
Scott, D. (2013) "The politics of prisoner legal rights" in Howard Journal of Criminal Justice, Volume 51, No 3 [July 2013]
Scott, D. (2013) "Visualising an abolitionist real utopia: principles, policy and praxis" in Malloch, M. & Munro, B. (eds) (2013) Crime, Critique and Utopia: Themes for a Critical Criminology London: Palgrave
Scott, D. (2012) "Guarding the ghosts of time: working personalities and the prison officer-prisoner relationship" in Prison Service Journal, Number 201 May 2012 pp 18-23
Scott, D. (2012) "Sympathy for the devil: human rights and empathetic construction of suffering" in Criminal Justice Matters, May 2012
Scott, D. (2011) "'That's not my name': prisoner deference and disciplinarian prison officers" in Criminal Justice Matters, June 2011
Scott, D. (2010) "Why didn't prisoner rights come home?" in Criminal Justice Matters, December 2010
Scott, D. (2009) "Punishment" pp 83-102 in Hucklesby, A. & Wahidin, A. (eds) (2009) Criminal Justice Oxford: Oxford University Press
Scott, D. (2008) "Creating ghosts in the penal machine: the prison officer moral universe and the techniques of denial" in Bennett, J., Crewe, B., and Wahidin, A.(eds) (2008) Understanding Prison Staff Devon: Willan
Scott, D. (2007) "The changing face of the English prisons: a critical review of the aims of imprisonment" in Jewkes, Y. (ed) (2007) Handbook of Prisons London: Routledge
Scott, D. (2007) "New labour, New legitimacy: the 'making punishment work agenda' and the limits of penal reform" pp 71-81 in Roberts, R. & McMahon. W. (eds) (2007) Social Justice, Criminal Justice London: Harm & Society Foundation
Scott, D. (2006) "The caretakers of punishment: prison officers and the rule of law" in Prison Service Journal November 2006
David has undertaken interviews for BBC Radio 4, BBC Radio 5 Live and a number of local radio stations such as BBC Radio Northampton, BBC Radio Merseyside and BBC Radio Essex.  He has also featured on national television, including contributions to  BBC1 The Big Questions, BBC Wales Today and ITV News. He also recently contributed a viewpoint on prison abolition to BBC Ideas.
David is co-founder and former director of the independent publisher EG Press.  He has also made a number of short films and documentaries for The Open University.  His short film (made in collaboration with Hamlett Films) "Grenfell Tower and Social Murder" was nominated for Best Film at the Learning on Screen Awards (2018) and nominated for the Best Research Film at the AHRC Film Awards (2018) (for awards won by this film see below).  Another film made with Hamlett, 'Advertising, Brandalism and Subvertising', was nomited for Best Educational Film at the Learning on Screen Awards (2019) and in April 2019 his OpenLearn film ' Why we should abolish imprisonment for childtren and young people' launched a week of action calling for the abolition of child prisons.
David has submitted evidence to a number of Parliamentary Committees and Official Inquiries. His research has been cited in the House of Parliament (see Hansard, 25th Janaury 2017) and also in HoC Briefing Papers on Prisons and Punishment (November 2016). David presented the case for the abolition of child life sentences in the House of Commons in November 2017.
He was interviewed for the 2022 short documentary by True Level Media, 'The Chatterton Massacre' ,and is engaging with members of the local community in north east Lancashire  as part of his work towards the ethical witnessing and remembrance of the 1826 handloom weavers uprising. 
Recent blogs for the Harm & Evidence Research Collaborative (HERC) include:
https://oucriminology.wordpress.com/2016/11/29/prisons-systematically-generate-suffering-and-death-thinking-beyond-reform/
https://oucriminology.wordpress.com/2016/11/14/bloodbaths-and-prison-staff-considering-the-actual-state-of-our-prisons/
https://oucriminology.wordpress.com/2016/10/07/prisons-places-of-harm-and-dehabilitation/
His research has been highlighted by OU News on a number of occassions
http://www.open.ac.uk/research/main/news/prison-violence-not-about-staffing
http://ounews.co/arts-social-sciences/society-politics/prison-violence-not-staffing-theyve-always-dangerous-prisoners/
David has contributed short papers to independent media forums such as Open Democracy and The Conversation.
https://www.opendemocracy.net/openjustice/prisons-places-of-harm-and-dehabilitation
https://theconversation.com/prison-violence-is-not-about-staffing-theyve-always-been-dangerous-for-prisoners-68950
He has also published articles in the national newspapers The Independent and The Guardian
http://www.independent.co.uk/author/david-scott-0
https://www.theguardian.com/society/2017/feb/01/to-cut-jail-suicides-cut-the-prison-population
David contributed to the 2017 documentary 'Injustice' and also participated in the groundbreaking documentary "Punishment: A Failed Social Experiment" (directed by Dale Hallat and first screened 2012).