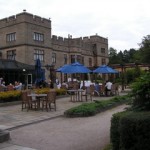 I'm at the EARLI/Northumbria Assessment Conference at the Slaley Hall Hotel in Northumberland (UK). Yesterday Royce Sadler got the conference off to a fine start with a challenging Keynote 'Close-range assessment practices with high yield prospects'. 'Close-range' refers to things that are within the reach of teachers; 'high-impact' refers to things that might have a substantial impact on learning. Professor Sadler focussed on the assessment of achievement with all the sense of satisfaction that this brings.
Royce Sadler went on to explain that we shouldn't be summatively assessing 'non-achievement' i.e. that we shouldn't be giving credit for attendance, participation…'giving marks for being alive'. Similarly we shouldn't be giving penalties for answers that are over the word length or for plagiarism (though excluding text as not the student's own work is OK – phew, that's what we do most of the time in cases I am involved with). So far so good…though I am less sure about simply refusing to mark an overlength answer – you have to be pretty sure that you (the assesser) have set a realistic word length.
Similarly, task specification should state the required end product, not the route to that end, and students should be required to complete the task as set i.e. we should not be giving credit to those who write all they know about a subject rather than answering the question, those who 'give us a boot when we're asked for a pineapple'!  Again (in theory at least) I agree entirely…
I'm leaving Professor Sadler's contention that a student's grade should demonstrate their level of achievement at the end of the unit of study [i.e. that we should not assess cumulatively] for another blog because I need to get my head round the implications!