Following on from my previous post, take a look at the two figures below. They show how students' overall score on an iCMA varied with the date they submitted. These figures are for the same two assignments as in the previous post (very similar assignments, rather different students).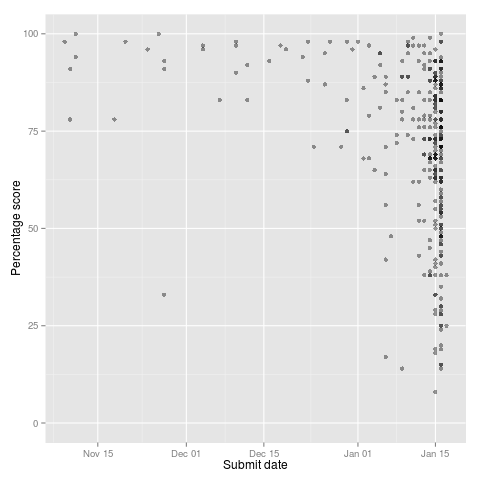 The top figure (above) is depressingly familiar. The students who submit early all do very well – they probably didn't need to study the module at all! The rest are rushing to get the assignment done, just before the due date – and lots of them don't do very well.
I am very pleased with the lower figure. Here students are doing the assignment steadily all the while it is available – and with the exception of a small number who were probably prompted to have a go on the due date by a reminder email we sent, they do pretty similarly, irrespective of when they submitted. This is how assignments should perform!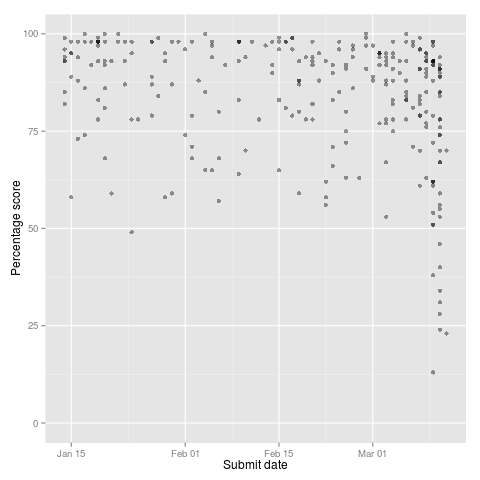 I'm aware that my interpretation may seem simplistic, but we have other evidence that the first batch of students are overcommitted – they are also younger and have lower previous qualifications – so it all fits.
Finally, following yesterday's JISC webinar on learning analytics I'm beginning to think that this is how I should be describing the work that I've previously categorised as 'Question analysis' and  'Student engagement'. However we describe this sort of analysis, we must do more of it – it's powerful stuff.