I don't think that I am ever going to win prizes for my artwork. However this post is about my picture of a fish, shown below: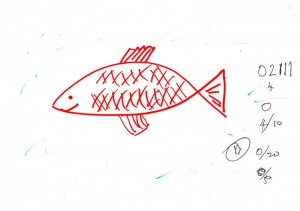 A month or so ago, I was invited to take part in a live event about assessment and feedback, and for some reason the three of us involved decided to base this around an 'assessed task' which was to draw a fish.
There were a few problems – the first one was that we hadn't been told the criteria against which our drawings would be judged. So my colleague John drew fish and chips. Even though I did better than John did, I was unaware of the detailed criteria.
So, when our work was 'marked' none of us did very well. The feedback given related to efforts as marked against the criteria – which we hadn't seen. So I was praised for my colourful fish (I just happened to have a red pen in my hand) but downgraded because I had not shown any water. So, despite the fact that my marks were better than those of my two colleagues, I was angry to start with – I hadn't been told to draw a fish in water!  My emotions stopped me from listening to the rest of the feedback, which may or may not have been justified.
Finally, the mark scheme gave credit for  the presence of different sorts of fins and gills. I have no idea whether my drawing, or the other colleague's one that I was marking, included these points or not. My knowledge of fish anatomy is somewhat limited!
So, very quickly (and not as planned by the activity) we have a list of important points for assessing and giving feedback.
1. Make sure your assessment criteria are clear – and shared with students.
2. Receiving feedback is an emotional experience; bear that in mind.
3. Make sure that students understand the language that you use in your feedback.