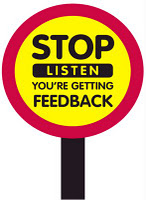 Reflecting on the previous post, where a feedback intervention was not understood by a student, I really wonder how useful much of our feedback is. And some of the theory (especially frequently referenced lists of conditions under which feedback supports learning) may just be a load of twaddle. Who am I to say?
So let's start from the opposite end. Let me start to produce a list of conditions under which feedback is useless. One such condition is that the mark awarded (or other outcome)  is not consistent with the feedback given. This happens when a student scores poorly but the feedback (in an attempt to be supportive) says 'this was a good attempt'. Clearly not true.
I experienced something like this myself in 2010. I was one of the OU's nominees for a National Teaching Fellowship. I didn't get it. At the request of my University, I asked for feedback from the Higher Education Academy (who run the NTF scheme), but the feedback just said that I was wonderful. I'd afraid it didn't help. It made me  bitter and  upset.
My University suggested that I should reapply for an NTF in 2011. Fool that I am, I went for it again. Of course I didn't have useful feedback to use in improving my submission and I was unsuccessful again. But at least the HEA have stopped giving individual feedback. At least someone has learnt something. To be fair, the HEA have always made it clear that the NTF is a competition. I didn't win it. End of sour grapes.
However I'm not the only person to have been hurt by a situation like this, indeed I guess it comes to most of us at some time. I have two colleagues (who, for obvious reasons, I won't identify) who  have both recently failed to get jobs they applied for. In both cases I, and others, felt they were beyond doubt the best candidate. On the one hand we have to trust the fairness of the selection process i.e. that the interview panels had good reason to make the decisions that they did. But yet on both occasions my friends, when they asked for feedback, were told that there was nothing they could have done better. How dispiriting is that. We need to provide alignment between our words of feedback, meant kindly, and the outcome of our selection and assessment processes.