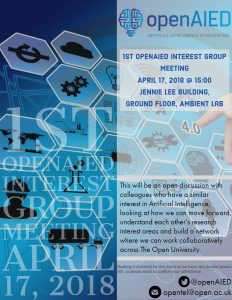 We will be hosting our first openTEL Artificial Intelligence in Education Interest Group meeting on 17th April 2018 at 3PM Ambient Lab, Ground Floor, Jennie Lee Building.
This will be an open discussion with colleagues who have a similar interest in Artificial Intelligence, looking at how we can move forward, understand each other's research interest areas and hopefully build a network where we can work collaboratively across The Open University, UK.
Please feel free to pass this event on to people you feel would be interested in attending. Booking is essential for this event as we have very limited spaces left, so please email opentel@open.ac.uk to confirm your attendance.