On Wednesday, October 6th, the Assessment and Feedback Special Interest Group welcomed José Luis Aznarte, associate professor at the Department of Artificial Intelligence of UNED University. In this session José talked about the experience of switching to online exams amidst the COVID-19 pandemic.
The National Distance Education University is the largest university in Spain that combines online with face-to-face learning through a hybrid methodology offered to more than 200,000 students. Exams at UNED were usually held in their local study centres or exam spots. Results were digitised and distributed to each course team using the software called 'valija virtual' (virtual pouch). However, the university had to consider alternatives to adjust the examination process and to guarantee fairness and rigour during the unprecedented circumstances of the coronavirus pandemic. 
Adapting the standard assessment protocol included the design of a virtual examination hall. The hall, also known as AvEx (Aula Virtual de Examen), was considered a better emergency solution than proctoring based on biometric identification technologies to overcome COVID-19 limitations. AvEx minimised invasive forms of vigilance and automatisation bias.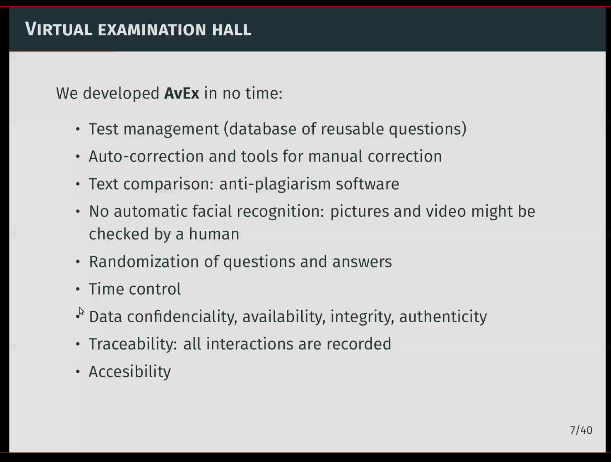 There is a very diverse community of degrees and faculties in UNED. In the beginning, some faculties were less willing to use AvEx than others. José shared the results of a research project that examined the expectations and satisfaction levels of the student community regarding the technical and social aspects of the solution finally adopted by the university.
Despite the mixed feelings, 67% of students were satisfied with the AvEx application. A high turnout for examination was among the benefits of this approach in the long run. Distance students had more flexibility with their jobs and were no longer required to commute to take an exam, as they had done before. Turnout in online tutoring sessions also skyrocketed. Increased time, availability and modifications in assessment design and criteria led to these positive results.
By the end of the session, the audience engaged in a follow-up discussion with the speaker regarding the sustainability of digital exams in higher education. Some members of the audience said:
Thanks for the presentation. It's good to reflect on the tasks that learners are given during the exam process. Moving toward an active learning emphasis instead of memory recall (as a way of engaging learners).
Rethinking exams in times of covid should be a 'must', yes.
We may not be better people after that [pandemic], but we can design better assessment processes indeed.
The organisers of the SIG also took the opportunity to share the report on OU students' views about online exams: Online_exams_Report_6_10_2021.pdf
OU staff can access the recording and learn more about the digitalisation process of exams at UNED University here.
The next Assessment & Feedback SIG will be held on November 24th (14:00-15:30) and includes presentations from Cait Hayward and August Evrard from Michigan University. Please contact openTEL@open.ac.uk for an invite and to be added to the Assessment & Feedback mailing list. All are welcome!