6.2 Existing systems and processes
There are currently a number of different ways in which references are managed across the Open University's learning environment.
6.2.1    Course Production
The process of course production at the Open University is extremely complex, and involves a wide range of staff from across the institution. The course production process runs from assessing the market for types of course and planning the curriculum, through the writing and publication of course materials to the eventual 'presentation' (delivery) of the course to students.
Any course will be produced by a 'course team':
"Each course is produced and supported by a team that includes a course team chair and a course manager (who leads on organisational, budgetary and support issues). Apart from the course content, they also produce the assessment material for each presentation and form the examination board." (http://www.open.ac.uk/tutors/induction/whos-who/course-team.php)
The course team will consist of academic and administrative staff, and may include some level of clerical support in the form of 'course team assistants'. The course teams work closely with staff from Learning and Teaching Solutions (LTS) the unit responsible for the production and delivery of Open University course material regardless of format. LTS is a large unit, supporting a wide range of activities with a wide variety of staff, including project managers, media developers and editors. LTS is also responsible for the Open University's VLE (Moodle) and other IT systems which support teaching and learning.
Library staff will also work with course teams to understand the requirements of the course, and to promote the relevant services that the library can supply to the course, both during production and presentation.
The Open University is perhaps unique as a UK HE institution in that the vast majority of its course materials are formally 'published', and go through formal 'publication' related workflows.
6.2.2    Structured Content
"Structured content is a customised Word authoring tool that enables OU academics and LTS to produce course materials for multiple outputs (web and print)."  (http://intranet.open.ac.uk/lts/production/structured-content.shtml, not available outside the Open University)
Essentially the Structured Content tool authors course content as XML, which can then be published in a variety of different formats including print and electronic. There are a variety of approaches to using the tool to author course material. Three examples are:
academic staff use simple Word templates to author course material. These documents are then passed to staff in "Learning and Teaching Solutions" (LTS). LTS staff take the content of these Word documents and put them into Structured content
academic staff are trained to use the structured content tool and use this to author material directly into structured content.
academic staff use Word to author course material. Administrative staff in academic departments are trained to use the structured content tool and transfer content from simple Word documents into the structured content format. This is then passed to LTS for further amendment or corrections.
The structured content tool divides course material into sections, and each section can have 'References' and 'Further Reading' components. It is also common to insert 'in-text' citations in the text, and also to insert full references into some parts of the text, for example if there is a piece of reading a student is expected to carry out as part of a course activity.
6.2.3    Course website 'Resource page'
Each course website can have one or more 'Resource page'. The Resource page is a module for the Moodle VLE developed by the Open University. The Resource page course enables the addition of links, files or text and can be used to list references or links to resources.
It is also possible to display the contents of an RSS feed in a Resource page.
Typically one or more Resource pages will be setup and populated by the course team when the course website is setup.
6.2.4    MyStuff
MyStuff is an e-portfolio system developed at the Open University, based on the Moodle VLE. MyStuff enables students to create, store, organise and share resources. MyStuff supports a number of different 'item' types including the following items which are related to references:
Book (whole, printed)
Book (electronic)
Journal article (print)
Journal article (electronic)
Web page
OU course material (generic printed)
Not all courses promote MyStuff to their students, although it is linked from the 'Student Home', a set of web pages aimed at all students which brings together a variety of information for students.
MyStuff is not under active development.
6.2.5    MyOpenLibrary
"MyOpenLibrary is a personal library page, which knows who you are, what you are studying and presents the relevant electronic library resources. These electronic library resources are selected from Open Library and include: e-journals, e-books, databases, reference materials and ROUTES links." (http://myopenlibrary.open.ac.uk/)
MyOpenLibrary is based on the MyLibrary software developed at the University of Notre Dame. MyOpenLibrary is used by approximately 80 courses at the Open University, who use it as a mechanism to deliver sets of resources to students including:
Databases
E-Books
Websites
E-journals
Articles
MyOpenLibrary offers some personalisation functions to students including the ability to add 'personal links' and customise the layout and appearance of the page.
The possibility of setting up a MyOpenLibrary for a course is discussed by library staff and the course team while the course is being setup.
6.2.6    ROUTES
"ROUTES is a Library service providing access to selected quality-assessed Internet resources for Open University courses. Resources are selected by course teams and the Library's Information Specialists." (http://routes.open.ac.uk/)
ROUTES is used for four main purposes:
Provide a catalogue of (freely available) websites used in Open University courses
Indicate which websites are used in specific courses
Provide 'persistent' links to websites which can be used in Open University course materials
Provide a 'link checking' service to identify URLs that are temporarily or permanently broken
ROUTES is an implementation of the Index+ software from System Simulation.
In general students are not encouraged to access the ROUTES interface directly, but rather ROUTES is used as a source of links that can be accessed from a Course Website or MyOpenLibrary.
The possibility of using ROUTES for a course is discussed by library staff and the course team while the course is being setup.
6.2.7    RSS Tool
The RSS Tool is software developed at the Open University Library that enables the aggregation of resources from a variety of sources including:
The library catalogue (Voyager)
ROUTES
MyOpenLibrary
Any RSS feed
It is also possible to enter items manually including a title, description and link.
When you create an aggregation of resources with the RSS Tool, you can assign it to a course, or a section of a course, and this can then be used to populate a 'resource page' in the Course website.
The possibility of using the RSS Tool for a course is discussed by library staff and the course team while the course is being setup.
6.2.8    Use of 'references' in the OU Learning Environment
The overall picture is complex. This diagram shows how the various systems described above fit together in the current Open University environment. Much of the activity will be triggered by Course teams identifying a resource as necessary or useful for a course or module.
Note that not all systems or processes will be used within a single course or module.
(Click image for larger version)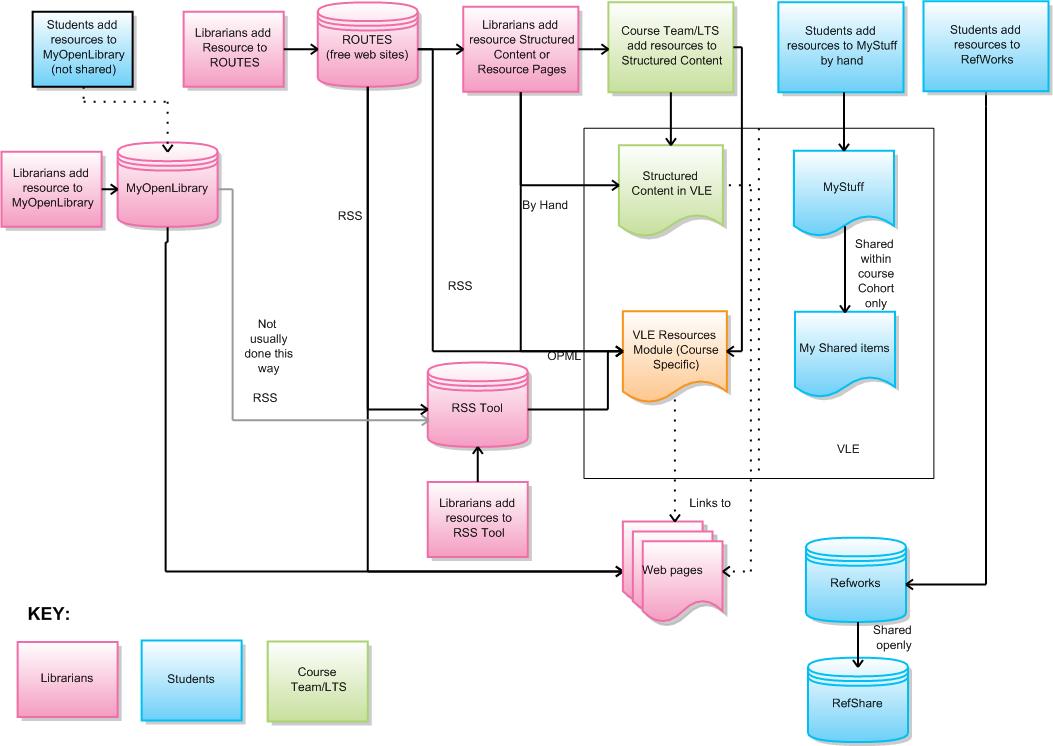 Leave a Reply