6.7.2 Integration of References into Course Websites
6.7.2.1 Options
Three options for integrating references into the Course Website were considered.
Option 1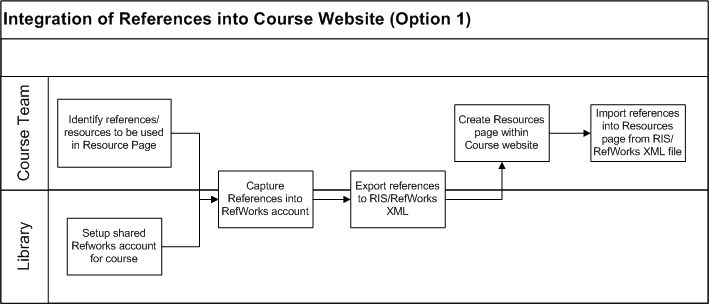 This option uses an export file created from a RefWorks account. The references from this file are imported into a Resource page within a Course Website using the Resource Page Moodle Module developed at the Open University.
Option 2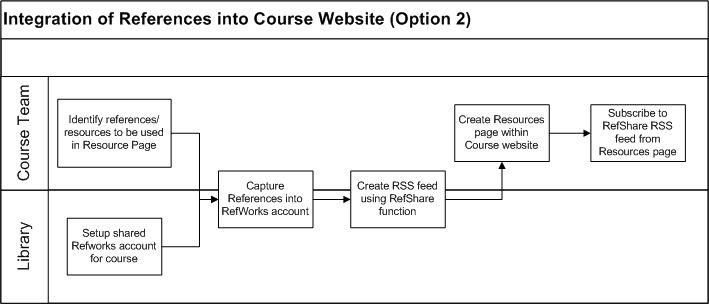 This option allows references to be dynamically displayed in a Course Website Resource page by using RefShare RSS feeds (RefShare is a piece of RefWorks functionality that enables the public sharing of a folder within a RefWorks account).
Option 3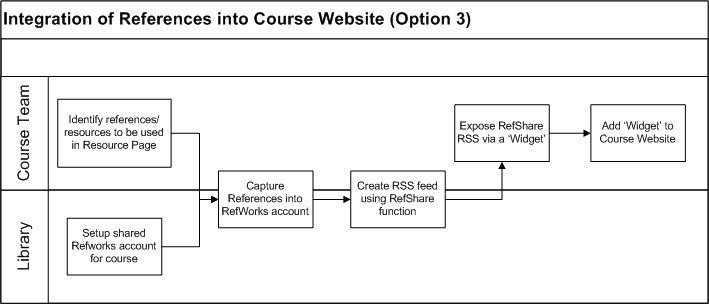 This option makes use of the RefShare RSS feeds, but rather than feeding the contents of the RSS feed directly into the Course Website, the RSS feeds are consumed by an independent 'widget', which is then embedded into the Course Website.
6.7.2.2 Discussion
As Option 3 does not integrate references directly into a Course Website, but rather in an independent 'Widget' (using the W3C terminology) this opens up the possibility of embedding the Widget in a variety of environments. However, running a Widget would require an investment in other infrastructure, such as the Apache Wookie Widget engine. Using the Widget approach also raises questions about how to display the appropriate references within a specific course context.
Option 1 and Option 2 are very similar in terms of functionality for students using a course website. However they do have different strengths in terms of course authoring. Option 1 provides a stable set of references which are not subject to external change once they have been imported into the course website. As each reference is imported as a separate 'resource' within a resource page it also means that once imported a course author or editor can reorder the references as they like.
Option 2 gives a more dynamic set of references, which can be updated as necessary (adding, removing or editing references) by updating the list of references in the RefWorks account. While this dynamic element may often be welcome, it also leads to questions on how to Quality Assure all changes that are made to the material while students are taking the course. The way that the Course Website Resources pages handle RSS feeds also means that the feed is treated as a single resource entry – meaning that references cannot be reordered manually (by default they are sorted alphabetically by title).
6.7.2.3 Decision
In order to support different approaches to the use of Course Resource pages, both Option 1 and Option 2 will be implemented as workflows by the project team.
Leave a Reply