Category → telstar
October 22nd, 2009
I've written a couple of posts on linking from references to resources, and particularly on how we are planning to use OpenURLs to provide persistent links to web pages, but I've not yet described our overall approach to linking.
Through discussion with a variety of groups at the OU, we settled on the following principles:
Links should ideally take the user straight to the full-text resource, with no intervening pages
Avoid manual creation of links whenever possible without having a negative impact on the student experience
We should know what resources and links are being used and where
When moving references between different environments, any links provided with the references should continue to make sense
Mechanisms to provide and administer links from references to resources should be as simple as possible
There is a blurring of lines between different types of material online, but we can probably regard the types of resource we want to link to as:
E-journal articles
E-book chapters
E-journals (title level)
E-books (title level)
Databases
Web resources (pages, videos, podcasts, pdfs)
This is probably a very 'library' perspective on how materials are divided up – ultimately if they are on the web you could probably regard them all as just 'web resources', but in terms of linking it is useful (to me anyway) to think of these categories.
The major decision we have made is to push all links via our OpenURL link resolver – SFX. There are a few reasons for this:
We can create OpenURLs from reference metadata – which means that we can create a link to an article without an explicit URL in the reference. While the reliability of this is not 100% (we can't guarantee that we can create a link), it's pretty good for journal articles
We can collect statistics in a central place – SFX can report on each link that is routed through it
It is a single consistent approach for linking – we don't have to code different behaviours into the links within the VLE to handle different scenarios or types of resource
Using OpenURLs and SFX doesn't commit us to any particular method of linking to resources, it just means we can use the existing SFX framework to manipulate links when we want to
If the OpenURL contains a URL in the rft_id field, we would use this to link to the resource – as I've previously described. Although this is mainly intended for the category I describe about as 'web resources' it can apply to any of the resources – essentially if the reference creator has gone to the bother of entering a URL into the reference, that's where we will send the link.
The current preferred method for linking to e-journal articles at the Open University is to use a DOI and the DOI resolution service at http://dx.doi.org. So, our second rule is that if SFX receives a DOI in the OpenURL, then it simply pushes the user to http://dx.doi.org to resolve the DOI by that route. Although it is usually e-journal articles that have DOIs, other types of resources – books, chapters, conference proceedings, etc. can have DOIs, and this would work for any reference that includes a DOI.
If the OpenURL does not contain a URL or a DOI, then we use the native capabilities of SFX to try to provide a link to the full-text. If SFX can't identify a full-text source, then the user gets an explanation.
The logic is illustrated here: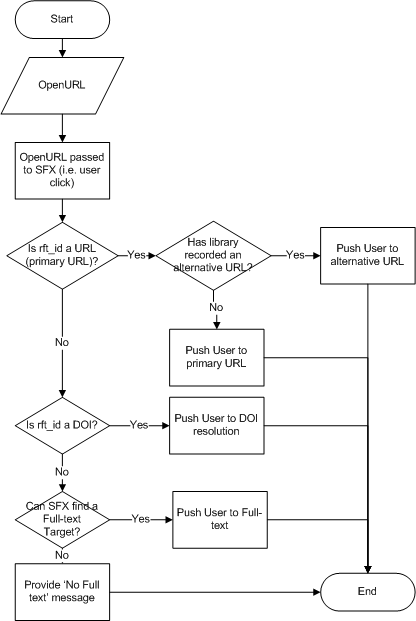 In order that the very last scenario doesn't happen (or happens as rarely as possible), we have decided that we will only provide links from references in the VLE if one of the following is true:
There is a URL in the original reference
There is a DOI in the original reference
The original reference is for a journal or journal article
The first two are obvious, and the third is because we think that it is highly likely that any cited journal/journal article will have a full-text version available to students at the Open University. We also include an ability for the reference creator to override this logic and suppress any links in the VLE on a reference-by-reference basis.
Hopefully this is in line with our principles:
Links should ideally take the user straight to the full-text resource, with no intervening pages

The URL or DOI should do this reliably, SFX does this for some, but not all, e-journal services (this is usually dependent on the type of inbound link supported by different e-journal platforms

Avoid manual creation of links whenever possible without having a negative impact on the student experience

It is possible to enter just basic reference metadata for e-journal articles and for a link to be created automatically. If you have a DOI that's even better – but you don't need to enter the resolution URL – just the plain DOI.

We should know what resources and links are being used and where

SFX can report on what links are coming from which course in the VLE

When moving references between different environments, any links provided with the references should continue to make sense

The approach we are taking should allow us to record references without any Open University specific information embedded into the reference – so if you export the reference to a different environment or context, it continues to make sense

Mechanisms to provide and administer links from references to resources should be as simple as possible

Hopefully by acheiving all of the above, we have also acheived this one…