6.6.3 ePortfolio integration solution at the Open University
The solution developed to integrate references into the student ePortfolio environment was an interface to RefWorks from within the course website environment. In this way, the reference management tools and stored references sit alongside both the course material, and the students' ePortfolio.
The solution took the form of a new Moodle module called 'MyReferences'. This used the RefWorks API to provide the basic functionality required by students including:
Creating and Importing references (including automatic reference creation based on DOIs (Digital Object Identifiers) and ISBNs)
Organising references into folders
Exporting references
Creating bibliographies
MyReferences was deliberately designed to provide only a subset of the full RefWorks functionality, but because MyReferences uses an individual's personal RefWorks account to store and organize references, students can switch to using RefWorks directly if they want to use the more advanced functionality provided by that software. Once within RefWorks they will have access to exactly the same references and folders.
As well as providing cut-down functionality, MyReferences also delivers only a very few referencing styles when creating a bibliography. These are the most commonly used styles required for use in student work across the institution, including a style based on the Open University in-house 'Harvard' style. The 'Create Bibliography' function allows the student to select references (or folders of references) and shows both the in-text citation styles for each reference, and a bibliography containing all the references in the requested style.
Within MyReferences, whenever possible links are added to references to automatically link to online versions of the resource being referenced. The mechanism used to create these links is described in more detail in Section 6.8.3.
As well as offering Export options to both RefWorksXML (a RefWorks specific XML format) and RIS file formats, MyReferences also offers the ability to export to a Moodle 'Collaborative Activity'. Rather than creating a file to download, the 'Collaborative Activity' export displays the references in an encoded XML format which can be cut and pasted into a collaborative activity within Moodle, e.g. a blog post, a wiki page or a forum contribution. When the collaborative activity is read by another student, a newly developed Moodle 'filter' (http://docs.moodle.org/en/Filters) will recognize the presence of a reference in this format, display the reference information in an orderly way, and add export options and links to the reference to allow readers to take a copy of the reference or link to the online resource (where possible).
The MyReferences interface is illustrated here (click image for larger version):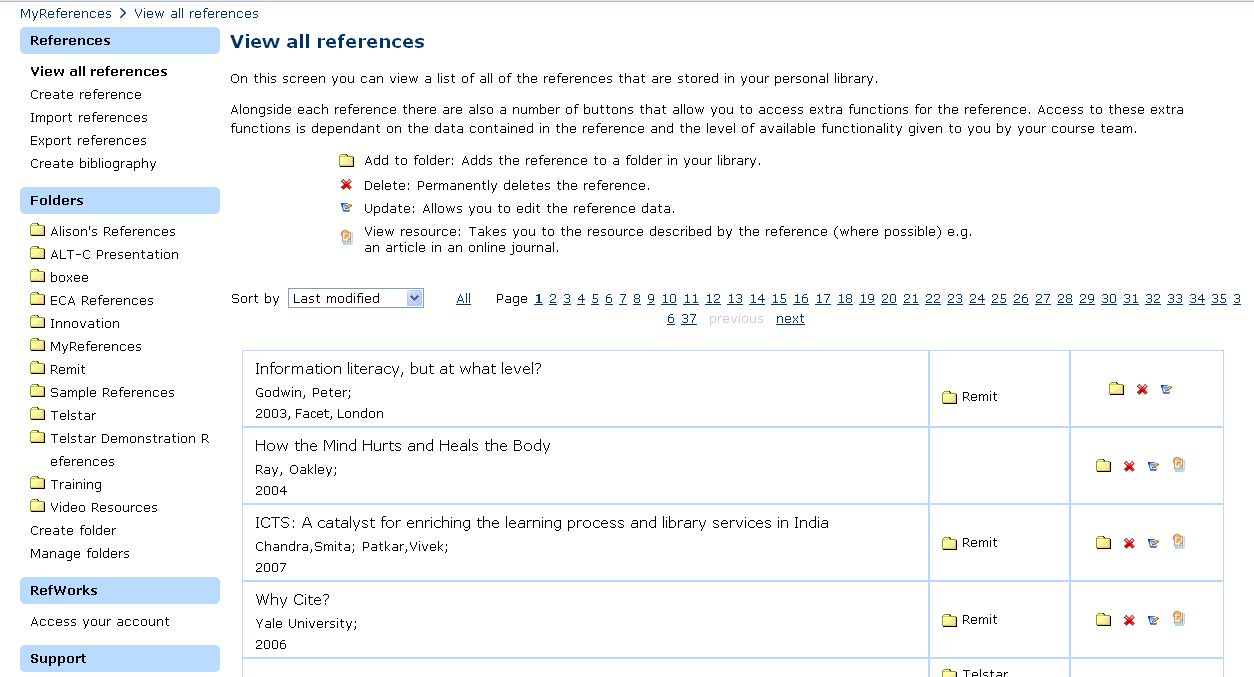 Leave a Reply