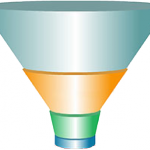 So what is funnelled assessment? A chance to insert an image into what is becoming a rather boring blog? Maybe! But there is a serious idea here. If we are moving towards programme-focused assessment whilst keeping the assessment itself at the level of the module, the idea of 'capstone' assessment (in the sense of putting important assessment in the final module studied, frequently a project module) is not new.
Funnelled assessment is a similar concept – if there are important modules in your qualification, especially if these modules are compulsory (so students are 'funnelled' through them) then these modules become key assessment points.
If funnelled assessment takes off, remember that you first heard about it here!