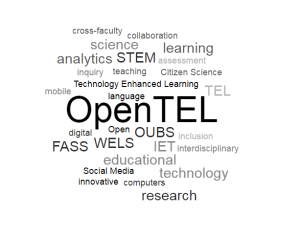 openTEL is pleased to announce the introduction of the Completed Projects Short Seminar Series. The Short Seminar Series gives IET Academics the opportunity to present their research projects to the openTEL community from across the university. The short seminar series will be running periodically throughout the year.
Our first Short Seminar Series kicks off on the 9th May 2018 from 10am till 12.30 in the Ambient Lab, Ground Floor, Jennie Lee Building.
Kicking off is;
Dr Rebecca Ferguson presenting Innovating Pedagogy
Dr Wayne Holmes presenting Data-Informed Learning Design for Future Schools
Dr Jude Fransmann presenting Evidence and the Politics' of Participation in Academic-INGO Research Partnerships for International Development
If you are interested in learning more about the above projects, key findings, the challenges involved, lessons learnt and the impact, you can reserve your seat using the doodle poll link below;
https://doodle.com/poll/r33vtfzqscbnv98n
We look forward to seeing you there!