On Wednesday, July 21st, 35 people gathered online to learn more about ADMINS (Assistants to the disclosure and management of information about needs and support), a completed project funded by Microsoft and managed by the Institute of Educational Technology (IET) at The Open University (OU). The speaker of this seminar was Dr Tim Coughlan, a senior lecturer in IET, who was part of the research team leading the project. "But, who is Taylor?"– you may be wondering at this point if you are curious to know the answer to the question raised in the title of this post.
Under the Equality Act 2010, a disability can be any long-term form of physical and mental impairment. Over 20,000 students are asked to complete a 'Disability Support Form' when they first disclose a disability, to access the support they are entitled to for study at The Open University. In a survey of 102 OU disabled students, most described those administrative processes as fragmented, stressful, and difficult to go through while trying to get to a level of inclusive life at the university (Coughlan & Lister, 2018). Having those accessibility issues in mind, Tim and his team proposed to design and evaluate a virtual assistant for disability disclosure and study support conversations. The chatbot virtual assistant was named 'Taylor'!
The project ADMINS aimed to tackle the substantial administrative burden and stressful processes many OU disabled students experience when requesting the support available to them in the institution. Taylor was programmed to ask students about their needs and answer their questions. OU students with disabilities were asked to be involved at each stage of the project since it was crucial to have their suggestions and feedback on making conversational user interfaces (CUIs) accessible.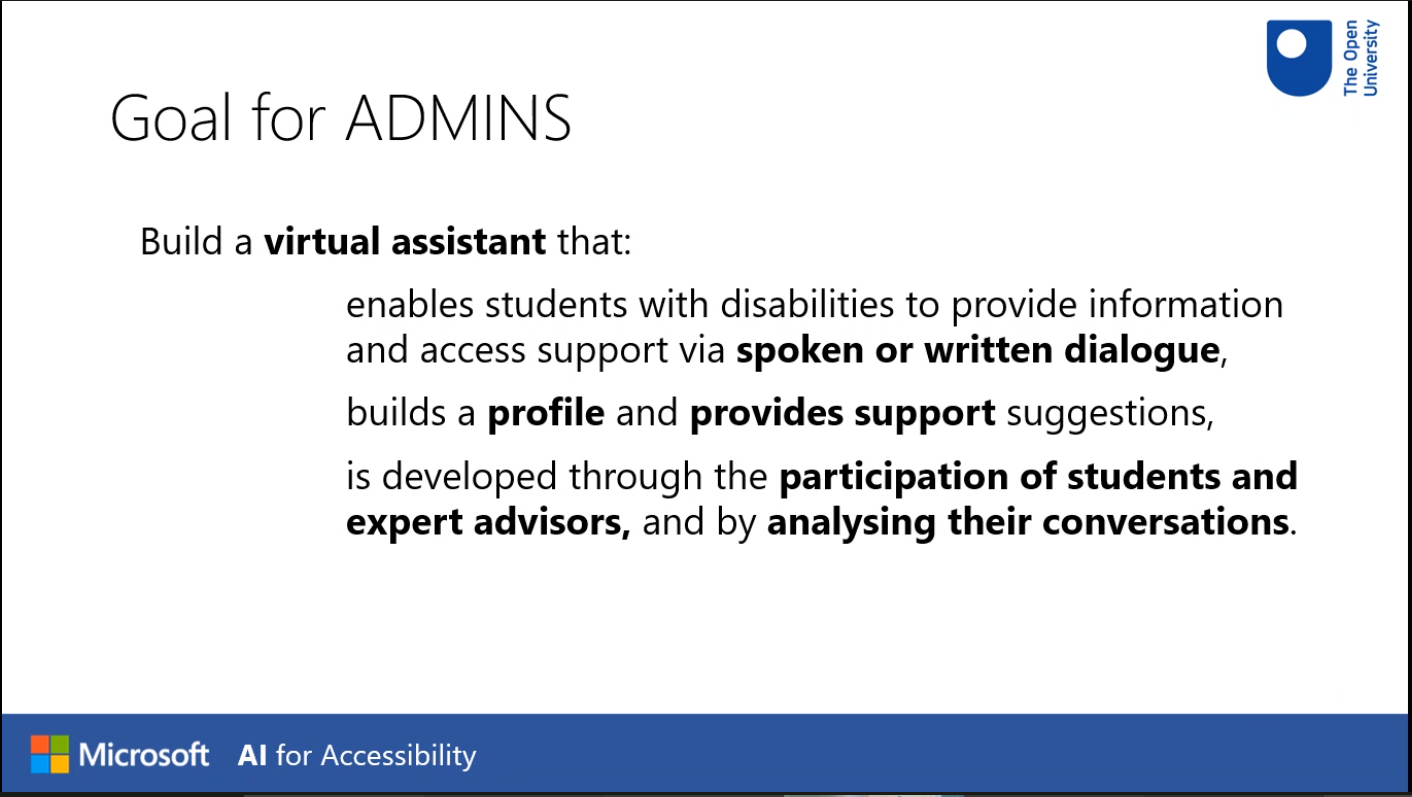 One hundred thirty-four new students participated in the main trial as part of the disability disclosure process after registration. They completed the current disability support form. They also interacted with the disability support assistant, which identified disability categories from the bi-directional conversation between the student and Taylor. A 'summary output' was given to the student and the relevant advisor team at the end of the conversation. The results were positive: 65% of the students preferred Taylor as an alternative to completing a complex form for disability support! A list of benefits described below by the participants portray Taylor as a more accessible approach: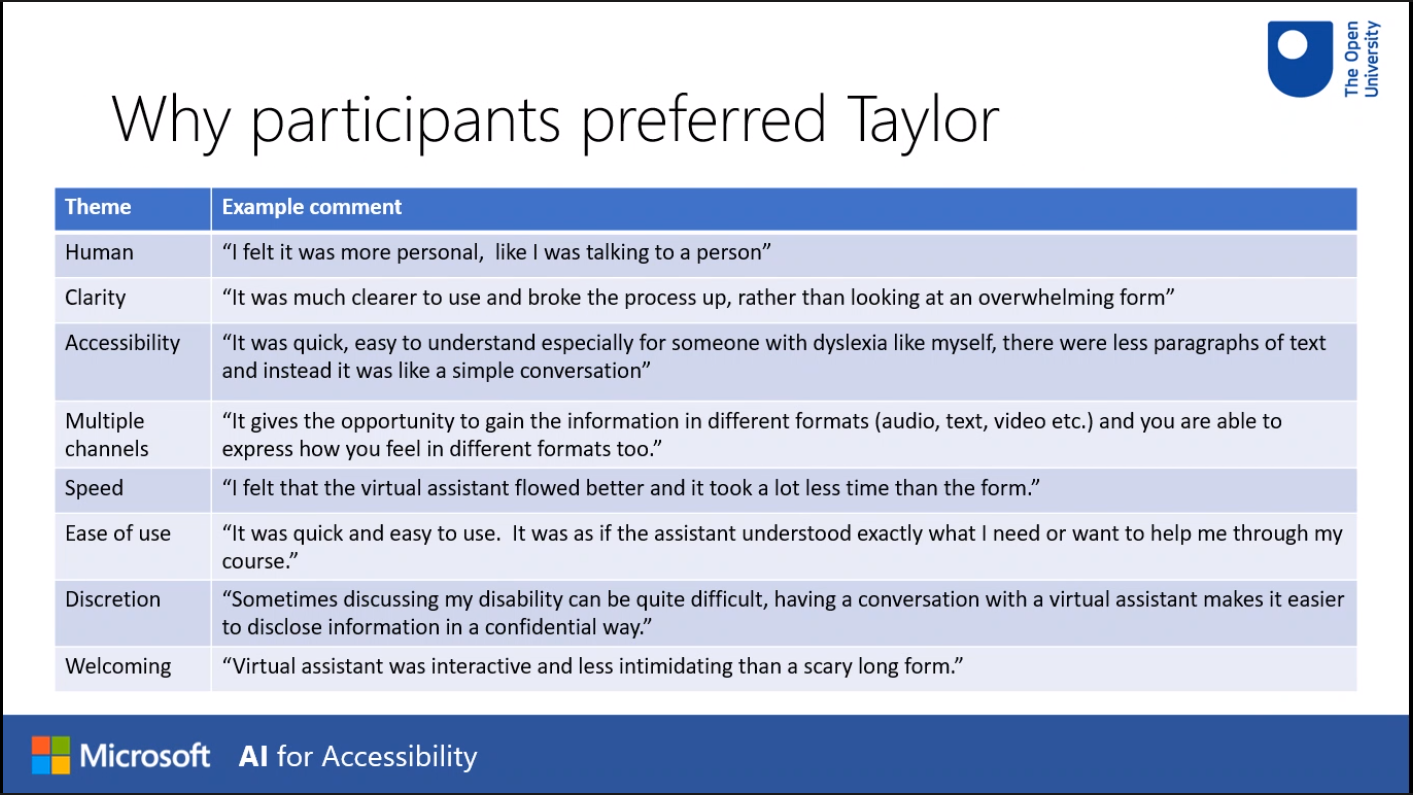 This project contributes to expanding the limited guidance on how chatbots, virtual assistants and similar systems are designed and evaluated for accessibility (Lister et al. 2020). However, it also suggests key areas for future work and improvement, including functionality and navigation. Finally, the ADMINS project supports the idea of reducing the length and complexities of those administrative processes, which create multiple negative impacts, such as stress and less time spent studying, instead of supporting disabled learners to be part of a more inclusive learning environment.
If you want to see Taylor in action and its conversational structure, have a look at the demo in the recording available here: https://www.open.ac.uk/blogs/opentel/seminar-recordings/.
Coughlan, T., & Lister, K. (2018). The accessibility of administrative processes: Assessing the impacts on students in higher education. In Proceedings of the 15th International Web for All Conference, ACM Press.
Lister, K., Coughlan, T., Iniesto, F., Freear, N., & Devine, P. (2020). Accessible conversational user interfaces: considerations for design. In Proceedings of the 17th International Web for All Conference, ACM Press.