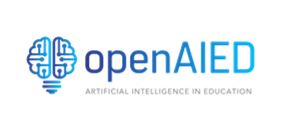 openAIED Special Interest Group
Tuesday 15th March 14:00-15:30 (GMT)
Link to Recording
OpenAIED SIG meeting: Safe(r) Artificial Intelligence & Learning Analytic in real-world applications
As Learning Analytics (LA) and Artificial Intelligence in Education (AIED) mature, the discourse about making them safer and pro-educational stakeholders becomes central to these systems' design. In this OpenAIED SIG meeting, we will host two talks given by AIED researchers on different ethical aspects of the design of AI & LA systems. We will also have the opportunity to hold a discussion around both.
We will begin with a talk given by Thea Herodotou, Anna Gillespie and Irina Rets about 'Ethics in learning analytics: The case of the Early Alert Indicators dashboard' and continue with a talk by Ali Chaudhry, who will tell us about the work he has been doing as part of his PhD on the topic of transparency of AI systems.
For an invite please contact openTEL. Everyone is welcome.
Abstracts and Bios:
Presentation 1: Transparency in Artificial Intelligence: Why it matters and How do we ensure it.
Ali Chaudhry
Abstract
In this talk Ali will present his research on Transparency in AI powered products, why is it important and how it can lead to safer AI systems in real-world. He will also share some case studies on AI mishaps in real-world and what can we learn from them.
Bio
Ali is a doctoral researcher in Artificial Intelligence (AI) at UCL Institute of Education (IOE). His research focuses on the Transparency of machine learning development pipelines for AI-powered ed-tech products in different real-world contexts. He specializes in auditing and evaluating different stage of AI development processes, including data collection and engineering, machine learning modelling and testing, and AI deployment and iterative improvement stages.
Presentation 2: Ethics in learning analytics: The case of the Early Alert Indicators dashboard.
Christothea Herodotou, Anna Gillespie, Irina Rets
Abstract:
The Open University's (OU) ethics policy about learning analytics (LA) was introduced in 2014. It is structured around eight principles, such as (a) the use of data for the benefit of students, (b) transparency with regards to which data are collected, (c) active student engagement in LA implementation, (d) sound interventions following data analysis, and (e) skills' development for adoption across the university. Eight years later, the field of  A and adjacent fields, such as Artificial Intelligence (AI), have seen a considerable growth; this raises questions as to whether the OU policy is still applicable and how it could be iterated to reflect changes. One major issue is the need to evidence proposed principles through empirical LA design and implementations. Towards this direction, in this presentation, we will share our long-lasting experience of developing and evaluating  the award-winning predictive learning analytics dashboard, Early Alert Indicators (also known as OUAnalyse). We will seek to understand how this implementation could inform a revised version of the OU ethics policy. Your thoughts and experiences of LA are warmly encouraged.
Bios:
Dr Christothea Herodotou
Dr Christothea Herodotou is a Senior Lecturer in IET/WELS, with interests in the design and evaluation of technologies for learning at scale. She has been intensively involved with citizen science activities in projects such as the NSF/Welcome-funded LEARN Cit Sci and the award-winning nQuire. Her latest activities are focused around the democratisation of research and science through community-led citizen science.
Dr Irina Rets
Dr Irina Rets is a Research Associate at the Management School of Lancaster University (UK), with research interests covering topics related to inclusion and technology enhanced learning. She currently conducts research for the BIAS project at Lancaster, looking into the design and use of AI algorithms in tech recruitment companies. She is a Fellow of the Higher Education Academy.
To join the openAIED mailing list or to find out more about this event please contact openTEL.