Professional biography
I joined the Open University in 2001, having taught previously at King's College London, the University of Roehampton, and the University of Chester, where I also completed a PGC in Higher Education. I studied at the University of Liverpool for my first degree, in English Language and Literature, and my MA in Victorian Literature. During my MA studies in Liverpool I worked as well as a Research Assistant on editions of Percy Bysshe Shelley's and Matthew Arnold's poetry - my first taste of scholarly editing. The British Academy funded my PhD research at King's College, London, which was awarded in 1997. My examiners were Professors Bernard Bergonzi and Philip Horne.
I have written teaching material for all levels of study, worked as Chair and Deputy Chair of modules in production and presentation, and currently serve as Director of Research Degrees in the Faculty. I have produced OpenLearn material and acted as the OU's academic consultant to the BBC. As critic, and as editor, my research on Ford Madox Ford is internationally known, and I was Chair of the Ford Madox Ford Society for 10 years to 2020. As a teacher and as a researcher I am passionate about what I do because I believe in literature as a force for good, as an agent of change, as well as an education, a distraction, and a delight.
Research interests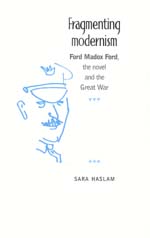 There are three inter-related strands to my research profile: the work of Ford Madox Ford, scholarly editing, and the literature of the First World War.
My monograph on Ford, Fragmenting Modernism: Ford Madox Ford, the Novel and the Great War (2002) was re-released by Manchester University Press as part of its OAPEN project in 2008 and is freely available to read via the link. Also in Ford studies, as one result of recent research I co-edited the Routledge Research Companion to Ford Madox Ford (2019), a work which will shape the agenda in this area of literary criticism for a new generation of scholars. I have edited Ford's work also, including his classic modernist text, The Good Soldier. Here you can read my introduction. And I was part of the team which produced the first critical edition of Ford's First World War tetralogy Parade's End (1924-28), published by Carcanet Press in 2010-11. I edited volume 3, A Man Could Stand Up-. Filming of the BBC/HBO serialisation of Parade's End (dir.Susanna White), which was scripted by Tom Stoppard, began in 2011, and a high point of that year was a visit to the set.
My work as an editor has been focused in recent years on Evelyn Waugh, as part of Oxford University Press's project: The Complete Works of Evelyn Waugh. I edited Helena, about the mother of Emperor Constantine, which Waugh described as a favourite among his novels - the Daily Express agreed with him, calling it his 'best novel yet' (12 October 1950). The book launch was in November 2020, and the Tablet published my piece about the novel, 'Evelyn Waugh's favourite heroine', on the 21st of that month. My attention as editor is about to be fully focused on Ford, however. The Complete Works of Ford Madox Ford, a series of which I am co-General Editor, is to be published by Oxford University Press. Work is underway on 6 volumes of his letters. 
My work on Ford's war fiction developed some time ago into a broader interest in the literature of the First World War. Since 2011 my war-work has been focused on coping strategies, on trauma, and on recovery and healing in, and through engagement with, books. A 2013 article examines the representation of alcohol in literature of the First World War, and I recorded a podcast on alcohol, First World War literature, and the YMCA in a series on wartime attachment in Dublin in June 2015. Online, my piece 'Glory, farce and despair: the many Stories of World War 1' was published by The Conversation in 2014. What I have termed 'literary caregiving' is my current focus in war studies, and I am engaged in archival research following the story of books at war, and textual healing in its many forms. My 2018 article, 'Reading, Trauma, and Literary Caregiving 1914-1918: Helen Mary Gaskell and the War Library', published in the Journal of Medical Humanities, is available here. On the related impact of Covid, see 'Books for Travel in a Time of Crisis: the World deployed by Ward and Solnit'.
My publications also include articles, book chapters, and a co-written book, on Thomas Hardy, Henry James, the Brontës, Joseph Conrad, and life writing.
I peer review for a number of journals and academic and trade publishers, and have served on the AHRC's Peer Review College.
Teaching interests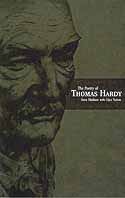 I was interested in distance learning methodologies before joining the Open University, co-producing a CD-ROM on the poetry of Thomas Hardy – follow the link for a taster.
In recent years my teaching commitments have included A335 Literature in Transition, for which I wrote two weeks' study material on Ford's The Good Soldier; and A230 Reading and Studying Literature, where my teaching units focused on James Joyce's collection of short stories, Dubliners. I co-edited The Twentieth Century, pictured above left, for Bloomsbury while A230 was in production. I have also written teaching material for other current and recent modules across all levels of the curriculum, including A215 Creative Writing; A150 Voices and Texts; EA300 Children's Literature, and A300 Twentieth-Century Literature: Texts and Debates. I was Chair of the Start Writing suite of modules, including Start Writing Fiction (A174), and Start Writing Poetry (A175) from 2008-2012 and wrote teaching material for Start Writing Essays (A172). I have written teaching material supporting the progress of our PhD students, and I have designed and led PGRS training and development events for the department and/or the Faculty in recent years.
My most recent major teaching role (2017-2019) was Chair of the Access Module in Arts and Languages (Y031), the theme of which is Popular Protest. I relished the opportunity to work at this level of study, developing materials to ensure students begin their degrees fully equipped for Level 1.   
Recent and current research students have undertaken PhDs on Virginia Woolf, Joseph Conrad, Thomas Hardy, Edith Wharton, and the literature of the First World War. Informal PhD enquiries are welcomed, but please also refer to the Postgraduate section of our departmental website for further relevant information.
Impact and engagement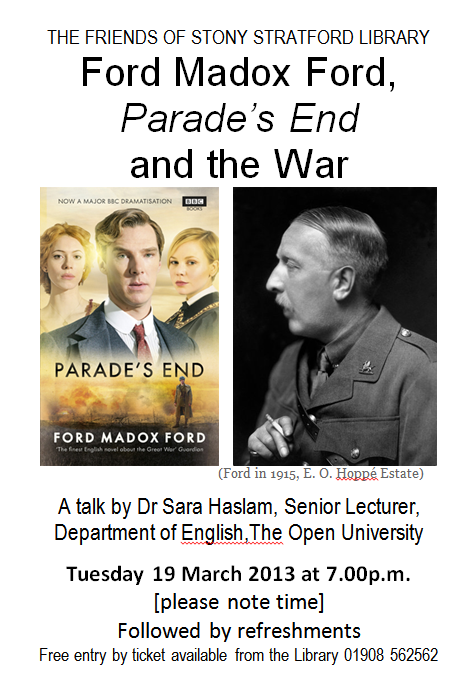 I was an academic consultant and an interviewee for the Culture Show Special, 'Who on Earth was Ford Madox Ford?' (BBC2, 1 September, 2012). At an open session of the Parade's End conference, held in London in Sept 2012, I chaired a question-and-answer session with Susanna White, director of the Parade's End adaptation, and Rupert Edwards, producer of the Culture Show Special. I was also the academic consultant for a second Ford-related BBC project, 'The World of Parade's End' (BBC2, 24 August, 2012), and co-authored a magazine article in the Spectator on the BBC/HBO adaptation (18 August, 2012).  I delivered a talk on Ford Madox Ford as part of the South Bank 'The Rest is Noise' Festival on 3 February 2013, and a public lecture on Ford at Stony Stratford library on 19 March 2013.
In September, 2015 I gave the keynote lecture at a conference on Ford and H.G. Wells's war writing. Guardian journalist Sam Jordison joined us for the event and I interviewed him about his book project on Wells, as well as his experience of running an online reading group on Ford's novel. In 2016, my major external engagement was with the BBC, in my role as academic consultant for the OU on Sally Wainwright's new drama, To Walk Invisible, which is about the life and work of the Brontë sisters. A documentary film on Ford's life and work for which I was interviewed, It Was the Nightingale: the Unreliable Story of Ford Madox Ford, dir. Paul Lewis at Subterracon Films, had its official launch in 2017 at an event at the London Review Bookshop, sponsored by the Open University. I have shown the film at local schools and colleges, contributing to their curriculum and widening knowledge of Ford and his work.
I have written/filmed OpenLearn material on the Brontës, on myth and Star Wars, on protest banners, and on Endell Street's suffragette story. The Endell Street story is related to my bibliotherapy research and a 2018 short film about this ground-breaking military hospital is here http://www.open.edu/openlearn/history-the-arts/history/100-years-votes-some-women
External collaborations
As co-General Editor of The Complete Works of Ford Madox Ford, my major current external collaboration is with OUP and the members of the Editorial Board, as well as volume editors.
I was an Editorial Board member of International Ford Madox Ford Studies to 2015, and am a mamber of the Editorial Board of Last Post: a Journal of the Ford Madox Ford Society.
My external research networks include the Complete Works of Evelyn Waugh project team, the Medical History of the First World War network and WAR-Net, an interdisciplinary network for scholars working on war representation.
The Ford Madox Ford Society holds an annual conference, has a North American chapter, and fosters many of my research links and collaborations.
International links
I have worked in European research networks, including COTEPRA.
I work closely with academics in France, Italy and North America in the area of Ford Studies.
Ford's papers are held at Cornell University, Ithaca, New York, as well as in the New York Public Library, NYC; and much of my current work on the women who powered First World War literary caregiving is founded on links with institutions and academics in the United States.