September 14th, 2009 • 12:09
Statement of problem
Web resources can change location over time, or the route of access for users belonging to a specific institution can change with the same outcome, i.e. broken links. This is undesirable when providing links within teaching material where it is impractical to review and republish the material on a regular basis.
The current approach at the Open University is to create 'managed' links which are used in teaching material and environments instead of the primary link for a resource. These managed links are managed by two systems:
For free web resources managed links are provided by ROUTES
For subscribed web resources (e.g. databases) managed links are provided by a locally developed system
An example is that if we wish to include a link to the BBC homepage within the VLE we would not use the Primary URL:
but instead use the ROUTES created 'managed' URL:
http://routes.open.ac.uk/ixbin/hixclient.exe?_IXDB_=routes&_IXSPFX_=g&submit-button=summary&$+with+res_id+is+res9377
Although this practice solves the problem of persistence over time (if the primary URL for the web resource changes, we can update the ROUTES or local system without having to update the course material), it creates several new problems:
To provide a link to any web resource you have to know a special link, which you have to ask for from the library
The 'managed' URLs do not make sense outside the context of the OU, meaning that if a student copies a reference to a resource, including the link, these references are not really appropriate for use except within the OU environment
The library has to 'manage' URLs for all referenced resources, no matter whether the Primary URL is correct or not
Business Requirements
In order to avoid these issues we need a solution which:
Preserves the Primary URL in the original reference
Does not require the entry of a special 'managed' URL by course authors or others involved with the authoring and editorial process
Does not require management of Primary URLs which are valid
Proposed Solution
The proposed solution is that we should use OpenURL to provide links to resources wherever possible. For bibliographic formats – journals, journal articles, books (whether in print or electronic) the expression of these in OpenURL is well documented, and the translation of the OpenURLs generated by link resolvers is well understood.
However, when providing links to a web resource, the use of OpenURL is novel. What it will allow us to do is to take a Primary URL, check whether there is a Managed URL for it and direct the user to the Primary or Managed URL depending on what is available.
The flow would be as follows (using the OU OpenURL resolver, which is an SFX implementation):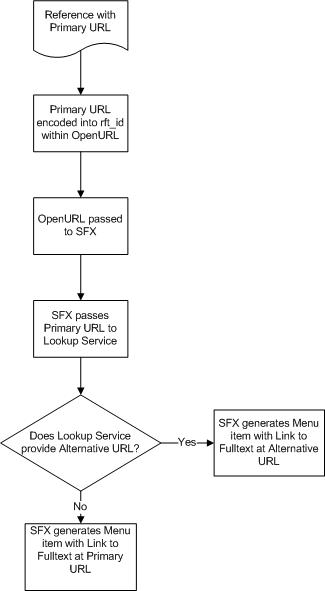 Leave a Reply